Don't miss stories. Follow Raw Story!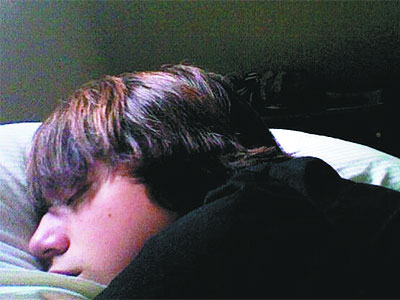 I posted on this when it broke awhile back, so I thought it was a good time to update. Now that they're facing a lawsuit and and FBI investigation, the Lower Merion School District has decided to come clean and hand over 56,000 photos it took of students by remotely activating the webcams in the laptops issued to the students. However, I'm suspicious of this whole coming clean thing. There's holes in the story, at least from what I can tell from the Philadelphia Inquirer reporting.
For one thing, the cameras got pictures like the one above, of a student sleeping. (His family released the photo to the press; I'm not violating his privacy by posting it.) But the school district is adamant that they didn't get pictures of anything more private than that.
The district's attorney, Henry Hockeimer, declined to describe in detail any of the recovered Web cam photos, or identify the people in them or their surroundings. He said none appeared to show "salacious or inappropriate" images but said that in no way justified the use of the program.
Color me skeptical. Teenagers keep their laptops in their bedrooms, most of the time. Bedrooms are places where you disrobe, and who among us can say that we make sure never to naked in front of our computers? To make it worse, I'd be hard-pressed to imagine that they spied on a number of teenagers with computers, and not one of them did anything you might call indiscreet in front of the computer. Last time I checked, 99% of home computers are occasionally used in the service of self-relief. Since the district has stonewalled and been dodgy all this time, I wouldn't put it past them to destroy and conceal the fact that they got naked pictures of students.
Then there's this dodginess:
The "vast majority" of instances, he said, represent cases in which the technology appeared to be used for the reasons the district first implemented it in 2008: to find a lost or stolen laptop or, in a few cases, whether a student took the computer without paying a required insurance fee.

About 38,500 images – or almost two-thirds of the total number retrieved so far – came from six laptops that were reported missing from the Harriton High School gymnasium in September 2008. The tracking system continued to store images from those computers for nearly six months, until police recovered them and charged a suspect with theft in March 2009.

The next biggest chunk of images stem from the five or so laptops where employees failed or forgot to turn off the tracking software even after the student recovered the computer.
Okay, but if it was just randomly taking pictures and no one was really monitoring them, then how is it that the school officials outed themselves by contacting a student about what they'd seen? And if it was just randomly taking pictures, how is it that no naked pictures were taken? I'm skeptical. The investigators have 15 separate incidences where they can't figure out why the student's webcam was turned on and pictures started to be taken.
Here's what I think is likely: The program was started to find missing laptops. And then maybe an incident here or there caused the school district to expand the parameters of what that meant—for instance, they flipped on the camera for a kid who didn't pay the $55 insurance fee. And their internal limits on what was an acceptable reason to flip on the camera expanded over time. And now some of the reasons they thought sounded so reasonable internally seem kind of awful now, so they aren't talking to the investigators. For instance, every school has a few kids that the staff thinks are up to no good, and the temptation to flip on the camera and prove it must have been strong. Strong enough to do it? We can't know for sure, but it's weird that the investigators have no explanation in 15 cases.