Don't miss stories. Follow Raw Story!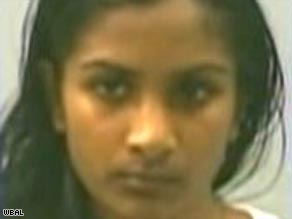 One year ago, a US judge agreed to drop murder charges against a woman accused of starving her one-year-old son to death if the little boy is resurrected. Wednesday morning, the woman was "given a sentence that won't require her to serve any more jail time."
Ria Ramkissoon, "who pleaded guilty to child abuse resulting in the death of her son, Javon Thompson, and has been in jail since her 2008 arrest, was given a suspended sentence and five years of probation on Wednesday," the Associated Press reports. "She will be committed to a residential treatment facility."
An earlier AP story noted, "Cult leader Queen Antoinette told her followers not to feed Javon when he did not say 'Amen' during a mealtime prayer. After he died, she told them to pray for his resurrection. The cult leader, her daughter and another man were all convicted of second-degree murder."
Originally, Ria Ramkissoon, who is now 23, was accused with four other members of a small cult called One Mind Ministries of starving her infant son Javon Thompson to death in 2007.
In a hearing last March before the Baltimore Circuit Court, Judge Timothy Doory accepted Ramkissoon's guilty plea and agreed to let her testify against Queen Antoinette and the other defendants.
But if Ramkissoon's son "is resurrected, as you still hold some hope he will be, you may withdraw the plea and the charges against you will be withdrawn," Doory said.
"It's a sad, crazy situation," Ramkissoon's lawyer Steven Silverman told AFP.
"Had we gone to trial, her only defense would have been, 'My child will be resurrected, therefore I'm not guilty.'
"You and I and everyone else knows that's not happening, but she's been brainwashed by a cult and still believes it to this day," he said.
Silverman said as far as he knew, the plea deal marked a global legal first.
"I've never heard of a plea ever that's had a clause which has a stipulation for future resurrection," Silverman told AFP.
"I entered that plea to keep the mother out of jail," Silverman said.
Presuming Ramkissoon testifies truthfully against her fellow sect members, "she will be released from prison, get some treatment and maybe get her life together," he told AFP in 2009.
(with AFP article)