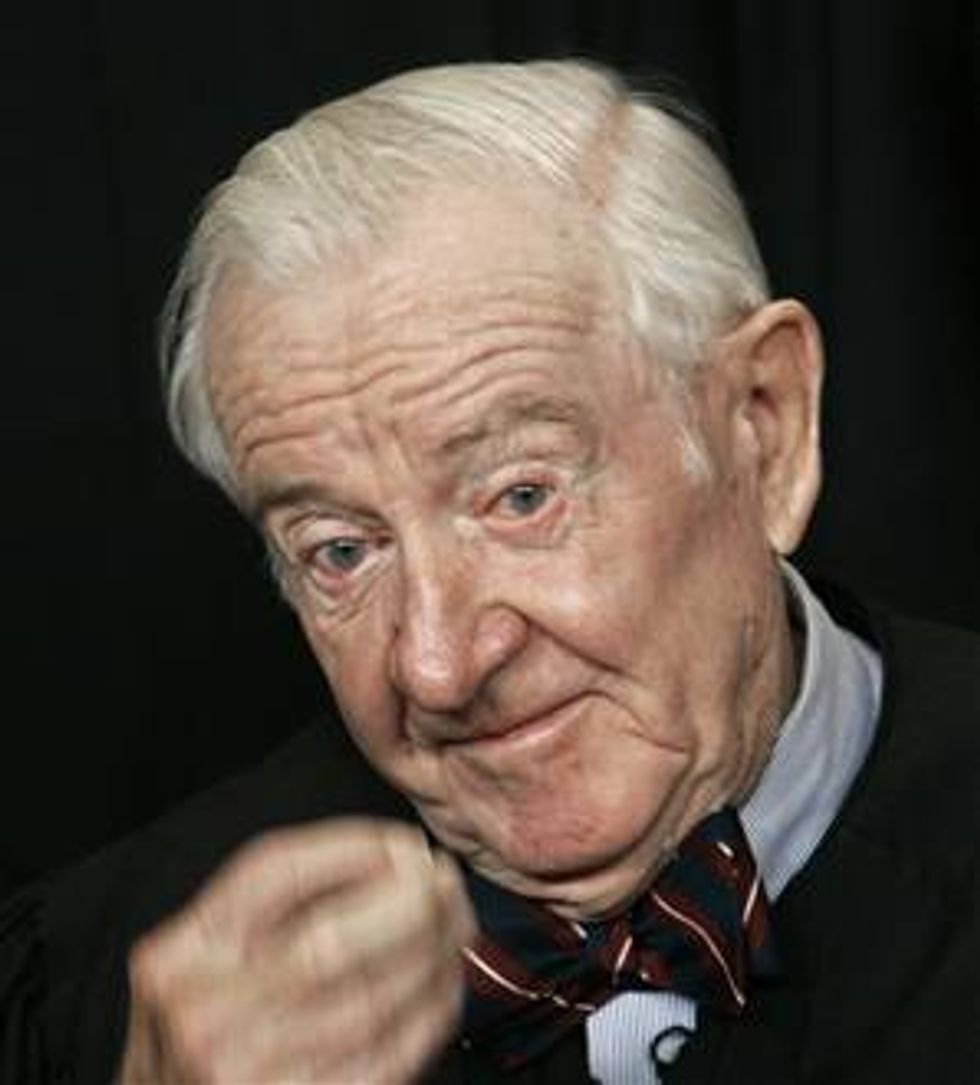 US Supreme Court Justice John Paul Stevens said Friday he will retire this summer, giving President Barack Obama a chance to make his second pick in two years to the key nine-member bench.
---
A leader of the court's liberal wing, Stevens, who celebrates his 90th birthday this month, is one of the longest serving justices ever, having been a member of the country's top court for 34 years.
Replacing him on the bench after he retires in June is now likely to set up a tough nominating battle in the Senate, where Democrat Obama's allies have a 59-seat majority but could face moves to hold up the appointment.
"I shall retire from regular active service as an associate justice... effective the next day after the court rises for the summer recess this year," Stevens wrote in a letter to Obama.
He said he had made the decision in order for his successor to be appointed before the court's next term starts in early October.
The Supreme Court weighs the thorniest moral and political dilemmas facing the nation. The nine justices are nominated by the president and face a Senate confirmation before taking up their post for life or until they choose to step down.
John Paul Stevens: progressive pillar of US Supreme Court
A Supreme Court representative delivered Stevens's letter to the White House early Friday, and White House counsel Bob Bauer spoke with Obama returning from a trip to Prague aboard Air Force One.
Obama was planning to make remarks about Stevens's retirement later Friday on his return to Washington, a White House official said.
The White House appears to have been quietly planning for a Supreme Court nomination battle for months, as speculation mounted that either Stevens, or one of the other justices, would retire.
"If somebody resigns from the Supreme Court, we of course will be ready," Obama spokesman Robert Gibbs said on Monday.
Obama will be making his second pick to the top court after naming Sonia Sotomayor as the first Hispanic Supreme Court justice to the bench last year. She was sworn in at a White House ceremony in August to replace David Souter.
Stevens was nominated by former president Gerald Ford and has sat on the bench since 1975, becoming over the years a progressive pillar of the court.
There is a current delicate balance on the court of four conservatives, four liberals and Justice Anthony Kennedy who tends to vote either way.
But Stevens's named successor is likely to face a tough confirmation battle in the Senate, amid an acrimonious political atmosphere between Obama's Democratic allies and his Republican opponents.
"Anything that the president proposes will be fought bitterly, that has been the nature of it. There is no way that he is going to find somebody who is agreeable to the Republicans in the Senate," said analyst Stephen Hess, from the Brookings Institution.
Among those mentioned as a possible successor is US Solicitor General Elena Kagan, who represents the US government before the Supreme Court, but has never been a judge.
She previously taught at Harvard University Law School, where both Obama and First Lady Michelle Obama studied.
Republican Senate minority leader Mitch McConnell, in a statement, praised Stevens's devotion to the bench even if he said the judge's "liberalism has led to many decisions I oppose."
"Americans can expect Senate Republicans to make a sustained and vigorous case for judicial restraint and the fundamental importance of an even-handed reading of the law," McConnell added.
Obama may get yet another chance to influence the powerful court as another long serving liberal justice, Ruth Bader Ginsburg, is battling cancer.
Only one of two women on the bench, Ginsburg, 77, has repeatedly said she plans to carry on working. There have only ever been three women Supreme Court justices.
Stevens had cagily refused to confirm his resignation in weekend interviews.
"I can tell you that I love the job, and deciding whether to leave is a very difficult decision," Stevens told The Washington Post. "But I want to make it in a way that's best for the court."