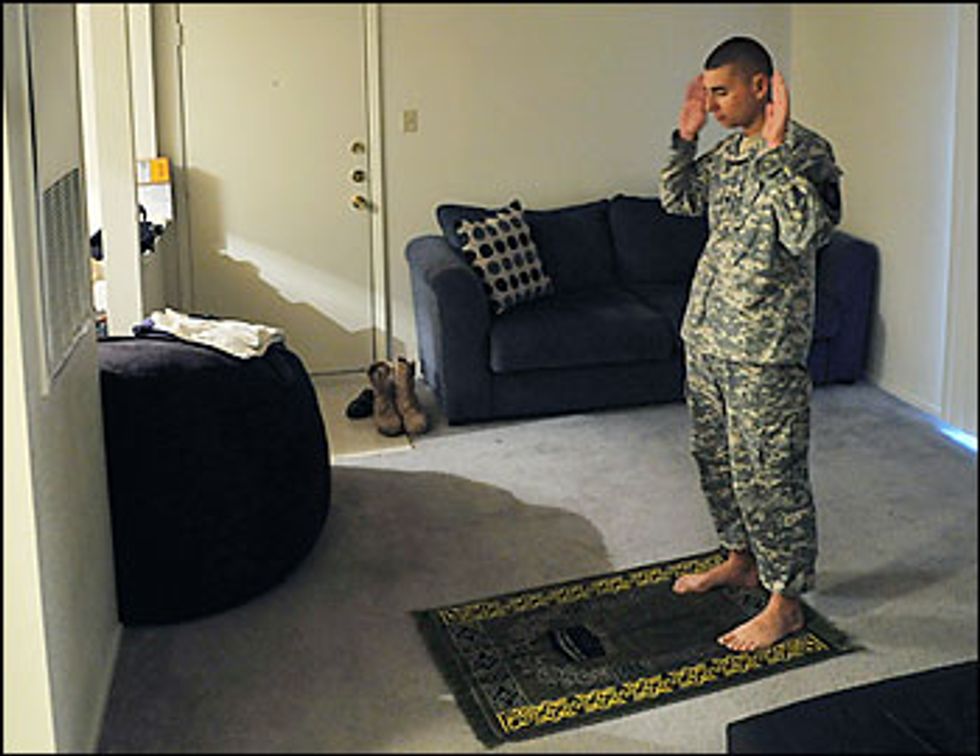 Discrimination against Muslims in the military is a harsh reality for Army Spec. Zachari Klawonn.
---
A Muslim-American, Klawonn's saga of abusive language and outright mockery by his peers and superiors has left him questioning his ability to continue a career in the military, according to an ABC News report.
The abuse began almost as soon as he started basic training. As Klawonn stood alongside 400 new recruits, a drill sergeant read off a list of religious services and when he reached the Islamic service sarcastically asked if anyone planned to attend.
"I raised my hand, and he was shocked," Klawonn said. "Then, he called me out of formation, took me to the front and basically made a mockery of it."
But the worst incident came in February when he awoke to the sound of kicking against his door. He sprang from bed in an attempt to see who was harassing him this time, but found only a note that read "F--- YOU RAGHEAD BURN IN HELL."
The marks on his door would still be visible weeks after the Army had begun its investigation. "Raghead" is only one of many racial and religious slurs that Klawonn has endured.
"They're all terrible names, but the one that really hits me hard is to be called a terrorist," Klawonn said. "My heart drops every time I hear that."
Klawonn said he reported the incidents and others to his superiors, and he was shuffled around to other bases. He said he realized soon after Maj. Nidal M. Hasan killed 13 people and injured more than 30 in a massacre of Fort Hood soldiers that things would only get worse.
Since Klawonn's story was first reported by The Washington Post, Klawonn has received an outpouring of support from military officers and fellow soldiers. He even received a letter from Dorothy Carskadon, a captain in the U.S. Army Reserves who was wounded during the Fort Hood shooting.
"Dear Specialist," Carskadon's letter said. "I am always sorry to hear about harassment and bigotry in the military. ... I would be proud to serve with you. I am sorry for the harassment that you have experienced due to me getting shot. It is unfair and unwarranted."
Klawonn was once excited to join the military and uphold the tradition of service begun by his father, an Air Force veteran who died when Klawonn was 15.
"I was excited to, I guess, defend America," he said. "Do that, we call it, hoo-ah-hoo-ah stuff. ... It seemed very honorable and admirable. It was something I could be happy about and say, 'OK, I've done something very good.'"
Even with the difficulties he has faced, Klawonn said he doesn't regret his decision to enlist because he believes in the American Dream.
"The constitutional rights that we have and the freedoms we take for granted are near and dear to my heart," he said.