Don't miss stories. Follow Raw Story!
Ho, ho, ho, here we go…another professional anti-homo homosexual surfs for man-on-man vacation buddy. Miami New Times:
The pictures on the Rentboy.com profile show a shirtless young man with delicate features, guileless eyes, and sun-kissed, hairless skin. The profile touts his "smooth, sweet, tight ass" and "perfectly built 8 inch cock (uncut)" and explains he is "sensual," "wild," and "up for anything" — as long you ask first. And as long as you pay.

On April 13, the "rent boy" (whom we'll call Lucien) arrived at Miami International Airport on Iberian Airlines Flight 6123, after a ten-day, fully subsidized trip to Europe. He was soon followed out of customs by an old man with an atavistic mustache and a desperate blond comb-over, pushing an overburdened baggage cart.

That man was George Alan Rekers, of North Miami — the callboy's client and, as it happens, one of America's most prominent anti-gay activists. Rekers, a Baptist minister who is a leading scholar for the Christian right, left the terminal with his gay escort, looking a bit discomfited when a picture of the two was snapped with a hot-pink digital camera.

…Yet Rekers wouldn't deny he met his slender, blond escort at Rentboy.com — which features homepage images of men in bondage and grainy videos of crotch-rubbing twinks — and Lucien confirmed it.
And Rekers is not just the founder of the FRC, he's on the board of therapize-away-the-gay org National Association for Research & Therapy of Homosexuality (NARTH). I guess he's fallen off the wagon; but he's earned a rep as a class-A homo-hater, according to friend of the Blend Wayne Besen.
"While he keeps a low public profile, his fingerprints are on almost every anti-gay effort to demean and dehumanize LGBT people," says Wayne Besen, a gay rights advocate in New York City and the executive director of Truth Wins Out, which investigates the anti-gay movement. "His work is ubiquitously cited by lobby groups that work to deny equality to LGBT Americans. Rekers has caused a great deal of harm to gay and lesbian individuals."
The New Times underscored that Rekers couldn't have just casually come across "Lucian's" profile. He would have had to sign up and agree to Rentboy.com's terms of service then find his listing on the site.
As a favor to Rekers, Lucien recently removed any wanton sexual descriptors from his Rentboy profile. Though he does admit Rekers "likes younger guys to hang out with," Lucien is protective of his erstwhile client. He describes Rekers primarily as a family man — one whose passion for oppressing homosexuals is dwarfed by his desire to help children. "You don't understand how much this guy honestly cares about taking care of kids," he says.
Rekers and the rent boy denied having sex; Rekers classifies their relationship in this manner:
"I'd like to propose another trip to Rome, Italy, for a week or more," Rekers wrote in an email dated March 21 obtained by New Times. "This is so exciting to have a nice Travel Assistant and traveling companion! Wow! I'm so glad I met you."
UPDATE: Wayne weighs in with more:
Both the sex worker and Rekers deny having sex on the trip, and emails exchanged between the two prior to their escapade are carefully worded. Reached by New Times reporters Penn Bullock and Brandon K. Thorp, who broke the story, before a trip to Bermuda, Rekers said he learned that the man in question was a prostitute only midway through their vacation. "I had surgery," Rekers said, "and I can't lift luggage. That's why I hired him." (Though medical problems didn't stop him from pushing the large baggage cart through Miami International Airport, according to the New Times.)

"It is clear that Rekers has baggage and certainly needs help," said Besen. "At least he did not say he was walking the Appalachian Trail. Given the sordid and tawdry facts, he should immediately step down from NARTH's Board and apologize to the LGBT community for his extreme hypocrisy and self-loathing. As of today, his entire body of work on LGBT issues is rendered meaningless."

This is the second NARTH board member to be exposed as a fraud in the past three months. In February, Arthur Abba Goldberg was unmasked as a con artist who had served prison time for bond fraud. Goldberg was also the co-fonder of Jews Offering New Alternatives to Homosexuality (JONAH). Goldberg resigned from NARTH's board in shame.
UPDATE 2: Lord have mercy. Rekers had the nerve to respond to Joe. My. God with some serious drivel.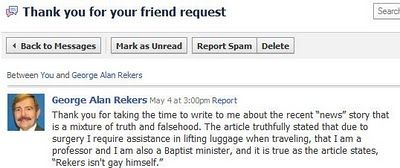 No, he isn't gay, he's just looking for some good hired help on Rentboy.com. He goes on to quote a lot of scripture and this:
If you talk with my travel assistant that the story called "Lucien," you will find I spent a great deal of time sharing scientific information on the desirability of abandoning homosexual intercourse, and I shared the Gospel of Jesus Christ with him in great detail.