More post-racial America: Talladega Speedway goon sports 'No Niggers in NASCAR' T-shirt
Don't miss stories. Follow Raw Story!
As we've been told over and over by some clueless talking heads in the MSM after the election of Barack Obama, we've entered post-racial America. I don't know what paradise they are living in or what heavy drugs they are taking, but I've not seen evidence that electing a black man to the presidency has eliminated racism at every other level of society.
As an example, on the one hand, NASCAR has a broader audience than just the stereotypical "Stars and Bars Redneck" crowd many imagine it has.
When NASCAR was born on the sands of Daytona Beach, Fla., 61 years ago, its fan base likely wasn't much different from its racing heroes. A sport spawned by moonshine running starred undereducated white males from the South who subsisted on modest incomes.

…With TV ratings and attendance in a three-year dip after steady growth for more than a decade, NASCAR has refocused on catering to a constituency that seems vastly different from the redneck stereotype associated with stock-car racing. There are physics professors who apply mathematics to explain the sport's wrecks and rule-breaking, and multi-degreed mountain climbers mesmerized by its plot twists and rivalries.
However, no how many more women and people outside of the South become part of the NASCAR audience, it's pretty clear that its base is, um, not comfortable with the growing diversity of its fans.
"Sure, there are upper-middle-income fans, but mostly they came from modest backgrounds," [racing consultant H.A. "Humpy"] Wheeler says. "They are very conservative, flag waving and, yes, they drink beer.

"You have to be so careful with what you do. Getting away from banjos in an effort to change the so-called image, they turned a lot of people away. They got away from the roots, and the roots don't change very fast."
Demographic analysis found that while blacks represent only 8.6% of NASCAR's audience, it's a 12% spurt since 2005. Apparently that fact has caused consternation among some of the blue collar bigots that now have to sit in close proximity to more of "those people."
In the case of one high-class fan at Alabama's Talladega Superspeedway on April 26, he stated his opinion on the matter, and a fan there captured this free speech moment and sent the photo to me…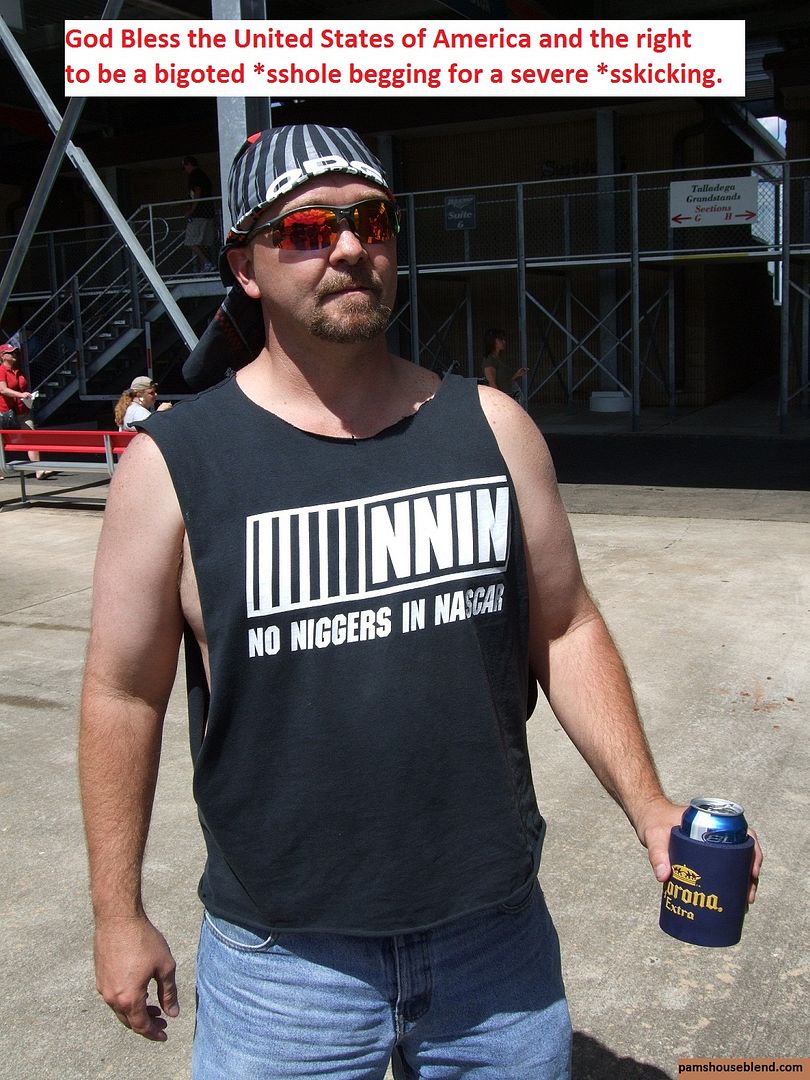 Given there are a lot of black folks living in Alabama, if this guy got drunk and made a wrong turn into the wrong neighborhood while trying to get home, he may have had a tad of a problem.
How about doing a "caption this" to the pic of this POS, or someone doing some fun P'shopping of this image?
One could argue that since the beginning of the 2008 election cycle, as Obama's political fortunes rose, there seemed to be a startling increase in open expressions of racism based on the irrational fear of a black takeover of America, with black masses hell-bent on punishing whitey for institutionalized and cultural racism past and present. About the only thing that surpasses that irrationality is the fear of the Brown Menace crossing the border and reclaiming the Southwest as part of Mexico.
I would love to hear from the post-racial crowd, now that we've seen the developments in Arizona, for instance, and whether they think we're in a new age of racial understanding.