Dog-killer Michael Vick celebrating his birthday with big bash in Raleigh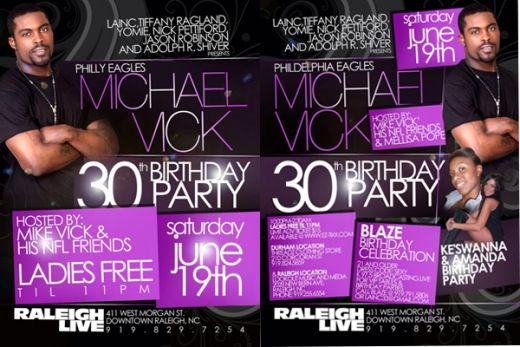 Nice to know that the man who bludgeoned, electrocuted and tortured pit bulls he trained to kill one another is welcome in our capital city. Gee, you think he might be doing any fundraising for local shelters, the ASPCA or pit bull rescues? I doubt it.
Philly Eagles QB Michael Vick's moved on long ago from his experience of 18 months in a federal prison for his role in a dogfighting ring.
"I've overcome a lot, more than probably one single individual can handle or bear," Vick said. "You ask certain people to walk through my shoes, they probably couldn't do. Probably 95 percent of the people in this world because nobody had to endure what I've been through, situations I've been put in, situations I put myself in and decisions I have made, whether they have been good or bad.
Yep. Moved on, feted by his team, a man who clearly has a narcissistic view about why he went to the pokey. It's more like "I'm sorry I got caught with the carcasses in my yard and you found out I beat, shot, hanged, electrocuted and drowned my dogs that didn't fight"? What he had to endure was taking responsibility for his own actions.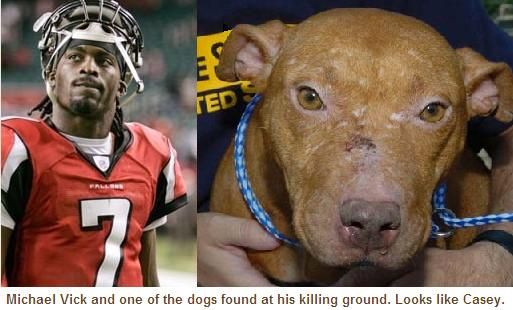 Well, as a pit bull advocate who still sees the cruelty meted out by breeding these dogs for all the wrong reasons ending up in shelters, I can't forgive and forget Vick's behavior. He's done his reputation rehabilitation tours around the country. In fact one of the reasons this birthday bash in Raleigh irks me is that it's the second time he's parachuted into the Triangle and embarks on another missed opportunity to pay back those who deal with the fallout from popularizing dog fighting — the shelters and the pit bulls who need forever homes.
I wrote about his in one of my last Durham News columns in March of this year when Vick came to a Bull City school to speak to kids about his experiences. That's below the fold.
When do dogs get a second chance?

Much has been made of NFL quarterback Michael Vick's visit to Durham to meet with the at-risk students of New Horizon's Academy of Excellence last week. His is a tale of meteoric rise and equally hard fall that resulted in 18 months in jail for running a dog-fighting ring out of his home in Virginia.

Mr. Vick and many of the students he spoke to are receiving second chances to rebuild their lives with new skills and support. In Vick's case he was asked by the Humane Society of the United States to travel around the country to talk about the animal cruelty he engaged in – and how it has affected his life. His visit here in Durham touched many, including Bull City resident Jason McClairy, 19, who said he initially raised three pit bulls to fight, but after seeing the fate of Michael Vick, is now raising them as pets.

Those may be three lucky pit bulls.

The vast majority never find homes and are destroyed. They end up in shelters, some picked up by animal control from backyard breeders, others let loose by irresponsible owners, and a good number surrendered by owners whose apartment complexes ban pits specifically, or several breeds generally with "aggressive breed" restrictions. The latter is little more than cowing to the fear generated by dog-fighting advocates, as Mr. Vick once was.

Any rational person knows that not every dog of a given breed is exactly alike in temperament or training; a well-balanced, well-trained pit bull is less of a danger than an untrained, abused golden retriever. What Mr. Vick's road show is not about, however, is rehabilitating the reputation of a maligned breed.

My first column for The Durham News was about breed-specific discrimination, and it generated a lot of passionate responses on both sides. With Mr. Vick's recent visit, I wanted to return to the subject, since it occurred during the same time period as the death of Cesar "The Dog Whisperer" Millan's pit bull Daddy.

For those who do not watch the National Geographic Channel's program, Daddy was an ambassador for the breed, always alongside as Cesar helped owners learn how to deal with their dogs' behavioral issues. For owners who take on the social challenge of adopting a pit bull, Millan has made it one of his missions to rehabilitate not just dogs and owners, but the reputation of the pit bull as an easily trainable, wonderful family pet. That's what the pit bull's rep was, believe it or not, at the turn of the 20th century.

But in the wrong hands – like those of Mr. Vick and his cohorts – the pit bull became synonymous with unstable, anti-social, chained, aggressive dogs, bred solely for the ability to fight, maim, and kill. And that reputation led to fear and unnecessary breed-specific legislation.

In that vein, Millan does not romanticize the breed; a pit bull is not for the first-time dog owner or for someone who doesn't want to spend time training and socializing their pet early on, particularly with other dogs. What he shows is that every dog must be evaluated as an individual, and that dogs of any breed – even those that may have suffered abuse – can be rehabilitated and become a balanced, submissive dog. It has resulted in many more pits ending up in loving homes – with informed, responsible owners.

Rather than saddle Michael Vick with the responsibility, perhaps it would be more appropriate as a follow-up to invite Cesar Millan to come to Durham, along with his new ambassador Junior – a blue pit mentored by Daddy in the months before the mature dog's passing – to do the work that needs to be done to give pit bulls a second chance and a fresh start.

"There can be few greater thrills for a genuine dog lover than to take a homeless dog off of life's refuse pile, add love and care, and then see that dog, like the Phoenix rising from the ashes, become the great dog it was meant to be. Training such a rescued dog may require a little more time, a little more patience, and a little more skill, but the end result is a dog that has been given back its life. A dog owner can ask for no better companion."

— Joe Stahlkuppe, Training Your Pit Bull
Will Vick visit Rusty and the other pits looking for homes at the Durham APS?