Group E Results: Netherlands win, Japan advances
Don't miss stories. Follow Raw Story!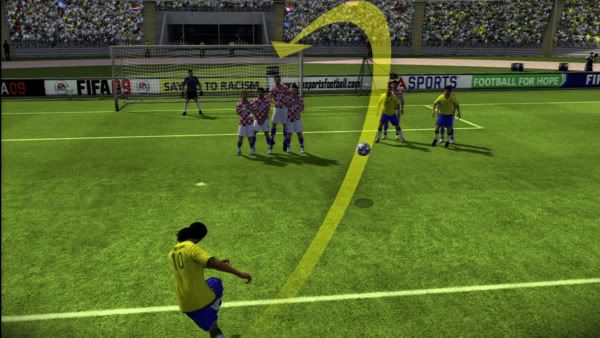 Ronaldinho replicates the second goal from Japan's Endo.
To this point in the World Cup, there had been plenty of free kicks, but few that led directly to goals or even scoring chances (unless, y'know, you count that 3rd USA goal against Slovenia). But the Japanese took it upon themselves to pick up the slack today as Honda and Endo stuck free-kick knives into the kidney of Denmark's dreams.
Huge chunks of play occurred in Japan's half of the field, with the Danes holding the ball 2/3rds of the time. But you never got the sense that they believed in themselves, that they knew who to feed or how they wanted to finish. At times, it seemed like their players were all looking to the next guy to fight for the ball in the air or call for the pass. Hesitancy will kill you in the box.
Japan played the opposite game. Though they handed over possession, they were a regular threat on the counter attack, and their free kick strikes were perfectly placed and gave Japan an insurmountable 2-0 lead. Denmark's GK Sorensen could be faulted for both, but I prefer to credit the kickers for putting the ball right where he wasn't.
Denmark struck back when Daniel Agger took a hard fall from a soft shove to "earn" a penalty. It was an Italian move, no doubt, but I'm probably being harsh sticking quotes around that. Twitter consensus seems that it was a horrible call, but I saw a dumb defensive moment that Agger accentuated. It's one thing to shove around when there's a scrum on a corner and the ref has a million bodies to look at, but to do it out in space, when the official has his eyes right on you, is asking for trouble. That said, I don't fault anyone who blames Agger.
Anyway, Tomassen couldn't hit the penalty but got his own rebound and slotted it home to cut it to 2-1. The game still felt over, though, as the Danes would need two more. Honda decided to put even that glimmer of hope to bed as he ran into the box, sent the ball around a defender, drew Sorensen, and passed to Okazaki for an open goal finish. With their ability to pick their spots and capitalize on them, Japan will be a tricky underdog for the favorites to handle.
In the other game, the Netherlands and Cameroon had a friendly knockabout that the Dutch won 2-1. Van Persie got on the board, Eto'o made a penalty, and Huntelaar finished off a rebound. I feel badly for Cameroon; it would have been nice to knock off Holland even in a meaningless game. Instead, they finish behind only the French and Italians in terms of tournament disappointment.
Holland will face off against Slovakia next, another game they may be able to win despite barely tapping on the gas, and Japan will play Paraguay in what should be a wide-open and exciting affair.