Don't miss stories. Follow Raw Story!
This post is clearly not for everyone — those of you who think Journey sucks can just move on to the next blog entry

---
A month or so the subject of my weekend music immersion session was Anita Baker the songstress whose 1986 album Rapture I wore out, then a cassette, and I have at least two CDs. Spent a weekend playing it (and the other Baker CDs I have — up to Rhythm of Love) listening on headphones, on the stereo, in the car, etc. It's always a therapeutic trip in my personal wayback machine.
And so it was this weekend that I immersed myself in the work one of my favorite rock bands, Journey. At 46 years old, that means I was enjoying the golden, OMG-gifted pipes of Steve Perry. The group was most recently in the news because the show Glee resurrected "Don't Stop Believin'" for a new generation. A couple of years earlier the tune made headlines because of its use in the finale of The Sopranos. I haven't seen either, btw.
My decision to do a personal Journey marathon was pretty accidental, since I sometimes surf YouTube to look for videos of groups from the past. I happened upon the video for Lights/Stay Awhile from Live in Houston 1981: The Escape Tour (1981).
The moment I saw the crystal clear images of Steve Perry's stage presence and heard The Voice it was like being swept into a time warp. He was blessed with an amazing instrument. I'm glad this moment in time was captured so well; the concert's simplicity in today's age of over-produced, um, crap, didn't go unnoticed in reviews of the 2005 release of the DVD.
Filmed by a four month-old MTV and just days into the band's first number one album Escape, Journey is at their peak. The recent addition of FM-friendly keyboardist/co-songwriter Jonathan Cain (fresh from the Babys) proved to be the final addition that the constantly changing concept band would need to crash both radio and retail charts. The concert DVD shows rows of fans in the same red-sleeved concert jerseys getting their fill of the hits "Don't Stop Believin'," "Stone in Love," "Who's Crying Now," "Open Arms," "Anyway You Want It," "Wheel In The Sky," and "Lights." Stage-wise, there is very little in terms of visual style with the exception of a few rows of gel lights to move with the music and a pair of spotlights that move with unlikely idols Steve Perry and Neal Schon.
The hairs stood up on my neck as I watched Perry effortlessly hit every note with all the passion and emotion I remember and more from the vinyl, since it was live concert. To hit those high notes with such power night after night on a tour — this is a high octane catalog to deliver on — is an incredible feat, but Perry had the goods. It's almost an impossible bar to clear. More on that later.
The above-mentioned Amazon review neglected to mention "Lovin' Touchin' Squeezin'" — that video is also simply fantastic.
Anyway, you can tell that I was instantly smitten all over again and surfed around for more live videos (let's just say Journey's MTV video history is prone to induce laughter). I focused on what I guess is now considered "classic" Journey (the Perry years), since the group has, since Steve Perry left, been in various states of trying to preserve the legacy of his monstrously popular back catalog alive to this day. Those are the years I listened to the band.
Not only listening to the music this weekend, I surfed around to bring myself up to date on the evolution of Journey over the years. It has been interesting, to say the least, particularly with the changes in lead vocalists since SP, who left briefly in 1994 after success as a solo act (see Street Talk's "Oh Sherrie" and the wonderful "Foolish Heart"). He returned briefly in 1995, then left for good (let's do the short version) after he injured his hip in a hiking accident and put off hip replacement surgery longer than the band was willing or able to wait for Perry. There's a lot of back and after-story about this, but you can read more about that…
Backstories
One of the documents that really gets deep into the history and ups and downs of the band to the near-present day is by Ross Muir at The Journey Zone. It's a long e-book and good grief, talk about band drama. Not as in sex, drugs and R&R, but a good deal of insight into band politics, business decisions and treatment of the lead singers, including Perry. I didn't even know about this scandal.
In December 2006, Ross Muir burst onto the Journey scene with a blistering and hard-hitting commentary on Journey's lip-syncing fiasco, including a lengthy exposition on the history of the band and later developments. Since then, Muir has followed up on his initial entry with a regular series of addendae, charting the Journey with lead singers Jeff Scott Soto and Arnel Pineda, with insights that continue to rock the Journey community.
It's a fascinating read. The lip-syncing fiasco refers to events during the tenure of Perry's initial replacement, the ill-fated, but talented Steve Augeri who came on in 1998 and was with the band for eight years. For those well-versed in the Journey catalog, it's hard to imagine how Neal Schon was going to find any vocalist who handle the vocal intensity or emotive talents of Perry. Just the stress on the vocal cords for a man singing in the countertenor range at acetylene torch levels has to be punishing.
And apparently that's what happened to Augeri, who, fairly early into his tenure was blowing himself out vocally. Muir's book asserts (with pretty convincing evidence) that Journey basically did a Milli Vanilli, using pre-recorded vocals to assist Augeri for quite some time before he finally was dropped in the middle of a tour with Def Leppard in July 2006. In fact, you can catch a painful video of Augeri's last Journey concert that shows just how damaged his voice was (he has since recovered and has a solo album out this year). Journey's other members, including Schon, have denied the lip-sync story multiple times, though there's a heck of a lot of smoke in Muir's piece.
Jeff Scott Soto from Talisman, a friend of Schon's, picked up the pieces and stepped in to finish the tour as frontman (video); he has a wonderful voice and delivered, but he suffered from the "sounds nothing like Steve Perry" syndrome, and he was kicked to the curb in less than a year. That brings us to…
Arnel Pineda, the dream, the voice, the fan racism…and success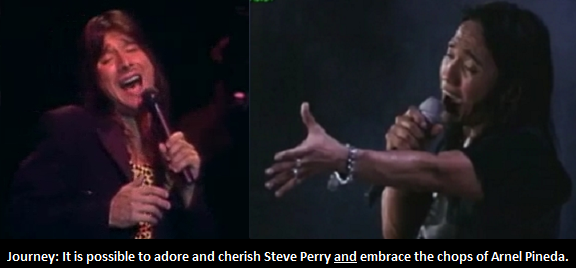 I was so involved in the political races of 2007 and 2008 to notice the fairy tale discovery by Neal Schon of Filipino cover band lead singer Arnel Pineda. Schon, left with a band without a lead singer and The Sopranos ending featuring "Don't Stop Believin'" and no way to capitalize on it, scoured YouTube looking at tribute bands and found one of The Zoo, featuring Pineda, belting out Faithfully. Belting out is no lie; you can tell, even in the rough video, he's projecting to the back of the room effortlessly. Pineda's story is inspirational — going from being homeless in the Philippines, to bar bands to recording with and touring with Journey.
But as always, sadly coming to America can have a price (read Muir's piece for more) since we all know our seemingly intractable racism had to rear its ugly head.
When he was hired over a singer from a Journey cover band, he also had to learn to deal with an undercurrent of racism among some Journey fans.

"When there were rumors about me joining Journey, there was a lot of that," Pineda told me. "One of the worst things I read on a fan messageboard said that Journey is an all-American band and it should stay like that. But I don't care. I just say, 'Hey, grow up.'"

In this era of globalization, having a non American fronting a classic American band like Journey is an invigorating development that gives the band a new look and the possibility of expanding its fan base among Filipinos and Asians.

"We've become a world band," Cain said. "We're international now. We're not about one color."
If that's the worst thing Pineda has seen, he hasn't checked YouTube comments. I swear to god, I've not seen so much filth – more than one idiot called him a "dancing monkey," others "mongoloid". Jesus. It's bad enough there's enough negativity for him to deal with in terms of 1) recreating the Perry sound without making it a clone; 2) having the vocal chops to handle that difficult songbook; 3) hitting the road in America and dealing with preserving his voice, 4) the media attention, and 5) fitting in with the band. Our country is sick.
Apparently professional lightning can strike twice as the album Pineda recorded on short notice when joining, Revelation, went platinum and the subsequent tour, with Heart and Cheap Trick grossed over $35M. That album also included Pineda versions of Journey's better known songs (another matter with a backstory in Muir's book). In 2009 the group released Journey: Live In Manila, which was the first time Pineda had returned to his homeland as part of Journey. I happened to catch a truncated version of this on VH1 Classics last week.
Of course as a big Steve Perry fan, I was skeptical about (and fearful for) Pineda as I would any new frontman for Journey, so I decided that I'd devote as much time this weekend watching and listening to the latest incarnation of the band; this Manila concert gave me an opportunity to do so.
I was blown away. Arnel Pineda soared. At 42 years old he was a dynamo looking 20 years younger, running, leaping and commanding all parts of the stage — and hitting those Perry notes (and more), particularly on the fast tempo, harder rocking tunes — I thought he was going to blow the roof on "Separate Ways."
No doubt buoyed by performing at home, he didn't hold back and, as Steve Perry did with Journey in that 1981 Houston concert that was filmed for us to enjoy today, no matter how long Pineda remains the frontman for this band, his talent and energy have now been immortalized on video, captured in this moment for another Journey generation — around the world — to discover as well.
Surfing around, there are plenty of hardcore Journey fans who will accept nothing less than the Steve Perry-fronted Journey, some hoping for his return (not likely). I think they fail to realize it's not 1981, and that Steve Perry voice doesn't exist anymore, you can't wind the clock back and recapture that lightning in a bottle, and they should get a grip and stop dismissing Arnel Pineda. Pop in your classic CDs/DVDs and enjoy the gifts SP has given us.
Clearly Schon and Co. would not have selected him, particularly with the new positive — growing a fan base in the east, and the negative — now dealing with the color-aroused ignorance in some of its existing fan base. It's an intriguing and challenging time for this iconic band – preserving its performance of the Perry material is essential as is delivering new material that can become part of the permanent back catalog.
I would love to hear some new music from Steve Perry, simply because I'm sure his voice, with age, can still deliver ballads in his lower, raspier register that are equally wonderful. It would be great to hear from him again if only for his emotive style that has yet to be matched by his successors.
So I've wrapped up my immersion Journey tour for the weekend; I've put a few songs on my Droid phone to listen to when I need a fix of old and new. It's all good.
Now that this is out of my system (save for Wheel in the Sky getting stuck in my head on Sat) I wonder what my next immersion musical artist from my past will be?
* Live in Houston 1981: The Escape Tour (1981)
* Journey: Live In Manila (2009) It airs again at 12AM on the cable channel PalladiaHD on June 15.
* Steve Perry Online
* Arnel Pineda Official Web Site