Don't miss stories. Follow Raw Story!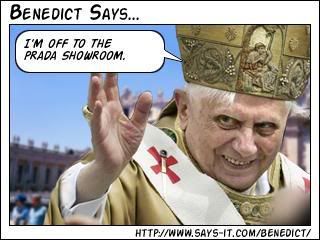 SCOTUS is busy with the rulings today and it has now dealt a huge blow to the protectors of child-raping priests in the Vatican as a ruling came down today that could result in Pope Benedict taking the stand. (Raw Story):
Allowing a federal appeals court ruling to stand, the decision means Vatican officials including theoretically Pope Benedict XVI could face questioning under oath related to a litany of child sex abuse cases.

The Supreme Court effectively confirmed the decision of an appellate court to lift the Vatican's immunity in the case of an alleged pedophile priest in the northwestern state of Oregon.
More on that immunity, which has been the hoped-for trump card in the Vatican's pocket.
The lawsuit, filed by a plaintiff identified only as John Doe, claimed he was sexually abused on several occasions in the mid-1960s when he was 15 or 16 by a Roman Catholic priest named Father Andrew Ronan.

According to court documents, Ronan molested boys in the mid-1950s as a priest in Ireland and then in Chicago before his transfer to a church in Portland, Oregon, where he allegedly abused the victim who filed the lawsuit. Ronan died in 1992.

…The Vatican claimed immunity under a U.S. law, the Foreign Sovereign Immunities Act of 1976, that allows foreign states to avoid being sued in court.

But the law contains exceptions. The appeals court cited one of those, ruling the lawsuit has sufficiently alleged that Ronan was an employee of the Vatican acting within the scope of his employment under Oregon law.