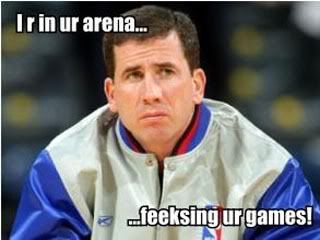 Did Tim Donaghy run a ref clinic for Alberto Undiano before the game?
7 cards in the first half. Maybe Alberto Undiano thinks of cards like paint, and he was merely expressing himself like Jackson Pollock. Maybe he thought he could single-handedly make football a non-contact sport. Maybe he had money on the Serbs justsayin. Because while there were cards dished all around, the way he went right for the second card on Miroslav Klose and nearly tripped over himself to raise the red, dropping a few yellows on the Serbs would be a great way to cover your tracks.
Never assume malice when sheer stupidity will do, I suppose, but Undiano makes it difficult. The Guardian's Rob Smyth:
This referee is a complete joker. Klose runs after Stankovic on the halfway line and misses a perfectly honest attempt to hook his leg round the ball. It's a clear foul but, like his first booking, was nowhere near a yellow card. That is utterly wretched officiating, unacceptably poor.
The red card had one thing going for it: it completely changed what had been a ho-hum knockabout into a rampaging desperation festival. Within a minute, the ball was in the back of the net. Serbia's Krasic crossed a ball to the far post, weighted beautifully, and Zigic headed it back to the center of goal, where Liverpool almost-signee Milan Jovanovic hammered it home at point blank range.
Germany wasn't quitting, though. The best attack came right at the end of the half off a corner. It was passed low into the box and sent back for a cross. Serbian keeper Vladimir Stojkovic punched it out, but it fell right to Sami Khedira's feet. He blasted the ball off the top of the bar, and it fell to yet another German, who bicycled the rebound only to have it cleared by one of the wall of defenders that had set up shop with Stojkovic off his line.
If wackyfooty like the above is your cuppa, then the second half continued to oblige. The ref allowed Philipp Lahm to be tripped right outside the penalty area despite moments earlier whistling him for a dainty challenge that actually got the ball. I was making fixing cracks on the Twitter when Nemanja Vidic made a great diving save on the ball for Serbia. The only problem? He's not the keeper. What the hell was he thinking? He threw his arms up like a Touchdown Jesus begging for lightning. Even Undiano, after an inexplicable hesitation, had to call for the penalty. That set up Lukas Podolski for the game-tying opportunity.
[Pause.]
The first thing (and probably only thing) people will remember from this game is the refereeing. But when this game died, its final whisper was not "Undiano" but rather, "Podolski."
Fear not, game, for I hear you! This match, especially the second half, was all about Podolski.
When the game started, I made a dork joke about whether Podolski would live up to the ratings boost he was given in EA's FIFA 10 after the 4-0 win over Australia. Turns out, kind of a relevant question. And the answer: no, no, a baquinjillion times no.
[Unpause.]
So Podolski stepped up to take the penalty after Vidic attempted to transmogrify into winged fowl. His plan? Telegraph a shot to the right while making sure to hit it soft and center so Stojkovic can easily dive and smother the kick. Didn't he see Blanco's net-singeing PK yesterday? How about Forlan's? Come on, dude, you can't go Frank Lampard/John Terry when you're down a man and a goal. Meek. Tentative. Bad.
There went Germany's best chance to salvage a point, but it wasn't the first time in the game that Podolski would cost them one. Mesut Ozil was everywhere for Germany, constantly creating opportunities — especially for Podolski. In the 55th, Ozil passed across the field to a charging Podolski, who fired wide. Two minutes later, Ozil flicked a first-time pass right to Podolski, but he could only hit the side netting. Then he missed the penalty.
Podolski wasn't done missing after the penalty, either. He made a nice run into the box, but then he ran out of ideas, nearly took himself out of play, and eventually tapped a pass to no one. His reaction? Throw his hands up at the teammates who positioned themselves for a cross like normal players. Four minutes after that, he took another smart pass from Ozil and decided to shoot early and a mile high. More misses followed, more chances were wasted. I'm shocked the Germans never pulled him, because he was a black hole for their hopes to tie the game.
When everyone else says "did you see that referee in the German game?" You should nod, but then respond, "Yeah, but did you see that Podolski guy?" His crimes against finishing must not be forgotten.
Trump acts out his Superman fantasy for Florida seniors at campaign rally
It's not the first time President Donald J. Trump has acted out his apparent Superman fixation at one of his superspreader rallies - and it certainly doesn't appear it will be his last.
"In several phone calls last weekend from the presidential suite at Walter Reed National Military Medical Center, Mr. Trump shared an idea he was considering: When he left the hospital, he wanted to appear frail at first when people saw him, according to people with knowledge of the conversations. But underneath his button-down dress shirt, he would wear a Superman T-shirt, which he would reveal as a symbol of strength when he ripped open the top layer," The Times reported earlier this month.
BLM activist details FBI visit to her home: 'This is why this president is so dangerous'
President Donald Trump's incitement of racism in his supporters was blasted by Black Lives Matter activist Alicia Garza on Friday.
"The FBI visited my house today," she revealed on Twitter.
"They arrested a man in Idaho on weapons charges who they believe was affiliated with white supremacist groups. They found my name on a list in his home, alongside others," she explained.
"This is why this President is so dangerous," she continued. "He is stoking fires he has no intention of controlling."
"I'm ok y'all, but this sh*t is not ok. Vote this muthaf*cka out," she suggested. "For real."
Did a maskless Trump supporter flash a 'white power' sign at his The Villages rally?
Did a maskless supporter of President Donald J. Trump really just flash a "white power" sign at his rally at The Villages in Florida?
The sign, with the thumb and index finger's tips touching while the other three fingers are extended was traditionally known as the okay symbol.
Southern Poverty Law Center said the hand signal is "used ironically by a number of Trump supporters at far-right rallies. It's been particularly prominent among far-right street protesters such as the Proud Boys and the Northwest-based Patriot Prayer, whose members have prominently displayed the sign in group photos and during street protests."