Don't miss stories. Follow Raw Story!
This post is a bit of LGBT inside baseball that has caused a bit of a stir, mostly because it has not been covered much in LGBT media to date – a major figure in the community is handling the crappy PR effort to spread BP's propaganda and spin — and the question is whether there will be any blowback because of this association.
---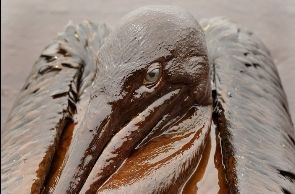 Hilary Rosen. The former honcho of the Human Rights Campaign (HRC), the Recording Industry Association of America (RIAA), and now-former political director of Huff Post is knee-deep (or is it neck-deep) in this BP quagmire as part of its image clean-up effort, which surely pulls in big bucks for her.
After the spill, the company brought on crisis communicator Hilary Rosen, former Democratic congressional staffer, former chief executive of the Recording Industry Association of America, and a current editor-at-large for HuffingtonPost.com. Ms. Rosen heads the Washington-based office of U.K. communications firm the Brunswick Group. Public records are not yet available on the new Brunswick contract. Ms. Rosen declined to be interviewed on the record.
With the level of almost-certain criminality (the Obama DOJ is looking to press charges) and just plain brain-dead public statements by BP executives, Rosen, who has been MIA on CNN as a talking head since this development, surely has to consider the blowback because of her association with a company that is literally destroying the Gulf of Mexico's ecosystem and the livelihoods of hundreds of thousands of people.
When HuffPost tossed her overboard, it was clear that it realized its aggressive coverage of BP was in conflict with Rosen's new relationship with the oil giant.
"Hilary is no longer our Washington Editor at Large, a mutual decision we recently reached given her involvement with BP," wrote Arianna Huffington in an email today, responding to a query from POLITICO. "However, we still have a great personal relationship. And, of course, Hilary's work with BP has had zero effect on our coverage of the company or the disaster in the gulf. Comprehensive and hard-hitting, our coverage speaks for itself."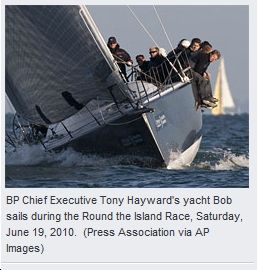 And there's reason to make that split. Rosen is not indirectly involved with BP — she's hands-on working with the team to coach gaffe-prone BP CEO Tony Hayward.
Orchestrating the response is the Brunswick Group, whose Washington managing partner, Hilary Rosen, has connections throughout the city as the former head of the Recording Industry Association of America and from previous jobs that include working for Senator Dianne Feinstein, a California Democrat.

…The experts talk daily to plot strategy and dissect the day's events. In prepping Hayward for his hearing, says one adviser, the basic message was: Don't say anything you don't know to be true.
It's pretty hard to say that Brunswick and Rosen are succeeding in any respect. Bloomberg Businessweek bluntly said:
The bottom line: BP's hiring binge of lawyers, lobbyists, and media experts to help it deal with angry demands from Washington may not be doing it much good.
It was also noticed by Muckety with "Hilary Rosen can't wake up from the nightmare."
And we thought that BP lobbyist was the worst job in America. It's a piece of cake, compared to BP PR person.

After all the gaffes by Tony "I want my life back" Hayward, the company puts chairman Carl-Henric Svanberg in front of the mike and Svanberg talks about the "small people."

Then BP eases Hayward out as the U.S. frontman for the emergency efforts and where does he go? To the Isle of Wight to watch his yacht, "Bob," compete in the Round the Island Race, sponsored by JPMorgan Asset Management. (Is he flipping us off or does he really not get it?)

Hilary Rosen must be ready to take a dive into the Gulf.
The dilemma of pocketbook before principles — it's a personal decision whether one engages in a professional relationship with a client regardless of the ethics of its practices — but it something worthy of discussion here, particularly because of the ties Hilary Rosen has to the LGBT community. Muckety, which maps out the connections of players of power and influence, shows us why this is relevant.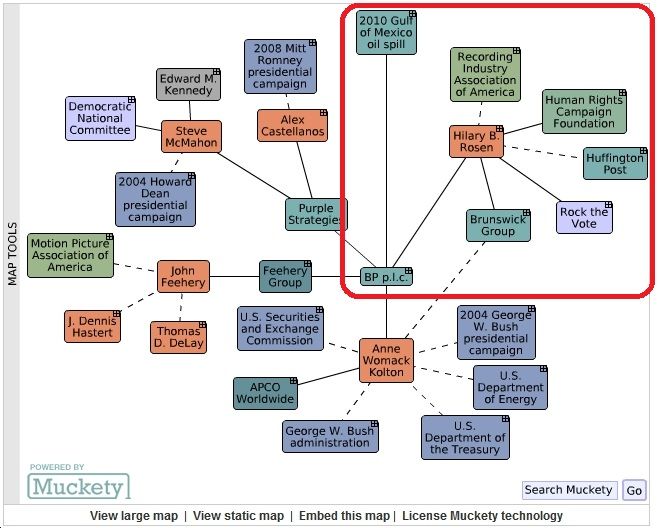 If The Huffington Post has seen fit to sever ties with Rosen over her relationship to BP, where does that leave HRC? Does the HRC/HRCF board have any problem with this (Rosen is on the HRCF board)? Surely some large donors might take issue.
More below the fold.
One can perhaps rationalize (and I can see this coming), that LGBT rights advocacy and Rosen's access and power have nothing to do with BP's treachery and editorial consistency by an online news outlet. On the surface no, but shouldn't we hold those who may also represent our issues accountable on matters such as this, or should we remain silent and not even ask questions? Is the LGBT news media interested in these relationships and the possible political consequences? If not, why not?
***
UPDATE: Joe Sudbay of Americablog picked up on this story; perhaps other LGBT media will take a look into the subject. Incidentally, Joe had his email addy harvested from a private mailing list and BP is now spamming him with its media whitewashing from Brunswick. Only someone affiliated from Brunswick would have done this.
Last night, I received press release via email. I get lots of press releases, but this one came from BP via its p.r. flaks at the Brunswick Group. I'm not sure how the Brunswick Group decided to put me on its BP distribution list, but I let them know I'm not interested:

You wanted to make sure I saw this release? Really. Why?

I'm not interested in bullshit propaganda from BP's flaks. Take my email address off your list NOW.

The Brunswick Group shouldn't have access to this email. I only use it on private listserves. And, it offends me that my email was used by the corporate whores who are defending BP.

I'm sure the Brunswick Group is hauling in a lot of money for defending the atrocious behavior of its client. I hope it's worth it for all of you.
He notes:
Hilary is considered a force in DC politics. She's a key player at the Human Rights Campaign. She's a CNN pundit.

So, when, if ever, do we draw the line between our friends and our friends who defend the enemy? Because let's face it, the Republicans are the allies of Big Oil. Joe Barton clarified that on Thursday.
In essence, this is less about LGBTs/BP but the culture of the Beltway, where relationships, power and access trump principles generally. DC is a company town where your rolodex means you can earn big bucks shilling for companies and industries that are literally toxic, and as a consultant you learn to sleep like a baby at night, because it is all an abstraction. If BP's actions threatened the environment of the Beltway (say the drinking water, for instance), I doubt you'd see as many people accepting pay from BP.
Related:
* Power Lez Hilary Rosen Is Helping BP Confuse the Public About Oil Devastation