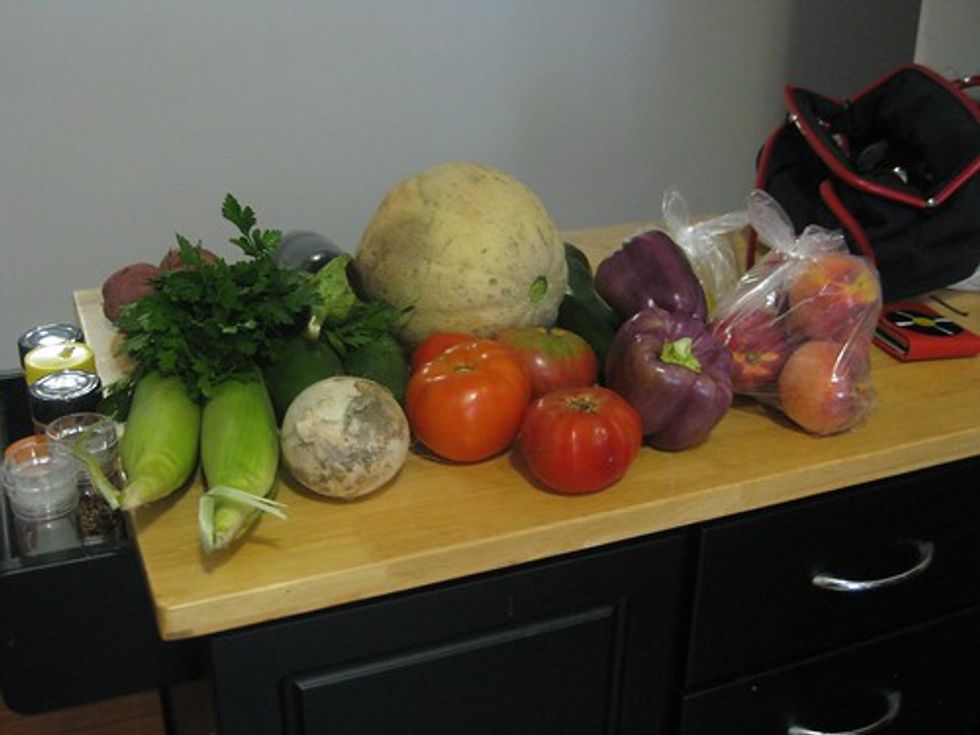 CSA Week #6
---
Eggplant

Corn

Parsley

Zucchini

Tomatoes

Onion

Potatoes

Purple peppers

Cucumbers
Fruit:

Peaches

Plums

Cantaloupe

Nectarines
Since we skipped last week, due to Netroots Nation (I let someone else have my CSA), I'm just going to skip week #5 in general and go straight to #6. There is therefore only two dinners that we got out of this, though they created a lot of leftovers that I'm still happily eating. I'm adding the music I listen to while cooking, in reference to the last CSA post and suggestions of how to make cooking more entertaining.
I saw this link on Twitter the other day, and I have to say that the annual moaning about too much zucchini never made sense to me. I've never had anyone dump a bag of zucchini on me, though they're welcome to do it. I have trouble imagining such a thing as too much organically grown garden zucchini. Granted, I am a vegetarian, and so zucchini is the sort of thing I can eat piles of, because it makes a great meat substitute in all sorts of food, including pastas and Tex-Mex dishes like squash enchiladas. (Which I've been dying to make, but am having trouble cobbling together the peppers for the sauce, or finding canned sauce in NYC.) Which is why I raise an eyebrow when someone whips out the, "I like zucchini, but" line. If it's overabundant in the summer and you're a meat eater, just eat more vegetarian dishes, right? Vegetarians find it hilarious when meat eaters worry that our diets have less variety, since most meat eaters eat mostly beef or chicken, with occasional forays into pork or fish.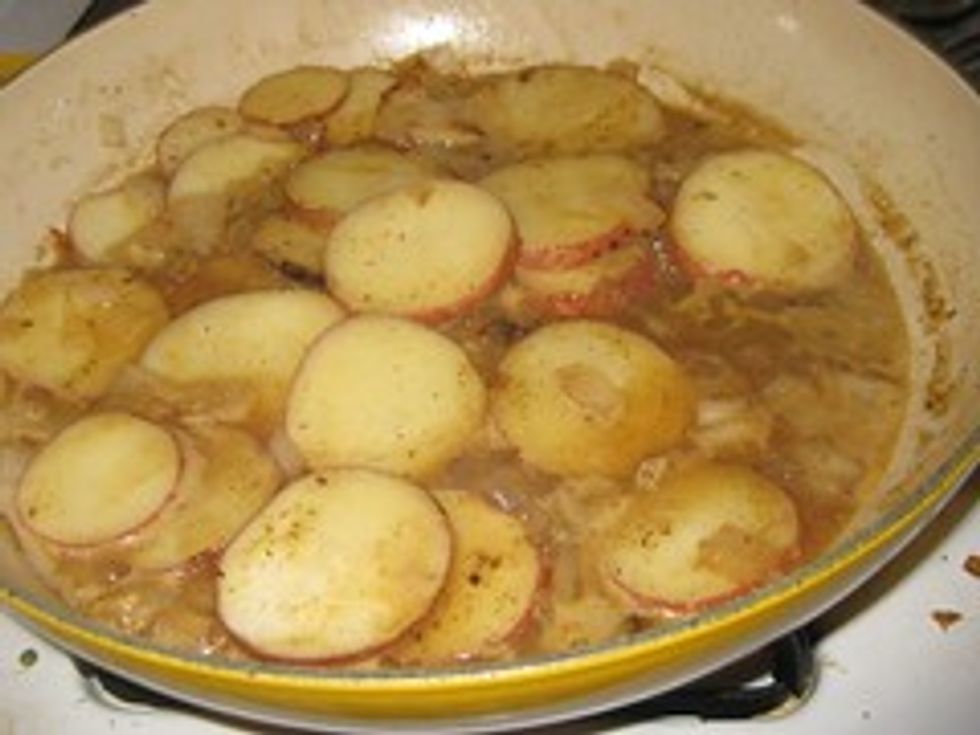 Dinner # 1
1) Thanks to the people who suggested keeping veggie scraps and using them to make broth. Now I have a growler of broth in my fridge, and it's a much quicker way to cook with veggie broth than using bouillon. I used some to make potatoes. I sliced potatoes and onions, tossed them into the pan with salt and pepper, and then poured veggie broth and mustard on. So delicious.
2) Made the cucumber salad with a soy and ginger dressing from the Bittman book, since it worked out so well last time.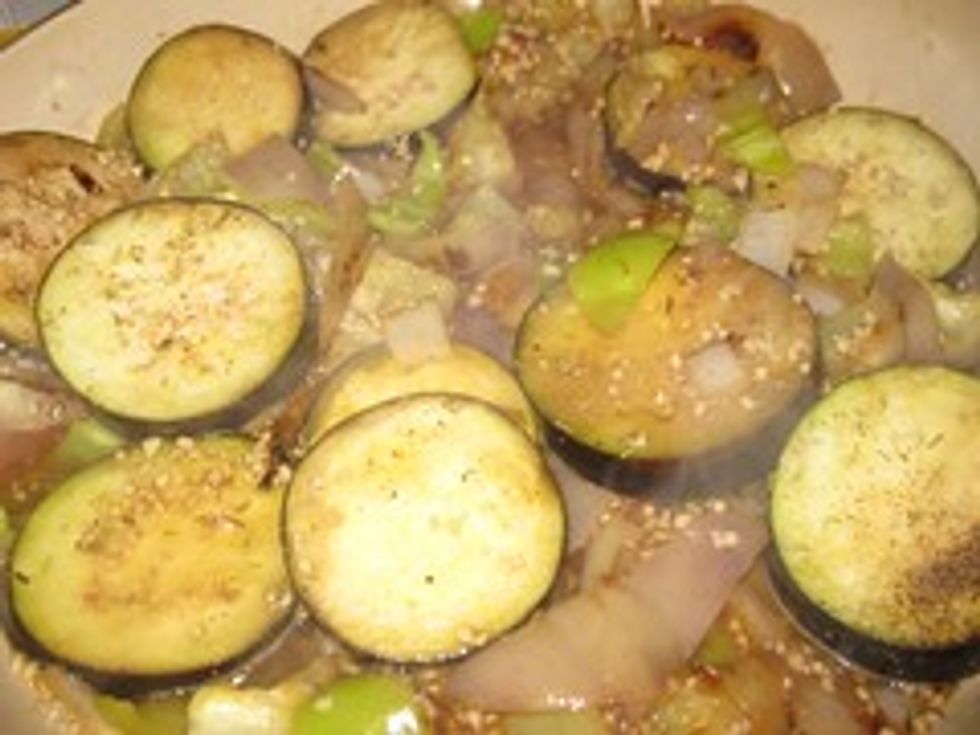 3) Riffing off another Bittman recipe, I cooked the eggplant, purple peppers, some garlic and some onion together, throwing in one green pepper for good measure.
4) Made yogurt sauce with some basil from my fire escape, because I have so much of it now. This was eaten on the eggplant/pepper mix.
Time: 45 minutes, mostly because I used the same pan for the potatoes and eggplant, so I had to stagger the dishes.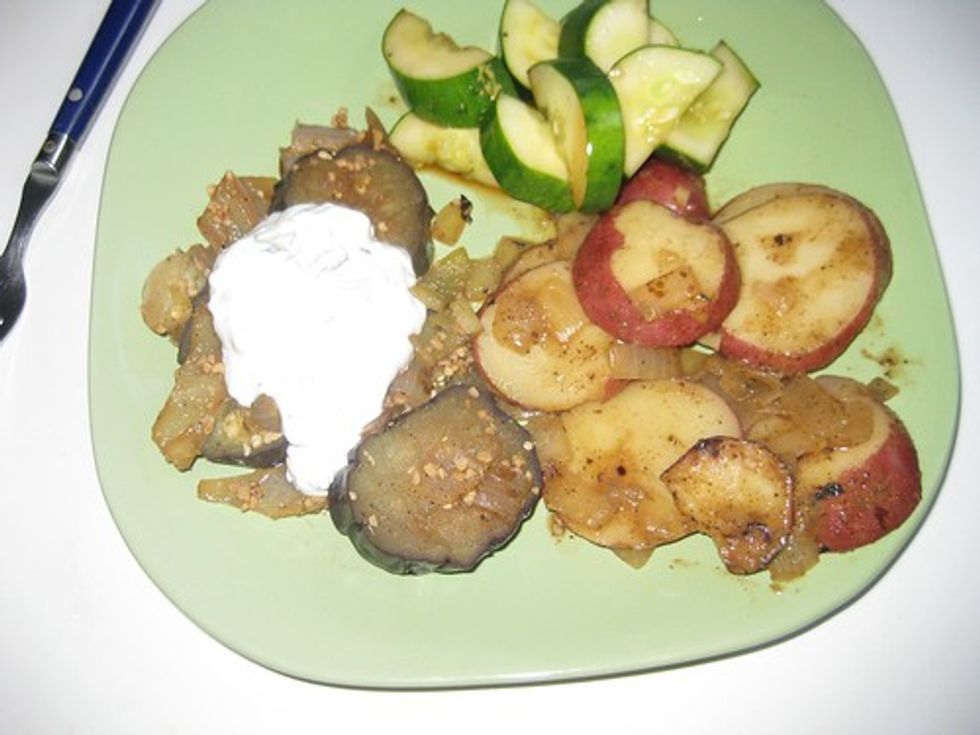 Soundtrack: The vinyl records for LCD Soundsystem's first record and Sleigh Bells.
Prepping: Set some beans to soak overnight. In the morning, cooked them and put them in the fridge.
Dinner #2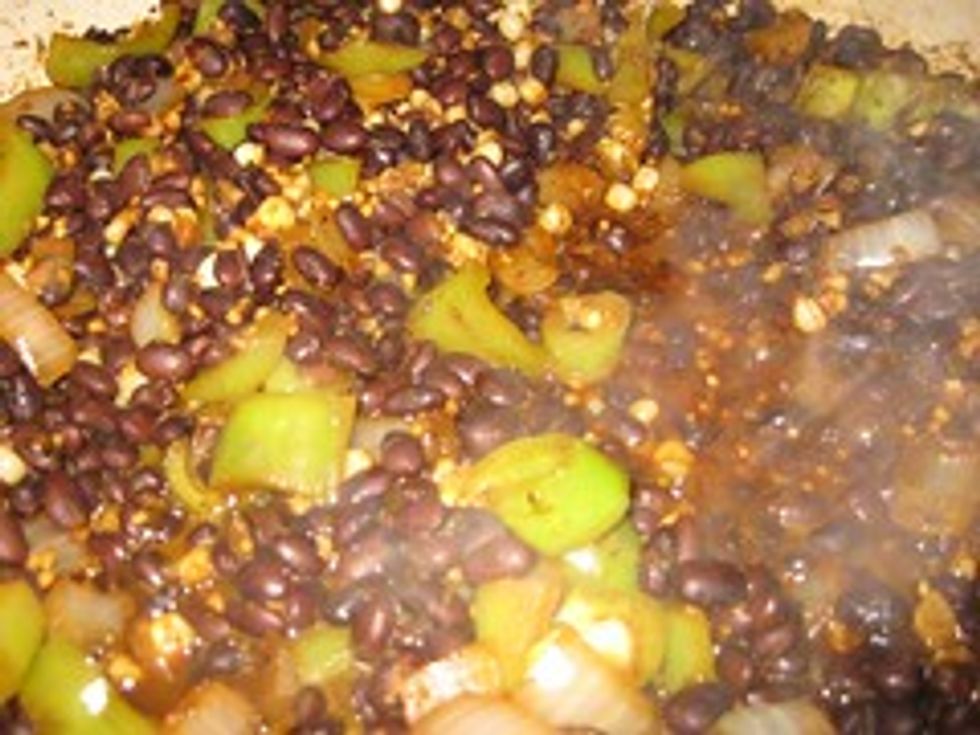 1) Made some tabouleh out of bulgur wheat. Basically cooked the wheat with some cumin while I quickly browned some zucchini with chili powder and garlic on the side. When the wheat was done, added the zucchini, some basil, the parsley and some tomatoes. Put it in the fridge to cool.
2) Cut up the corn, onions, and some green peppers. Tossed them in the pan for a few minutes. Added in the black beans that I'd cooked and drained earlier (canned will do if you don't have the time). Garlic and a bunch of spicy stuff, like chili powder, hot sauce, cumin, and oregano. Goya seasoning with some veggie broth to wet it up some. Served with yogurt sauce and hot sauce.
3) Cut up the cantaloupe for dessert.
Time: 45 minutes, because I staggered it again. This time, there was time when the bean mix was on the stove just cooking, so I used that time to do all the dishes.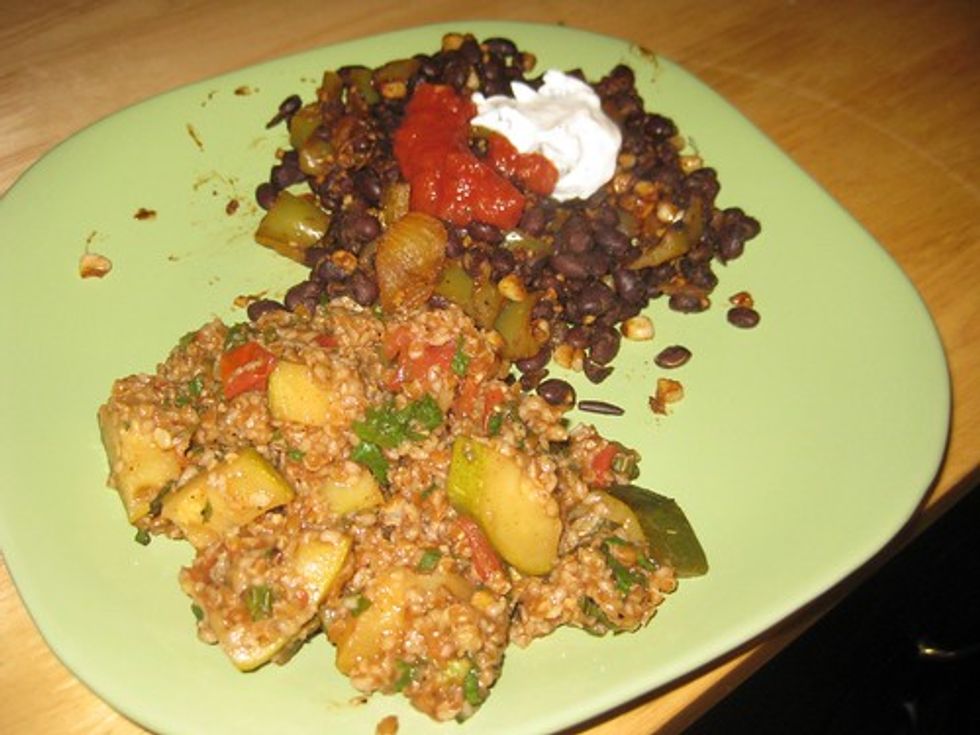 Soundtrack: Made a Genius mix off a Calvin Harris song, which pulled up a bunch of poppy dance stuff, including Goldfrapp, Yelle, and The Knife.