The deviance of 'gay marriage' to the max: cleaning out the pantry and fridge on a Friday night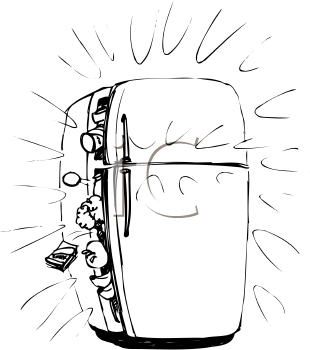 For the homobigots out there who are worried about the downfall of marriage if gays and lesbians are allowed to partake in it, let this be an example of how mundane and committed married life can be for some of us working hard on The Homosexual Agenda.
My lovely wife Kate and I decided, instead of eating babies and participating in an orgy, to spend Friday night cleaning out the pantry and fridge of outdated and spoiled food.
It was a revelation of sorts, with various "science projects" in the fridge, and long-outdated canned goods in the pantry. And some of the dates were frightening.
Some of the fun discoveries in the fridge:
Moldy green Sargento swiss cheese
Ziploc bag containing two boxes of leftover Chinese food, one had leaked through and discolored the box
Rubbermaid plastic container with what looked like was a half of an onion at some point.
Jar way in the back with one dill pickle floating in its water
Deli drawer with various opened packages of deli meats at least a month old.
Apples that have been in there at least 2 months at least and do not look spoiled (that seems unnatural, no?)
Applesauce that was ancient and still didn't look spoiled (scary)
Various discolored, freezer-burned meats that we didn't Foodsaver
Some treasures in the pantry:
Three cans of Healthy Choice soups with expiration dates of 9/2009 and 7/2008(!).
Can of Campbell's Chicken Noodle Soup (that one I'm blaming on Kate), date: 7/2006(!)
Cans of corn dated 8/2009
Open boxes of pasta and rice, who knows how old.
Open box of Lorna Doones
Open bag of Original Goldfish crackers from June
And that was our deviant Friday night of marital bliss, Maggie, Brian, and the rest of you homo-haters out there.
Feel free to share your pantry and fridge purge nightmares in the comments, or tell us about your progressive Friday perversions that should scare the fundies.
White House spokesperson ridiculed for 'pathetic' spin on Trump's trade war admission: 'Does she think we believe that?'
Hours after Donald Trump blithely admitted that he had "second thoughts" about his trade war with China that has damaged the U.S. economy and helped set the stage for a possible recession, White House spokesperson Stephanie Grisham was forced to issue a clarification about the president's comments.
Addressing Trump's G7 response about his tariffs, widely interpreted by the press as expressing some regret, Grisham issued a statement saying the president meant that he wished he had increased his market-destroying tariffs even more.
"The President was asked if he had 'any second thought on escalating the trade war with China,'" White House press secretary Stephanie Grisham relayed. "His answer has been greatly misinterpreted. President Trump responded in the affirmative - because he regrets not raising the tariffs higher."
Here is why Trump is obsessed with Greenland
They say that history repeats itself, first as tragedy, then as farce. Remember that President Harry Truman tried to purchase Greenland in 1946; now, in 2019, President Donald Trump is trying to do the same thing.
This article first appeared in Salon.
To be clear, Trump's farcical, "absurd" idea — to borrow the adjective used by Danish Prime Minister Mette Frederiksen — is not happening, and was never going to happen. As Frederiksen pointed out, Greenland is "not for sale." Trump, for his part, has not backed down from the idea.
Iowa's Steve King facing ouster because his campaign is broke and his allies have fled: report
Iowa Republican Steve King is facing losing his seat representing his district in the U.S. House of Representatives as his campaign finds itself broke and the Republican Party has turned its back on him after his latest round of controversial comments.
According to a report from the Daily Beast, his campaign is struggling to bring donors -- who once wholeheartedly supported him --back into the fold.
Even worse, his colleagues in Congress have also abandoned him.