The deviance of 'gay marriage' to the max: cleaning out the pantry and fridge on a Friday night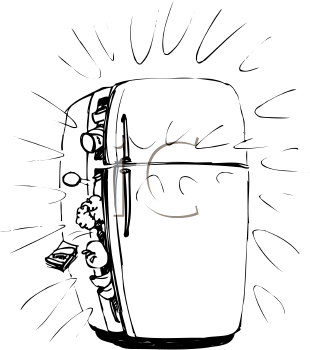 For the homobigots out there who are worried about the downfall of marriage if gays and lesbians are allowed to partake in it, let this be an example of how mundane and committed married life can be for some of us working hard on The Homosexual Agenda.
My lovely wife Kate and I decided, instead of eating babies and participating in an orgy, to spend Friday night cleaning out the pantry and fridge of outdated and spoiled food.
It was a revelation of sorts, with various "science projects" in the fridge, and long-outdated canned goods in the pantry. And some of the dates were frightening.
Some of the fun discoveries in the fridge:
Moldy green Sargento swiss cheese
Ziploc bag containing two boxes of leftover Chinese food, one had leaked through and discolored the box
Rubbermaid plastic container with what looked like was a half of an onion at some point.
Jar way in the back with one dill pickle floating in its water
Deli drawer with various opened packages of deli meats at least a month old.
Apples that have been in there at least 2 months at least and do not look spoiled (that seems unnatural, no?)
Applesauce that was ancient and still didn't look spoiled (scary)
Various discolored, freezer-burned meats that we didn't Foodsaver
Some treasures in the pantry:
Three cans of Healthy Choice soups with expiration dates of 9/2009 and 7/2008(!).
Can of Campbell's Chicken Noodle Soup (that one I'm blaming on Kate), date: 7/2006(!)
Cans of corn dated 8/2009
Open boxes of pasta and rice, who knows how old.
Open box of Lorna Doones
Open bag of Original Goldfish crackers from June
And that was our deviant Friday night of marital bliss, Maggie, Brian, and the rest of you homo-haters out there.
Feel free to share your pantry and fridge purge nightmares in the comments, or tell us about your progressive Friday perversions that should scare the fundies.
Trump nominates Clarence Thomas' wife to co-manage the Library of Congress Trust Fund: report
On Thursday, The Daily Beast's Sam Stein reported that President Donald Trump is nominating Virginia Thomas to serve on the Library of Congress Trust Fund board of directors.
Trump just nominated Virginia Thomas, longtime conservative activist and wife of Supreme Court Justice Clarence Thomas, to be a Member of the Library of Congress Trust Fund Board.
— Sam Stein (@samstein) May 28, 2020
Trump is desperate and clinging to anything he can use — including overt threats of violence
Donald Trump, by design, is a chaos monster who shovels crap out faster than people can process it. Unencumbered by normal human qualities like empathy or conscience, Trump can bounce from one awful behavior from another — grifting, sexual assault and harassment, racism, lying, conspiracy-mongering, criminal schemes — with astonishing speed, doing more wicked deeds in a day that what most aspiring villains can accomplish in a year or even a lifetime.
'Cowardly' and 'shameful': Critics say Trump's refusal to release mid-year economic forecast an obvious election year ploy
"It gets them off the hook for having to say what the economic outlook looks like."
Administration officials have confirmed that the White House, breaking with decades of precedent, will not publish a mid-year economic forecast—a decision critics said is an obvious move to shield President Donald Trump from the political implications of a tanking economy ahead of November's election.
"Trump figures if he doesn't tell people they're out of work, they won't know they're out of work," tweeted writer Gerry Conway.