Former NBA star John Amaechi barred from hometown gay club: he's 'big & black & could be trouble'

Via Towleroad, a clear sign that it's not a post-racial society across the pond either. Bonus points in this case for these clubs employing a shared security system to do their racial profiling and have closed ranks regarding the controversy.
"When Amaechi questioned the decision, the doorman said it was a 'private members' bar.' He then allegedly claimed that the New York Times best-selling author had been flagged up as 'trouble' on the gay village's shared security radio network. A spokesperson for the bar later told Amaechi's representative: 'Your group was stopped from entering the venue on Friday night as a message was received over the NiteNet radio system, (a system where several venues work together within the village, where they announce any issues they have with any customers), that your group had been argumentative and aggressive to another venue's doorstaff. On interview with the staff who were present at the time, we are satisfied that there were no racism or bigotry comments as you suggest. All three staff who were present on the door at the time have been with us for over 14 months and none of them have ever displayed the attitude or characteristics you suggest in your email. You have clearly misunderstood the situation and perhaps justifying your exclusion that evening. We consider this matter closed now.'"

The other bars, VIA and Taurus, which use the NiteNet system deny there was any such warning about Amaechi's behavior.

According to the paper, "Amaechi's representatives have lodged a complaint with the Equality and Human Rights Commission along with a complaint to the Manchester City Council LGBT affairs director, Terry Waller and also with the Greater Manchester Police LGBT liaison office."
This took place in Manchester, UK, Amaechi's flipping hometown! Oh, and what part of "big and black and could be trouble" isn't racist? Why would Amaechi even bother making something ridiculous like that up? I wonder where this case will go.
***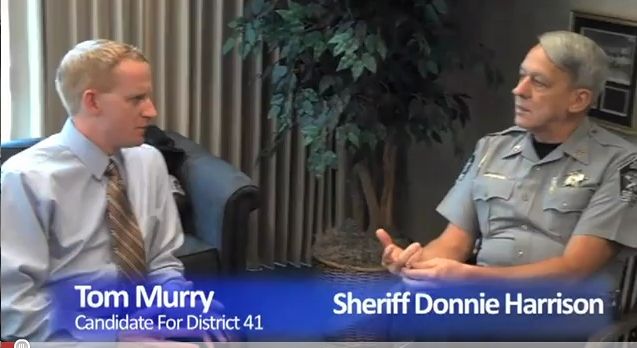 Back on our side of the Atlantic, and close to home, a sheriff here in NC goes on a nostalgia trip because required probable cause for pulling motorists over has cramped his style re: racial profiling, and general illegal chicanery.
Wake County Sheriff Donnie Harrison says the constitutional protection against unjustified searches and seizures inhibits law enforcement and it would be better if police could pull over motorists without probable cause.

Harrison, a Republican seeking election to a third four-year term in November, makes his comments in a video interview on the YouTube channel of Tom Murry, a Morrisville councilman running for the state House in the 41st District, which includes parts of Raleigh, Apex, Cary and Morrisville.

In the video, Murry asks, "Is the state making it easier for you to do your job or making it more difficult?"

Harrison, a former North Carolina Highway Patrol trooper, responds, "The biggest thing I see is the way we interpret laws. Back when I was a young trooper, we could stop a car anytime we wanted to to see if they had a driver's license. Now you can't do it. You have to have suspicion of probable cause. So, to me, it's sort of burden on us."
Trump-loving actor hilariously roasted for complaining that a Canadian team won't visit the White House
Kevin Sorbo, a Trump-loving actor best known for playing Hercules in the TV series "Hercules: The Legendary Journeys," drew instant ridicule this week after he bitterly complained about a Canadian team that wouldn't visit President Donald Trump at the White House.
Earlier this week, Toronto Raptors guard Danny Green said that his team would not accept an invitation to the White House thanks to the behavior of President Donald Trump.
"I try to respect everybody in every field that they do regardless of how crazy things are," Green explained. "But he makes it really hard. He makes it very, very tough to respect how he goes about things and does things. To put it politely, I think it's a hard no."
Evangelicals wildly chant '4 more years' after Trump claims mothers are 'executing' their infants after birth
Speaking at the Faith and Freedom Coalition 2019 Road to Majority Policy Conference in Washington, D.C., on Wednesday, President Donald Trump claimed that infants were being "executed" after birth.
"Unfortunately, Democrat politicians have become increasingly hostile to pro-life Americans, who want to help more children find a loving home and share their dreams with the world," Trump told the evangelical crowd.
"Virtually every top Democrat now supports taxpayer-funded abortion right up to the moment of birth. By the way, if you watched Virginia, the governor, after the moment of birth -- that was something that nobody -- that was something that nobody heard of before. After the moment of birth."
Meghan McCain explodes after Whoopi Goldberg compares US record on LGBT rights to Iran
Meghan McCain slammed Iran for its treatment of LGBT people, and she lashed out when Whoopi Goldberg reminded her of the Republican Party's less-than-stellar record on equal rights.
"The View" co-host condemned Iran's harshly oppressive treatment of women and LGBT people, as its leaders engage in an escalating war of words with President Donald Trump.
"When you are a leader of a country that throws gay people off of roofs for being gay, and stone women in the street for wearing tank tops, how dare you judge our country," McCain said.
Goldberg stepped in to say the U.S. didn't have a spotless history in that regard.