Repubs give up all pretense of being sticklers for process the second they get power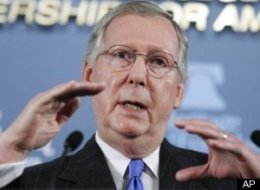 A lot of Republicans ran on the promise of repealing health care reform, which only worked, of course, after telling their base that "health care reform" is basically code for "giving people you moved out of the city to get away from money so they can sit in the doctor's waiting room right next to you like it was some subway or something". Of course, repealing the law was a farcically empty promise, though I suppose the hope is they could beat Obama down enough he'd actually sign that bill. He did hang his head and claim that the public somehow rejected him, even though what actually happened is most of the public rejected going out in the cold to walk down to the polls for a midterm they were barely paying attention to, if at all. They didn't reject access to health care, which the Republicans already know, which is why they're pretending that they're going to rewrite the law to make it better. What they don't tell the public is "better" means "whatever it takes to keep you the undesirables from walking into a doctor's office and getting a check-up like you're one of the privileged like me".
Well, even I'm not cynical enough to think that Obama could be bipartisan shamed enough into repealing health care reform, and neither are the Republicans, since their plan is to harass it to death.
Republicans can call hearings and compel testimony, and Obama has no veto power to stop them. In the House, they'll control three major committees with a mandate to poke around on health care, subpoenas available if needed. In the Senate, they'll have added leverage on two key panels, so their demands can't be easily ignored.

Republicans say they'll focus on what the new health care law will mean for Medicare and employer health plans, mainstays of the middle class.

"Oversight will play a crucial role in Republican efforts," Senate Republican Leader Mitch McConnell of Kentucky said. "We may not be able to bring about straight repeal in the next two years … but we can compel administration officials to attempt to defend this indefensible health spending bill."
In other words, they're going to take a page from the book of people who protest, vandalize, block, and bomb abortion clinics—if they can't change the law, they're going to try to make it too difficult for you to use your rights. Except they're going to try to do it with hearings.
This is, of course, making a mockery of the powers that have been given to Congress. They're basically admitting up front they don't actually care about truth or good government, but are willing to use the powers given to them to get at these things in order to stop good government and to hopefully distract from the truth. Clearly, their biggest concern is once the public starts actually experiencing the effects of health care reform, the enthusiasm for repeal will evaporate.
What's so hilarious about this is Republicans are always playing like they're just sticklers for process. They're not bigots! They just argue that the Supreme Court has no jurisdiction over state governments…..and now apparently they have no jurisdiction over federal law, either. But let's be clear—just because they don't actually understand the law doesn't mean they aren't sticklers for it, in ways that precisely mirror their prejudices. This has nothing to do with anything but their thorough enthusiasm for sticking to the process.
Oh wait, that argument only matters if they're on the losing side of it. When they're on the winning side, then actually it's opposite day, and they object strongly to the childish notion that the powers given should only be used in the spirit they were given in. There's no hiding from the fact that you're a grade A hypocrite if you complain out one side of your mouth about "judicial activism" and then applaud Congress for calling hearings where they have no intention of gathering information to govern better, but in fact every intention of just confusing and stalling the issue. Wearing the mantle of original intent and process-orientation—but only when things are going your way—is basically wearing a "I'm a big fat lying liar piece of shit" sign.
Right-wingers have a full-blown freakout over Kavanaugh revelations — and it could blow up in their faces
Do Republicans think "men are the real victims of sexism" is a winning argument going into the 2020 election? That sounds preposterous, but there are strong indications that Donald Trump and other leading Republicans believe they can win by feeding a "victim mentality" in men, a mentality they otherwise tend to decry when detected in actual victims.
On Sunday, the New York Times published an article by the authors of a new book about Supreme Court Justice Brett Kavanaugh, introducing more corroborating evidence for claims that Kavanaugh had a history throughout high school and college of getting trashed and then sexually abusing his female classmates. That story, almost a year after Kavanaugh's momentous confirmation hearings, was interesting further evidence that Kavanaugh likely perjured himself before the Senate. Ultimately, it doesn't really change anything, since there's little reason to believe that anyone actually believed Kavanaugh was telling the truth at the time.
Air Force admits it 'would't be surprised' if they were 'Trump Turnberry's largest customer'
The Air Force has not only been staying at Trump's resorts for three years, but they were also likely the largest customer of Trump's Scottish golf club.
Washington Post reporters David Fahrenthold and Jonathan O'Connell outed President Donald Trump for working his official relationship with the Saudi royal family so they'd stay at his hotels. Politico reporter Natasha Bertrand uncovered the fact that the U.S. Air Force was being used to funnel cash to the president's companies.
Trump's Turnberry resort was losing money until he was able to reroute Air Force plans to land in Scotland to refuel instead of a military base. While that might cost American taxpayers significantly more money, it was good business for the president. Now the resort is doing extremely well.
CNN commentators laugh at GOP strategist's pathetic rationale for why Trump's Hispanic comments aren't racist
On Tuesday's edition of CNN's "OutFront," Mitch McConnell adviser and GOP strategist Scott Jennings offered a feeble defense of President Donald Trump's demand of his Hispanic adviser Steve Cortes at a rally in New Mexico that he say whether he prefers "the country or the Hispanics"
"Of course it masks racism, and he doesn't do a good job of masking it," said Democratic strategist Maria Cardona. "These comments were racist, ignorant and downright stupid. We shouldn't be surprised from what we've seen this president spew, from the moment he came down the escalator when he announced his campaign when he called Mexicans rapists and murderers and what else can we expect from this man? ... In the latest Univision/Latino Decisions poll, you have 71 percent of Latinos who said they will vote for the democratic candidate. 15 percent maybe will vote for Trump. He's in dire straits for Latinos."