SocialMiner: New software allows employers to spy on Twitter, Facebook, social networks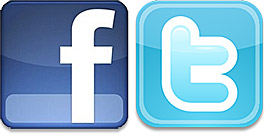 Now, it seems, you have nowhere to hide.
New software released by Cisco Systems Inc. on Wednesday makes it much easier for banks, retailers, and other businesses — including your employer — to monitor the mountain of data on social networking websites such as Twitter, Facebook and LinkedIn.
The new SocialMiner software tracks the status updates, forum posts, and blog posts of customers and potential customers in real-time, giving businesses immediate information about consumers' opinions and preferences. It's pretty cheap, too: "It can also be purchased for use with a non-Cisco contact center system, Cisco officials say. In each case, SocialMiner costs $1,000 for the server and $1,500 per agent license."
"With more and more Web-based conversations taking place over these social platforms, it's now more critical than ever that businesses are aware of what their customers are saying about them and are able to respond to general inquiries or rectify customer service issues so as to enhance and protect brand reputation," Cisco states in its SocialMiner press release.
According to The Nielsen Company, the average global consumer spent more than five and half hours on social networking sites like Facebook and Twitter in December 2009.
Nielsen also reports that over a million tweets are sent out every hour and 34 percent of Americans have used Facebook, Twitter or other social media to talk about a product or company.
Being able to monitor this vast ocean of information and respond to customers' concerns has the potential to greatly increase a brand's reputation, Cisco officials said.
The systematic tracking of information on social networking websites is nothing new. Software such as WhosTalkin and Social Mention already allow companies to compile user-generated data from social media and social networking sites.
The United States government is reported to be involved in the monitoring these websites as well.
Emails show that as part of its intelligence surveillance program, the Pennsylvania Office of Homeland Security monitored the Twitter activity of antiwar activists and anti-G20 protesters, Patriot News reports.
During President Obama's inauguration, the US Department of Homeland Security conducted a major sweep of online social networks and blogs in search of potential threats.
The European Union is reportedly planning to crack down on Facebook and Google, who both collect private data about users in order to sell targeted advertising. The new guidelines will prohibit the downloading and storing of users personal data without their consent.
"The protection of personal data is a fundamental right," Viviane Reding, the European Union's justice commissioner, said in a statement.
"To guarantee this right, we need clear and consistent data protection rules. We also need to bring our laws up to date with the challenges raised by new technologies and globalization."
WATCH: Ben Carson thanks God for Trump in bizarre prayer — and then asks Him to 'Keep America Great'
Housing and Urban Development Secretary Ben Carson on Monday opened up the White House cabinet meeting with a bizarre prayer that explicitly thanked God for the existence of President Donald Trump.
Carson began his prayer with a standard invocation thanking God for "the blessings that you have bestowed upon this country."
After that, though, Carson gave God a thumbs-up for the work He's done in putting Trump in the White House.
"We thank You for President Trump, who also exhibits great courage in face of constant criticism," Carson said. "We ask you give him strength to endure and wisdom to lead and to recognize you as the sovereign of the universe, with the solution to everything."
Bill Barr sparks anxiety within the CIA as he investigates 'origins' of Mueller's Russia probe: security analyst
As the Justice Department, headed by Attorney General William Barr, investigates the origins of the Russia investigation, some CIA operatives who played a role in gathering intelligence for Robert Mueller's probe are hiring lawyers, according to NBC News national security reporter Ken Dilanian.
According to various reports, President Trump has granted Barr with "expansive powers" for the investigation and he's reportedly seeking to question CIA analysts.
Speaking to MSNBC's Morning Joe this Monday, Dilanian said that while it's not clear what Barr's intentions are, many in the CIA are "very rattled" at the news.
White House personnel chief delivers a new blow to Trump: Top DHS candidates are not legally qualified
President Donald Trump's quest to find an acting replacement for departed Department of Homeland Security chief Kirstjen Nielsen was dealt a significant blow on Monday.
The Wall Street Journal reports that the White House personnel office chief Sean Doocey has informed the president that he doesn't believe either of his top two picks are legally qualified to hold the position.
As the Journal notes, "federal statute that governs vacancies states that acting officials in cabinet-level positions must either be next in line for a position or hold a Senate-confirmed position." Neither Ken Cuccinelli, who heads the U.S. Citizenship and Immigration Services, nor Mark Morgan, who leads Customs and Border Protection, meet those standards, Doocey determined.