SocialMiner: New software allows employers to spy on Twitter, Facebook, social networks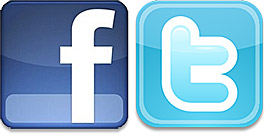 Now, it seems, you have nowhere to hide.
New software released by Cisco Systems Inc. on Wednesday makes it much easier for banks, retailers, and other businesses — including your employer — to monitor the mountain of data on social networking websites such as Twitter, Facebook and LinkedIn.
The new SocialMiner software tracks the status updates, forum posts, and blog posts of customers and potential customers in real-time, giving businesses immediate information about consumers' opinions and preferences. It's pretty cheap, too: "It can also be purchased for use with a non-Cisco contact center system, Cisco officials say. In each case, SocialMiner costs $1,000 for the server and $1,500 per agent license."
"With more and more Web-based conversations taking place over these social platforms, it's now more critical than ever that businesses are aware of what their customers are saying about them and are able to respond to general inquiries or rectify customer service issues so as to enhance and protect brand reputation," Cisco states in its SocialMiner press release.
According to The Nielsen Company, the average global consumer spent more than five and half hours on social networking sites like Facebook and Twitter in December 2009.
Nielsen also reports that over a million tweets are sent out every hour and 34 percent of Americans have used Facebook, Twitter or other social media to talk about a product or company.
Being able to monitor this vast ocean of information and respond to customers' concerns has the potential to greatly increase a brand's reputation, Cisco officials said.
The systematic tracking of information on social networking websites is nothing new. Software such as WhosTalkin and Social Mention already allow companies to compile user-generated data from social media and social networking sites.
The United States government is reported to be involved in the monitoring these websites as well.
Emails show that as part of its intelligence surveillance program, the Pennsylvania Office of Homeland Security monitored the Twitter activity of antiwar activists and anti-G20 protesters, Patriot News reports.
During President Obama's inauguration, the US Department of Homeland Security conducted a major sweep of online social networks and blogs in search of potential threats.
The European Union is reportedly planning to crack down on Facebook and Google, who both collect private data about users in order to sell targeted advertising. The new guidelines will prohibit the downloading and storing of users personal data without their consent.
"The protection of personal data is a fundamental right," Viviane Reding, the European Union's justice commissioner, said in a statement.
"To guarantee this right, we need clear and consistent data protection rules. We also need to bring our laws up to date with the challenges raised by new technologies and globalization."
Trump pits Apollo 11 astronauts against NASA chief — he thinks he understands space travel better
President Donald Trump welcomed surviving Apollo 11 crew members Buzz Aldrin and Michael Collins to the White House Friday, using the occasion to tell his space chief he would prefer to go straight to Mars without returning to the Moon.
It is a theme he had touched upon earlier this month in a tweet, and this time drew on the support of the two former astronauts, who are taking part in celebrations marking the 50th anniversary of their mission, to make his case to NASA administrator Jim Bridenstine.
"To get to Mars, you have to land on the Moon, they say," said Trump, without looking convinced.
Babies born near oil and gas wells are up to 70% more likely to have congenital heart defects, new study shows
Researchers at the University of Colorado studied pregnant women who are among the 17 million Americans living within a mile from an active oil or gas well
Proximity to oil and gas sites makes pregnant mothers up to 70 percent more likely to give birth to a baby with congenital heart defects, according to a new study.
Led by Dr. Lisa McKenzie at the University of Colorado, researchers found that the chemicals released from oil and gas wells can have serious and potentially fatal effects on babies born to mothers who live within a mile of an active well site—as about 17 million Americans do.
Mueller testimony 'is going to be a devastating day for the president': former White House lawyer
The eyes of the nation will be on Capitol Hill on Wednesday when former special counsel Robert Mueller publicly testifies before Congress.
Mueller, who was a federal prosecutor, top DOJ official, and director of the FBI before serving as special counsel, is scheduled to testify before the House Judiciary Committee on Wednesday morning and the House Intelligence Committee on Wednesday afternoon.
"As Democrats prepare for the arrival of special counsel Robert Mueller on Capitol Hill next week, their plans for his day of wall-to-wall testimony is becoming clearer: if Donald Trump were anyone but the president, he would be charged with the crimes Mueller uncovered," MSNBC anchor Nicolle Wallace reported on Friday.