SocialMiner: New software allows employers to spy on Twitter, Facebook, social networks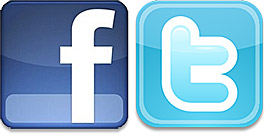 Now, it seems, you have nowhere to hide.
New software released by Cisco Systems Inc. on Wednesday makes it much easier for banks, retailers, and other businesses — including your employer — to monitor the mountain of data on social networking websites such as Twitter, Facebook and LinkedIn.
The new SocialMiner software tracks the status updates, forum posts, and blog posts of customers and potential customers in real-time, giving businesses immediate information about consumers' opinions and preferences. It's pretty cheap, too: "It can also be purchased for use with a non-Cisco contact center system, Cisco officials say. In each case, SocialMiner costs $1,000 for the server and $1,500 per agent license."
"With more and more Web-based conversations taking place over these social platforms, it's now more critical than ever that businesses are aware of what their customers are saying about them and are able to respond to general inquiries or rectify customer service issues so as to enhance and protect brand reputation," Cisco states in its SocialMiner press release.
According to The Nielsen Company, the average global consumer spent more than five and half hours on social networking sites like Facebook and Twitter in December 2009.
Nielsen also reports that over a million tweets are sent out every hour and 34 percent of Americans have used Facebook, Twitter or other social media to talk about a product or company.
Being able to monitor this vast ocean of information and respond to customers' concerns has the potential to greatly increase a brand's reputation, Cisco officials said.
The systematic tracking of information on social networking websites is nothing new. Software such as WhosTalkin and Social Mention already allow companies to compile user-generated data from social media and social networking sites.
The United States government is reported to be involved in the monitoring these websites as well.
Emails show that as part of its intelligence surveillance program, the Pennsylvania Office of Homeland Security monitored the Twitter activity of antiwar activists and anti-G20 protesters, Patriot News reports.
During President Obama's inauguration, the US Department of Homeland Security conducted a major sweep of online social networks and blogs in search of potential threats.
The European Union is reportedly planning to crack down on Facebook and Google, who both collect private data about users in order to sell targeted advertising. The new guidelines will prohibit the downloading and storing of users personal data without their consent.
"The protection of personal data is a fundamental right," Viviane Reding, the European Union's justice commissioner, said in a statement.
"To guarantee this right, we need clear and consistent data protection rules. We also need to bring our laws up to date with the challenges raised by new technologies and globalization."
CNN's Fredricka Whitfield flattens Trump apologist for hilariously bad defense of the president
CNN host Fredricka Whitfield did battle with President Donald Trump's official apologist on the network, Jim Shultz.
Schultz quoted Sen. Ted Cruz (R-TX), who said that if Democrats want witnesses, then all witnesses should be available to be called. The problem is that Republicans want to call people that weren't even involved in Trump's obstructions of Congress. Republicans want to call Vice President Joe Biden and his son, there are likely some Republicans who want to call Hillary Clinton to talk about Benghazi again, and they'll likely search for reasons they can randomly call Democratic officials in Congress, who also had nothing to do with Trump's actions.
Trump is trying Middle East Peace plan 2.0 after the first one flopped
President Donald Trump is scheduled to submit his second Middle East peace plan after the first one senior son-in-law Jared Kushner came up with didn't go over very well.
"We will get this done," Trump claimed in May 2017.
"We'll start a process which hopefully will lead to peace," Trump said. "Over the course of my lifetime, I've always heard that perhaps the toughest deal to make is the deal between the Israelis and the Palestinians. Let's see if we can prove them wrong, okay?"
Rage-filled Trump has crippled his presidency because he can't let go of a grudge no matter how small: report
According to a report in Politico, many of Donald Trump's problems are the direct result of his inability to get over the smallest of slights leading him to make poor decisions because he can't see his way to let go of a grudge.
The report notes, "Whether in the privacy of his clubs or out on the campaign trail, the president can't help but hold onto a grudge. Even as Trump heads into an election year with a record that he claims ranks him among the best presidents of all time, political grievances continue to drive everything from policy decisions to rally speeches to some of the biggest scandals of his presidency — including his impeachment."