Don't miss stories. Follow Raw Story!
Via Media Matters comes one of those stories that really drives home how much you have to, if you're a modern conservative, completely switch off your brain so that no evidence or reason ever penetrates. And just in time for the holiday season, too! Here is the story that kicked off the stupid-fest:
Christiana Figueres, executive secretary of the U.N. Framework Convention on Climate Change, invoked the ancient jaguar goddess Ixchel in her opening statement to delegates gathered in Cancun, Mexico, noting that Ixchel was not only goddess of the moon, but also "the goddess of reason, creativity and weaving. May she inspire you — because today, you are gathered in Cancun to weave together the elements of a solid response to climate change, using both reason and creativity as your tools."
Doug Powers at Michelle Malkin's blog had the best possible response ever to this little rhetorical flourish.
When you're pushing a myth, there's no more appropriate entity to pray to than a mythical goddess.
Seventeen words, three lies—two direct lies, one implied. That's not a wingnut record, but a nice contender in terms of packing bullshit into minimal space. Well-played, Powers! Let's take these lies one at a time.
1) Global warming is a "myth". This one is kind of awesome, because it's an exact reversal of the truth. The conspiracy theory that would have you believe the vast majority of the world's scientists have colluded to falsify data and create an elaborate lie about global warming is hard enough to believe just on the organizational level, but the assumption that their motivation was to steal your penis-substitute SUV makes it even better. I would actually say that it's harder to believe that this could happen than there's a moon goddess of reason, and I'm a pretty hardcore atheist. But as Christian apologists are always whining, you can't prove a negative—there could be a teapot in space, an invisible dragon in my kitchen, and a Mayan moon goddess. But you can disprove the assertion that global warming is a myth, due to the overwhelming amount of that stuff that we in the field of knowing how to use our brains call "evidence".
2) Christiana Figueres and her "moonbat" coalition actually intend to pray to Ixchel. If you can read, you'll see the problem with this assertion. Figueres said, at least according to this report, that you should be inspired by Ixchel. This is what those of us in the field on knowing-how-to-read call an "allusion": "Allusions are often indirect or brief references to well-known characters or events….. Allusions are often used to summarize broad, complex ideas or emotions in one quick, powerful image." Allusions to mythological figures are a common rhetorical flourish. If Figueres, for instance, was Greek, she could have made a similar speech asking her audience to be inspired by the ancient Greek goddess of reason, Athena. This likely wouldn't have created nearly as much snickering on the right, however, because Athena has a long history of being referred to in European literature. Once you get the white people literary allusion blessing, I guess you're not as funny any more. So extra points deducted for using racism to bolster your non-argument.
3) That Ixchel is a myth, but Jesus is totally real. This isn't stated, but implied in the context of a wingnut landscape that involves lots of screeching about the "War on Christmas". (Malkin is a consistent warrior on behalf of the belief that someone is trying to steal Christmas from her.) The amount of proof that a god was born to a human virgin, sacrificed his life to save all of mankind from paying for a woman who ate an apple, and rose three days after dying is equal to the amount of proof that a moon goddess gave birth to 13 sons, two of whom created heaven and earth. Which is to say, there is no proof of either. Apply reason and logic to both stories, and they are equal. Except that the former is more obviously misogynist in its summary, so I suppose some wingnuts would see that as "proof", but by actual logic standards, it's not.
I would generally caution people who are so gung-ho about believing in Jeebus to carefully consider if they want to even acknowledge, much less deny, other beliefs. The realization that other people believe something you've always believed wasn't true—whether it's that a moon goddess blesses childbirth or that heaven involves virgin-boinking—is often the first step to looking at your own beliefs with a critical eye. Skepticism about other supernatural claims puts more people on the path to atheism than any other factor, I'd guess. For people invested in keeping believers believing, the smartest stance is to pretend no one has ever actually had a belief other than yours.
But Powers did write more than one sentence in his post, so the stupidity doesn't stop there! While this statement fails on the test of packing as many lies as he can into minimal space, I liked it for just general dickwaddery.
Here's an image of Ixchel found on a Wikipedia page. If Helen Thomas and Code Pink had a love child…
That's some top-notch argumentation there! Powers doesn't find that this ancient drawing of a goddess makes his dick hard, therefore neener neener neener. That Ixchel is no looker! She's nothing like the Virgin Mary.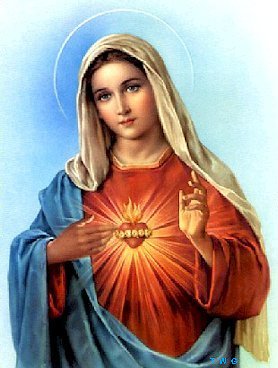 Now there's a fine piece of ass—she could almost be a Fox News anchor, if she just submitted to the bleach bottle. Either way, Powers would totally stick it to her. What other proof do you need? Powers and his penis's reaction to religious art is far better evidence in the argument over whether global warming is real than all those stupid scientists and their dumb numbers and measurements.
And, in one of my favorite wingnut tics, Powers basically contradicts his already silly argument:
In any case, it looks as if Ixchel is smiling on the Cancun Summit attendees:
Let's see how this works. Global warming isn't real because there's a moon goddess that Powers totally wouldn't stick it to, which means that liberals are ugly and sexless. But global warming also isn't real because people who accept the evidence have fun at parties, which you, the embittered wingnuts, are jealous of because that's certainly not the life you're living. Liberals are evil because they're no fun/too fun. And that makes global warming not real. If he's only have called the attendees hipsters, I think we would have had a real contender for the contest of what wingnut post best exemplifies using button-pushing on an audience of embittered assholes with insecurity complexes over actual reason.