Don't miss stories. Follow Raw Story!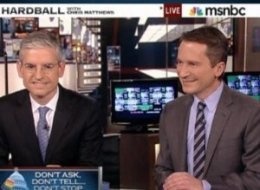 David Brock, the former closeted gay Republican-cum progressive media watchdog, appeared Wednesday on Chris Matthews' Hardball to discuss the repeal of "don't ask, don't tell" and the creation of his new watchdog group fighting for gay equality, "Equality Matters."
"It's a big day for me personally," Brock said.
Brock, who until the late nineties was a darling of the conservative media, told of what he experienced as a self-described "right-wing hit man" (the title he gave himself in a 1997 Esquire piece) — arguing that the Republican Party uses gays as a wedge issue to rally their base even though many in the party actually support gay equality.
Matthews asked Brock about President Bill Clinton's enactment of the military's 1993 "don't ask, don't tell" policy, which barred gay troops from serving openly.
"I was in the right wing then and I knew what they were doing then and I know what they're doing now," Brock replied. "It's a phony wedge, culture war issue for the right wing. For their base. They exploit gay people and they exploit the fear of gay people to gin up their base. That's what they do.
"It's a totally cynical thing," he added. "I know, I was in the right wing, so that's what's going on here."
How do gay conservatives put up with it? Matthews asked.
"Self-loathing," Brock answered. "I wasn't confident enough to come out. I think there's a lot of that."
Matthews then went on to discuss President Barack Obama's position on gay marriage, which Obama described in a clip as "evolving."
"He originally was for gay marriage, when he was a state senator," Brock said, referring to a 1996 survey prior to his election to the Illinois state senate in which Obama said he supported gay marriage. "Democrats are fearful, they feel politically vulnerable on this issue, but they don't have to be."
Video of Brock's Dec. 22, 2010 appearance on Hardball follows.
Visit msnbc.com for breaking news, world news, and news about the economy