Former right-wing gay Republican confesses GOP uses gays 'to gin up their base'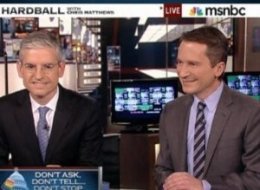 David Brock, the former closeted gay Republican-cum progressive media watchdog, appeared Wednesday on Chris Matthews' Hardball to discuss the repeal of "don't ask, don't tell" and the creation of his new watchdog group fighting for gay equality, "Equality Matters."
"It's a big day for me personally," Brock said.
Brock, who until the late nineties was a darling of the conservative media, told of what he experienced as a self-described "right-wing hit man" (the title he gave himself in a 1997 Esquire piece) — arguing that the Republican Party uses gays as a wedge issue to rally their base even though many in the party actually support gay equality.
Matthews asked Brock about President Bill Clinton's enactment of the military's 1993 "don't ask, don't tell" policy, which barred gay troops from serving openly.
"I was in the right wing then and I knew what they were doing then and I know what they're doing now," Brock replied. "It's a phony wedge, culture war issue for the right wing. For their base. They exploit gay people and they exploit the fear of gay people to gin up their base. That's what they do.
"It's a totally cynical thing," he added. "I know, I was in the right wing, so that's what's going on here."
How do gay conservatives put up with it? Matthews asked.
"Self-loathing," Brock answered. "I wasn't confident enough to come out. I think there's a lot of that."
Matthews then went on to discuss President Barack Obama's position on gay marriage, which Obama described in a clip as "evolving."
"He originally was for gay marriage, when he was a state senator," Brock said, referring to a 1996 survey prior to his election to the Illinois state senate in which Obama said he supported gay marriage. "Democrats are fearful, they feel politically vulnerable on this issue, but they don't have to be."
Video of Brock's Dec. 22, 2010 appearance on Hardball follows.
Visit msnbc.com for breaking news, world news, and news about the economy
Trump advisors admit he made a huge mistake — and needs a 'breakout' debate performance: report
On Thursday, CNN chief White House correspondent Jim Acosta reported that campaign advisers to President Donald Trump regret allowing the president to cancel the second debate.
According to Acosta, these advisers believe it's essential for Trump to have a "breakout" moment on stage at the last round.
NEW: Campaign advisers tell our Chief WH Correspondent Jim @Acosta they now believe it was a huge mistake for Trump to cancel last week's debate, making a breakout moment a must tonight to shake up the race. One adviser said Trump needs a "leadership moment..." #CNN
Lara Trump's lie about Biden family business deals demolished by conservative: 'You could look it up'
On Fox News Thursday, ahead of the final presidential debate, President Donald Trump's daughter-in-law Lara Trump repeatedly claimed that Joe Biden was allowing his family to use his name "while he was vice president" to secure profitable business deals.
Lara Trump just murdered irony pic.twitter.com/aBSQjLUp32
— Aaron Rupar (@atrupar) October 22, 2020
Trump supporters linked to Steve Bannon pushing 'fantastical rumors' to try to 'pizzagate' Joe Biden: report
NBC News on Thursday published a blockbuster report on efforts to smear former Vice President Joe Biden.
"Some of the same people who pushed a false conspiracy theory about Hillary Clinton that first emerged in 2016 are now targeting Hunter Biden, Joe Biden's son, with similar falsehoods. Their online posts are garnering astronomical numbers of shares on social media," NBC News correspondents Ben Collins and Brandy Zadrozny reported Thursday.
"The fantastical rumors, which NBC News is declining to repeat verbatim, echo specific plot points central to 'pizzagate,' a viral disinformation campaign that predates QAnon but also falsely alleges a vast conspiracy of child abuse," NBC News explained. "There is an important difference, however. The pizzagate-style rumors in 2016 were largely confined to far-right message boards like 4chan and parts of Reddit. But the Hunter Biden iteration of the same conspiracy theory took off last weekend with the help of speculation from conservative TV hosts and members of Congress. Their theorizing can be traced back to a new website that has been promoted by President Donald Trump and his surrogates."