Rep. Lauren Boebert of Colorado, a right-wing Republican and prominent member of the "Sedition Caucus," frequently speaks about her upbringing in a family struggling with poverty, describing herself as a "welfare child." Boebert has even blamed the liberal ideals held by her mother as the reason why her family was poor and required government assistance during her childhood.
But both in Washington circles and in speaking to voters in her Colorado district, Boebert has not discussed in detail exactly what circumstances landed the future right-wing firebrand and her mother in this disadvantaged situation. An investigation by Salon suggests that it had less to do with liberal ideology and more to do with her mother's failure to obtain the child support payments to which she was rightfully entitled.
Boebert's mother, Shawn Roberts Bentz, tried valiantly for years to receive child support. — and it appears likely that she and her daughter fell victim to a corrupt phlebotomist, a professional wrestler turned deadbeat dad and a negligent North Carolina child support system that allowed Bentz's case to slide through the cracks.
Boebert has occasionally been asked what role her biological father played in her family's struggles, and has repeatedly declined to answer. Exactly who her father was, in fact, remains officially uncertain: No father's name was listed on her 1986 Florida birth certificate, nor in the local newspaper's birth announcement.
But both Boebert and Bentz apparently believe that her father is Wallace Stanfield Lane, a former North Carolina pro wrestler known in the trade as "Sweet" Stan Lane — and there is significant evidence to back up that theory.
Boebert and her mother believe that Lane may have engaged in fraud regarding a paternity test he took more than 30 years ago that appeared to rule him out as Boebert's father.
Karen Weary, the North Carolina phlebotomist who took Lane's blood sample in July of 1990, was convicted of switching samples in a different case. Once child support services in North Carolina found out about this, they were mandated to notify everyone involved in Weary's cases and retest all the samples she had taken that excluded fathers.
But Boebert's mother was never notified, and Lane was never retested.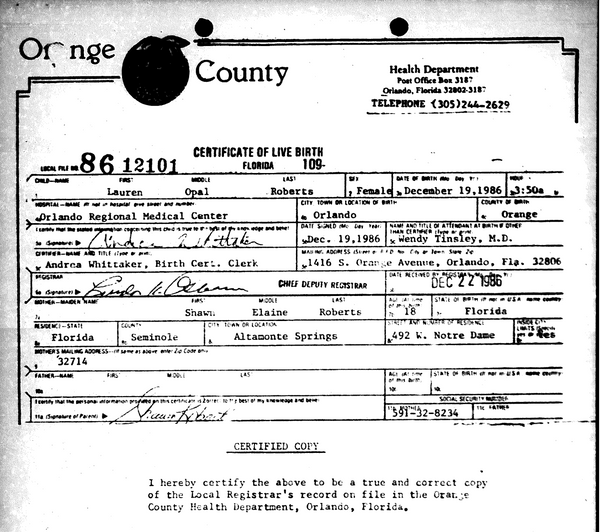 (Record above obtained by Salon.)
As her birth certificate makes clear, Lauren Opal Roberts was born in Orlando, Florida, on Dec. 19, 1986. Her mother, Shawn Elaine Roberts, was 18 years old and unmarried. As mentioned above, no father was listed either on the birth certificate or in a birth announcement published a few weeks later in the Orlando Sentinel.

(Record above obtained by Salon.)
Two months after Boebert's birth her mother opened a child support case against Wallace Stan Lane, who, under the name "Sweet" Stan Lane was a member of at least two pro wrestling tag teams, the Midnight Express and the Fabulous Ones.
Over the course of Salon's reporting on the matter, MEL Magazine published a detailed report on Lane and the paternity dispute, nailing down many of the details also used in this story. Lane was a prominent professional wrestler who performed several times in central Florida around the time of Boebert's conception in early 1986. He was 33 years old when Boebert was born, and by all accounts was financially solvent. (He also had a reputation in the wrestling game as a ladies' man.)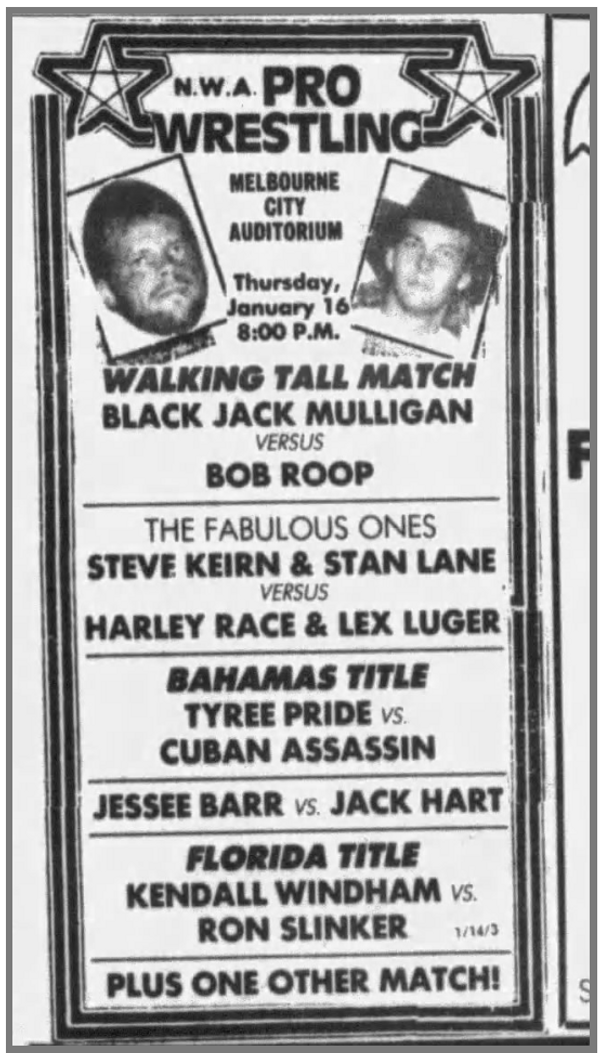 Shawn Roberts' child support case was first filed in Orange County, Florida, where Lauren had been born, but was then moved to nearby Seminole County, where Lane was eventually ordered to pay child support of $100 per week or $430 per month. At the time of the judgment, Boebert's mother was working full-time at a convenience store called Handy Way for $4 an hour, then the minimum wage. Her average take-home check would have been about $650 a month, which even 30-plus years ago was well below the federal poverty line. (The extra $100 a week would have put Roberts and her daughter just above that level, in 1987-88 standards.)
It appears that Lane made few, if any, of those mandated child support payments, although his pro wrestling career continued and there's no evidence he was in financial distress. Lane admitted he had had sexual relations with Roberts, according to court records reviewed by Salon, and Roberts swore in an affidavit that she had not had sex with anyone other than Lane at the time her daughter was conceived.
Roberts finally had papers served on Lane that compelled him to take a paternity test, which he did in the summer of 1990, when Lauren was 3 years old. That test, administered by the above-mentioned Karen Weary, appeared to rule out Lane as the girl's father. So the child support case was closed, and Lane was no longer required to pay Shawn Roberts anything.
That, however, was not the end of the story.
Years later, Roberts apparently learned that Weary was subsequently convicted for taking a $500 bribe from a former NFL player in a strikingly similar case, involving a blood sample collected just two months later than Lane's, in September 1990.
In both cases, Weary collected a sample at the Department of Child Support Enforcement and then delivered it to a company called Genetic Design for testing. This story became big news in North Carolina in 1993 when Weary's corrupt scheme was exposed, but by then Roberts and her daughter had moved from Florida to the Denver area and never learned of it. They also never learned that Genetic Design offered "to retest, at no cost," all samples drawn by Weary that excluded a man from a paternity case. Weary, also known as Karen Best Sherow, died in 2012, before Lauren Boebert or her mother discovered Weary's involvement in criminal blood-sample switching.
In October 2012 Boebert's mother, who by then was known as Shawn (or Shawna) Roberts Bentz and lived in Rifle, Colorado, contacted the North Carolina State Bureau of Investigation to ask for an investigation of Lane, whom she believed was shirking his responsibilities. Records indicate that throughout 2013 Bentz contacted numerous other agencies, including the Mecklenburg County District Attorney, the Charlotte-Mecklenburg Police Department, and court clerks in both Mecklenburg County, North Carolina, and Seminole County, Florida, asking that Lane's case be reopened on the matter. She could not rouse the bureaucracy in any of those agencies to pay attention.
One letter that Boebert's mother wrote to Seminole County Superior Court in 2013 specifically called for a new paternity test. Bentz wrote:
Her father is Stan Lane a former professional wrestler who at that time was a member of the tag team The Fabulous Ones. When Stan learned I was pregnant, he encouraged me to have an abortion and said that the child would be damaged because of the steroids he had taken. … Stan did end our relationship when he learned I was pregnant and soon fled the state of Florida.

Bentz's letter, reproduced below (with some of her personal information redacted), includes a number of other compromising or incriminating details about Lane's 1990 paternity test, including the suggestion by Charlotte newspapers that Karen Weary may have falsified numerous other tests and the fact that the photograph used to identify Lane at the time appeared to be a staged publicity shot rather than a candid portrait. Bentz also included a letter from Cindi Straughn, a cousin of Stan Lane's, who wrote to Lane urging him to cooperate and saying that Straughn believed Lauren Boebert to be his daughter.
Despite Bentz's considerable efforts, Stan Lane — long retired from pro wrestling and more recently an announcer for speedboat races — has never taken a second paternity test and has continued to insist that Lauren Boebert, now a nationally known figure in conservative politics, is not his child.
Boebert's congressional office did not return a request for comment on this story. Salon's attempts to reach Shawn Roberts Bentz and Stan Lane for comment were unsuccessful.
CONTINUE READING
Show less
Lawmakers in the House Oversight Committee released new evidence on Friday of former President Donald Trump's extensive pressure campaign to use the Justice Department to help him overturn the result of the 2020 presidential election in the final days of his administration.
Notes from conversations between the president and DOJ officials detail his aggressive push to have the department validate the wild conspiracy theories about election fraud that he fomented, despite the lack of evidence.
On Dec. 27, when told the department couldn't "snap its fingers" and "change the outcome of the election," Trump said, "Don't expect you to do that, just say that the election was corrupt + leave the rest to me and the R. Congressmen," according to the notes.
These new revelations follow a recent report from the Washington Post that Trump called acting Attorney General Jeffrey Rosen about the election almost daily at the end of 2020 about the election. Bill Barr had resigned as attorney general in part because of his split with Trump on the legitimacy of the election

Publicizing notes of communications between the president and the heads of administration departments is highly unusual, but the Biden administration concluded that it was an "extraordinary circumstance" to have "congressional investigators were examining potential wrongdoing by a sitting president," according to the New York Times.
Trump repeatedly pressed the department to investigate the wild claims of election fraud that percolated in right-wing media and corners of the internet at the time, which were repeatedly debunked. At one point, having been told that certain claims he was pushing were simply untrue, Trump reportedly responded: "Ok fine — but what about the others?"
According to the notes, he also told the DOJ officials: "You guys may not be following the internet the way I do."
Perhaps one of the most significant revelations is that Trump was recorded as directly threatening the officials' jobs based on their handling of the investigation. The New York Times explained:In a moment of foreshadowing, Mr. Trump said, "people tell me Jeff Clark is great, I should put him in," referring to the acting head of the Justice Department's civil division, who had also encouraged department officials to intervene in the election. "People want me to replace D.O.J. leadership."
"You should have the leadership you want," Mr. Donoghue replied. But it "won't change the dept's position."
Mr. Donoghue and Mr. Rosen did not know that Mr. Perry had introduced Mr. Clark and Mr. Trump. Exactly one week later, they would be forced to fight Mr. Clark for their jobs in an Oval Office showdown.
George Conway, a conservative lawyer, argued on Twitter that the evidence could support a potential criminal case against the president.
CONTINUE READING
Show less
A sobering study by the Centers for Disease Control and Prevention (CDC) reinforces the idea that vaccination against SARS-CoV-2, the virus that causes COVID-19, is not always enough to stop transmission. Researchers arrived at this conclusion after analyzing the infected from a COVID-19 outbreak in Provincetown, Massachusetts, in which three-fourths of the infected were already fully vaccinated.
"This finding is concerning and was a pivotal discovery leading to CDC's updated mask recommendation," CDC director Dr. Rochelle Walensky explained in a statement. "The masking recommendation was updated to ensure the vaccinated public would not unknowingly transmit virus to others, including their unvaccinated or immunocompromised loved ones."
When she referenced an "updated mask recommendation," Walensky was describing the agency's recent policy urging people to wear masks when indoors in areas where the virus transmission is high or prolonged. Walensky also said that people who go to schools should be fully masked the entire time. Although the United States had made progress in reducing COVID-19 infection and spread several months ago, those achievements have been gradually reversed as unvaccinated Americans — many of them motivated by support for Donald Trump — continue to incubate and spread mutant strains of the SARS-CoV-2 virus.
The most dangerous of the bunch is the delta variant, which the CDC describes as being as infectious as chickenpox and capable of causing more severe illnesses than other types of COVID-19. On Friday, the CDC shared internal documents detailing how the new variant gives both vaccinated and unvaccinated Americans similarly high viral loads. The CDC's experts estimate there are 35,000 symptomatic infections each week among the 162 million vaccinated Americans.
This is the strain that circulated among the unlucky people of Provincetown who celebrated July 4th. The Cape Cod community is famous for its parties, especially on Independence Day, and at the time of this writing almost 900 cases have been reported for the full outbreak. The CDC only studied a subset of 469 cases, finding that people within that group "reported attending densely packed indoor and outdoor events at venues that included bars, restaurants, guest houses, and rental homes." The study also found that among people with breakthrough cases (that is, cases in which fully vaccinated people get sick), no one died and only four (1.2 percent) were hospitalized, with the most common symptoms being "cough, headache, sore throat, myalgia, and fever."
The fact that fewer people have died or suffered severely, as might have otherwise been the case, underscores a very important point: while the COVID-19 vaccines may not be as effective as we would like, one is undeniably better off being vaccinated than not. One's chances of dying or experiencing serious symptoms diminishes enormously after receiving one's shot (or shots).
A statistical misunderstanding of the CDC's Provincetown study, exemplified in several news headlines appearing in multiple outlets, conflates the idea of how susceptible the vaccinated are to the delta variant. The Washington Post's alarming headline read "CDC study shows three-fourths of people infected in Massachusetts COVID-19 outbreak were vaccinated," which implies that three-fourths of all vaccinated people would be inevitably infected. In fact, the three-fourths number was only among the subset of those infected.
That misinterpretation is stoking alarm among some watchdogs.
"Please don't do this," Matthew Gertz of Media Matters for America tweeted at The Washington Post for their headline. "Provincetown has one of the highest vaccination rates in the country. As vaccination rates increase the percentage of cases that are in vaccinated people NECESSARILY increases." He pointed out that Reuters, The Boston Globe and CNBC had used similar headlines, noting that Trump supporters may use headlines like those from Reuters and The Boston Globe to argue that "they don't work, what else aren't they telling us."
Indeed, the CDC is not arguing that vaccines are ineffective, but rather than for the broader public health, we may need to consider a return to more stringent lockdown policies.
"Findings from this investigation suggest that even jurisdictions without substantial or high COVID-19 transmission might consider expanding prevention strategies," the CDC writes, suggesting that people wear masks in indoor public settings even if they are fully vaccinated.
The delta variant has a number of mutations that have made it more threatening than other strains. A mutation called D614G is believed to increase the density of the spike protein on the SARS-CoV-2 virus. The spike protein causes the spike-like objects which stick out of virus' internal sphere, allowing it to penetrate and infect the body's cells. Although vaccines are designed to protect cells against those spikes, this mutation may help the virus circumvent those defenses.
The delta variants also has a mutation called L452R that scientists think may help the virus fight antibodies, which the immune system creates to eliminate threats. In addition, it has a mutation known as P681R which increases the viral loads in patients so they shed 1,000 times more of the virus than from previous coronavirus strains when they sneeze, cough, spit or otherwise release potentially infected bodily fluids.
None of this was inevitable. As President Joe Biden said during a Thursday press conference, "the existing vaccines work to prevent death, serious illness, and hospitalization." If "every American is vaccinated, in fact, we would be out of the woods." Speaking to Salon in May, Dr. Bernard Lo — professor of medicine at the University of California, San Francisco — anticipated that the vaccines may not be as effective against mutant strains. Lo also warned that unvaccinated people could cause a resurgence in the pandemic, although he stressed that not everyone who remains unvaccinated is doing so for political reasons.
"It's a worldwide issue as well," Lo explained in regard to how many poorer countries do not have access to the same vaccines as their wealthier counterparts. "There are a lot of countries that really don't have access to vaccines, and variants could emerge there."
CONTINUE READING
Show less

Don't Sit on the Sidelines of History. Join Raw Story Investigates and Go Ad-Free. Support Honest Journalism.
Subscribe Annually
$95 / year — Just $7.91/month
Subscribe Monthly
$1 trial
I want to Support More
$14.99 per month
{{ post.roar_specific_data.api_data.analytics }}