Stories Chosen For You
The Department of Justice again told House Republicans they could not peek into an ongoing investigation.
Reps. Jim Jordan (R-OH) and Mike Johnson (R-LA) had asked Jan. 13 for a detailed accounting of when DOJ officials learned that classified material had been discovered at the Penn Biden Center and what happened next, and the department offered an overview but refused to disclose non-public information about the special counsel investigation.
""The Department's long-standing policy is to maintain the confidentiality of such information regarding open matters," DOJ officials said. "This policy protects the American people's interest in the evenhanded, dispassionate and effective administration of justice. Disclosing non-public information about ongoing investigations could violate statutory requirements of court orders, reveal road maps of our investigations and interfere with the Department's ability to gather facts, interview witnesses and bring criminal prosecutions where warranted."
The National Archives inspector general's office contacted a DOJ prosecutor on Nov. 4, four days before the election, to report that documents with classified markings were found at President Joe Biden's former office, which prompted attorney general Merrick Garland to order an investigation by a U.S. attorney right away and then by a special counsel on Jan. 12.
IN OTHER NEWS: $1 billion campaign from group 'linked to staunchly conservative causes' will try to 'redeem Jesus' brand' in Super Bowl ads
"Consistent with the Justice Manual and other applicable regulations, the Department's first public disclosures regarding this matter occurred when the Attorney General announced the appointment of a Special Counsel," the department wrote.
\u201cDOJ today tells Rep. Jordan and House Judiciary (again) it will not be providing \u201cnon-public information\u201d about ongoing special counsel investigations.\n\n\u201cThe Department\u2019s long-standing policy is to maintain the confidentiality of such information regarding open matters.\u201d\u201d

— Luke Broadwater\u2600\ufe0f (@Luke Broadwater\u2600\ufe0f) 1675098479
CONTINUE READING
Show less
TikTok CEO Shou Zi Chew will testify in March to US lawmakers in Washington where the Chinese social media app faces accusations that it is beholden to the Communist Party in Beijing.
TikTok, whose parent company ByteDance is Chinese, is fighting for its survival in the United States with rising calls from mainly Republican lawmakers that the company should be outright banned for its links to Beijing.
Chew will give testimony before the House Energy and Commerce Committee on March 23 after Republicans recently took over as the majority in the US House of Representatives.
"TikTok has knowingly allowed the ability for the Chinese Communist Party to access American user data," US representative Cathy McMorris Rodgers, who heads the committee, said in a statement on Monday.
"Americans deserve to know how these actions impact their privacy and data security, as well as what actions TikTok is taking to keep our kids safe from online and offline harms," she added.
Democrats have increasingly joined the groundswell of criticism against TikTok, and last month US President Joe Biden signed a law that bans the use of TikTok on government-issued devices.
This followed dozens of similar bans by US state governments and has put TikTok's ability to remain a dominant tech player in the United States into sudden doubt.
To strengthen its position, TikTok for months held confidential talks with the US government to find a long-term arrangement that would satisfy any national security concerns.
A tentative proposal struck in August included direct oversight of TikTok USA by government officials and third-party companies.
But this arrangement has been held up amid public criticism by FBI Director Christopher Wray who said he continues to see TikTok as a threat.
"138 million users in America use TikTok on a regular basis, average about 90 minutes a day," said US Senator Mark Warner, a Democrat who co-heads the Senate's Intelligence Committee.
"I'm not saying that the Communist party is driving the videos you see, but the fact is the algorithms that determine what you see on TikTok are determined out of Beijing by China," he added, speaking to CBS's Face the Nation on Sunday.
CONTINUE READING
Show less
People are exposed to numerous chemicals throughout their lifetimes. These chemicals can be from the air, foods, personal care items, household products and medications. Unfortunately, exposure to certain chemicals can cause harmful health effects, including cancer. Substances that cause cancer are called carcinogens. Familiar examples include tobacco smoke, radon, asbestos and diesel engine exhaust.
To protect the health of the public, national and international health agencies evaluate many new and existing chemicals to determine if they are likely to be carcinogens in a process called cancer hazard identification. If agencies judge the chemicals to be carcinogenic, they conduct further assessments to determine the level of risk, and legislators may put regulations in place to limit, or completely halt, the production and use of these chemicals.
I am a scientist who studies how the human body processes foreign chemicals, like environmental pollutants and drugs, and the effects of these chemicals on health. As part of my work, I have participated in chemical and cancer hazard identifications for several agencies, including the World Health Organization's International Agency for Research on Cancer. Here's how chemicals can cause cancer, and how we classify chemicals based on on how carcinogenic they are – sometimes with controversial results.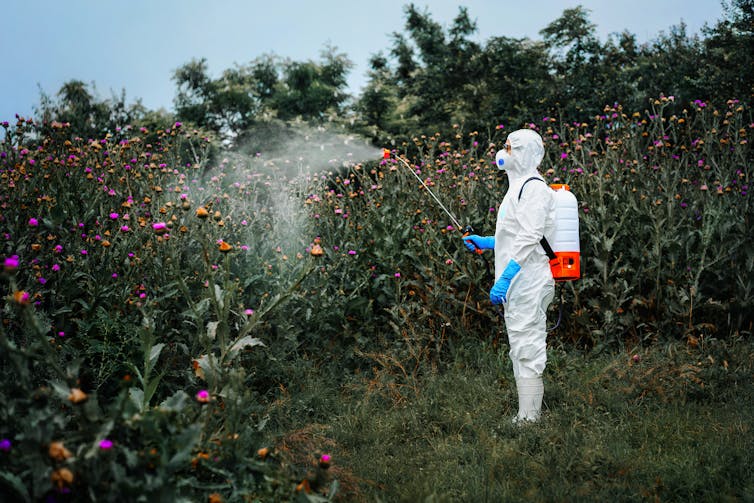 Glyphosate, an herbicide used in products like Roundup, was classified by the IARC as carcinogenic to humans in 2015. Adriana Duduleanu/EyeEm via Getty Images
How do chemicals cause cancer?
The mechanisms behind how toxic chemicals can lead to cancer are complex.
After a person is exposed to a carcinogen, the chemical is generally absorbed into the body and distributed into different tissues. Once the chemical has moved into the cells, it often undergoes chemical reactions that convert it into other forms.
The products of these reactions can directly or indirectly affect the cell's genes. Altering genes, which contain the cell's instructions on how to produce specific molecules, or the processes that regulate them can ultimately result in dysfunctional cells if the genetic damage isn't repaired. These cells don't respond normally to cellular signals and can grow and divide at abnormal rates, which are characteristic features of cancer cells.
How are chemicals classified for carcinogenicity?
To help safeguard the public and reduce the incidence of cancer, several agencies have developed procedures to classify and categorize chemicals based on their potential to be carcinogenic.
Among them are the International Agency for Research on Cancer, or IARC Monographs; the National Toxicology Program, or NTP; and the U.S. Environmental Protection Agency, or EPA. In general, these agencies examine a critical question: How strong is the evidence that a substance causes cancer or biological changes that could be related to cancer in people? Understanding the procedures used to answer this question can help with interpreting the decisions these agencies make.
The procedures used by the IARC – because of its long history, credibility and strong international reputation – provide a good example of how this process works. It's designed to be transparent and minimize bias, spanning over a year from selecting a chemical for evaluation to its final classification.
In this process, the IARC selects and invites a panel of scientific experts on the chemical to be evaluated. The panel does not conduct new research on its own, but carefully reviews all available papers in the scientific literature on the chemical's carcinogenicity in cell and bacterial cultures, animals and people. To assess the strength of the evidence, the panel carefully considers the number of studies that are available and the consistency of the results, as well as the scientific quality and relevance of each study to cancer in people.
Chemicals can be carcinogenic to varying degrees.
After discussing and deliberating on the results, the panel makes a final consensus classification. This classification places the chemical into one of four groups: Group 1 indicates that the chemical is carcinogenic to people, Group 2A that it is probably carcinogenic to people, Group 2B that it is possibly carcinogenic to people, and Group 3 that it is not classifiable. A Group 3 classification does not indicate that the compound is not carcinogenic, but rather that the panel could not draw a conclusion about whether there is a causal link between the chemical and cancer from available studies. For example, exposure to several chemicals can make it unclear which ones are responsible for a later cancer diagnosis.
During its 50-year history, the IARC has evaluated and classified over 1,000 chemicals and other hazards. Many of these classifications have had broad societal implications, such as those for tobacco smoke, ambient air pollution, diesel engine exhaust and processed meat. All were classified as Group 1, or confirmed to be carcinogenic to humans. Electromagnetic radiation emitted by mobile phones was classified as Group 2B, or possibly carcinogenic, and red meat was classified as Group 2A, or probably carcinogenic. Though they haven't directly led to any regulations, these classifications have motivated additional scientific studies. While the IARC can advise regulators, it's up to countries to implement policies.
It is important to note that classifications do not indicate the size of the risk but are important in supporting health agencies worldwide as they implement actions to limit exposures to known, probable and possible carcinogens. In 2020, when the IARC classified opium consumption as Group 1, or carcinogenic to humans, this led the government of Iran to implement policies to reduce opium addiction in the country.
Controversies in carcinogenicity classifications
Though classifications from the IARC are based on robust scientific evidence, some have proved to be controversial.
For instance, in 2015, the IARC evaluated the carcinogenicity of glyphosate, a widely used weedkiller found in products like Roundup, which is produced by Monsanto. A panel of 17 experts from 11 countries systematically reviewed results from over 1,000 scientific studies and classified glyphosate as "probably carcinogenic to humans," or Group 2A.
Owing to its widespread usage and multibillion-dollar market value, a cancer classification decision for glyphosate has significant potential financial and legal consequences. Following its evaluation, the IARC received support from many regulatory and scientific bodies but was criticized by others. Other agencies, including the EPA, have seen similar controversies and politicization of their hazard identifications and regulatory decisions.
I believe that agencies like the IARC play a critical role in evaluating the health effects of certain chemicals and in reducing exposure to potential carcinogens. Helping people better understand how these agencies evaluate chemicals can go a long way to ensure transparency and help protect environmental and public health.

Brad Reisfeld, Professor of Chemical and Biological Engineering, Colorado State University
This article is republished from The Conversation under a Creative Commons license. Read the original article.
CONTINUE READING
Show less
{{ post.roar_specific_data.api_data.analytics }}