Like this article ? Text `Support` to 50123 to donate.
During the tranquil one-third of our lives that we spend asleep, the human body does something that might not seem restful at all: REM sleep, short for rapid eye movement, is a phase of sleep that consumes 90 to 120 minutes of an adult human's day and as much as nine whole hours for a newborn baby. In this phase of sleep, your eyes twitch randomly and repeatedly, and sleepers have their most vivid dreams; people awakened from REM sleep often feel as though they really happened. Scientists note that parts of the neocortex, which is associated with higher forms of thinking, begin to activate seemingly at random.
Though REM is only a minority constituent of the time spent sleeping, it is perhaps the most enigmatic stage. What the purpose and function of REM sleep is, and why we do it, is still a mystery.
Now, a new study published in the scientific journal Neuron suggests that REM sleep may have evolved to help us protect ourselves from predators. In other words, it is a remnant of an earlier stage of human evolution, in which hominids had to be on the lookout for danger everywhere, even — perhaps especially — at night.
Dr. Wang Liping from the Shenzhen Institute of Advanced Technology (SIAT) of the Chinese Academy of Sciences led a research team that placed animal subjects in a sealed chamber and monitored their brain activity as they slept. In order to simulate the feeling of believing a predator is nearby, they exposed the animals to the odor of trimethylthiazoline, which is similar to the odor of a predator. By doing this to different animals during various stages of their sleep cycles, they were able to compare how quickly the animals were aroused from their slumber based on which phase they were in. As it turned out, animals were more quick to be aroused if they were in a REM cycle than if they were in an NREM (not REM) cycle.
The scientists also found something interest in the brain of those animals who were exposed to a "predator" during the REM cycle of their sleep. Neurons in a region of the brain called the medial subthalamic nucleus, and which produce a hormone associated with stress called corticotropin, gave their animal hosts a lower threshold for waking up than the animals who in NREM sleep. Those animals were also more likely to have highly defensive responses after being aroused.
"Together, our findings suggest adaptive REM-sleep responses could be protective against threats and uncover a critical component of the neural circuitry at their basis," the authors conclude. Their findings have implications for treating mood disorders and other conditions that could be related to a neurological linkage between sleep and fear.
This is not the first study to link REM sleep to defense against predators. A 2013 paper in the journal Dreaming by by Ionnanis Tsoukalas of Stockholm University in Sweden hypothesized that many of the physical states associated with REM sleep are similar to tonic immobility, or the state in which animals pretend to be dead and therefore seem unappealing to predators they can neither fight nor outrun. Tsoukalas notes that people in REM sleep cannot move, which is similar to how some animals freeze when frightened, and people in REM sleep also share tonic immobility traits like altered breathing and heart rates, altered thermoregulation, suppression of reflexes and even extra "theta" waves in one's EEG patterns (these are derived from the hippocampus and are linked to spatial awareness and memory). According to this hypothesis, even the vivid dreams we experience during REM sleep could simply be our brain sorting out potential threats.
There are many other purposes to REM sleep. Scientists have demonstrated that REM sleep is linked to consolidating spatial and contextual memories, and it is generally agreed that babies have more REM sleep in adults because their brains are in such a highly formative stage in their development. REM sleep is also linked to heightened creativity, with a 2018 article in the journal Trends in Cognitive Sciences advancing a novel theory: That NREM sleep is a period in which the brain begins a process of problem solving by separating important information from mere noise, and then REM sleep completes it by searching abstractly through that information to find possible connections.
CONTINUE READING
Show less
Tesla CEO Elon Musk's Neuralink technology, which sounds like something out of a science fiction movie, recently hired a director for clinical trials. The idea behind Neuralink is to implant coin-shaped devices that would allow people to operate computers and mobile devices with their brains. And in the scientific world, journalist Noah Kirsch reports in an article published by the Daily Beast on January 25, Neuralink is inspiring a lot of debate.
"In spite of the never-ending momentum for the world's richest man," Kirsch explains, "scientists are worried about the company's oversight, the potential impact on trial participants, and whether society has meaningfully grappled with the stakes of fusing big tech with human brains."
Neuralink has already been tested on animals, but testing it on people takes the technology to a whole new level. One of the scientists who has strong reservations about Neuralink is the University of Wisconsin's Dr. Karola Kreitmair, an assistant professor of medical history and bioethics.
Kreitmair told the Beast, "I don't think there is sufficient public discourse on what the big picture implications of this kind of technology becoming available are. I worry that there's this uncomfortable marriage between a company that is for-profit."
But Kreitmair also said that "this technology has the potential to be life-changing for people who are paralyzed" even though it "raises such a slew of ethical concerns."
Another scientist who has strong reservations about Neuralink's technology is Dr. Laura Cabrera, who specializes in neuroethics research at Penn State University in State College, Pennsylvania.
Cabrera told the Beast, "With these companies and owners of companies, they're kind of showmen. They'll make these hyperbolic claims, and I think that's dangerous, because I think people sometimes believe it blindly…. I'm always cautious about what (Musk) says."
The 50-year-old Musk, a Gen-Xer and native of South Africa, is now, as Kirsch notes, the wealthiest man in the world — a position once held by former Microsoft CEO Bill Gates and later, investor and Berkshire Hathaway CEO Warren Buffett. Musk, who founded Neuralink in 2016, is estimated to have a net worth of $243 billion, according to Forbes.
CONTINUE READING
Show less
In 2010, small cores of permafrost sediments were collected by a team at the University of Alberta from gold mines in the Klondike region of central Yukon. They had remained in cold storage until paleogeneticists at the McMaster Ancient DNA Centre applied new genomics techniques to better understand the global extinction of megafauna that had culminated in North America some 12,700 years ago.
These tiny sediment samples contain an immense wealth of ancient environmental DNA from innumerable plants and animals that lived in those environments over millennia. These genetic microfossils originate from all components of an ecosystem — including bacteria, fungi, plants and animals — and serve as a time capsule of long-lost ecosystems, such as the mammoth-steppe, which disappeared around 13,000 years ago.
How exactly these ecosystems restructured so significantly, and why large animals seem to have been the most impacted by this shift has been an active area of scientific debate since the 18th century.
We can now use environmental DNA to help fill the gaps that have driven this debate.
Ancient DNA, cutting-edge technologies
Bacterial, fungal and unidentifiable DNA make up over 99.99 per cent of an environmental sample. In our case, we wanted a way to selectively recover the much smaller fraction of ancient plant and animal DNA that would help us better understand the collapse of the mammoth-steppe ecosystem.
For my doctoral research, I was part of a team that developed a a new technique to extract, isolate, sequence and identify tiny fragments of ancient DNA from sediment.
We analyzed these DNA fragments to track the shifting cast of plants and animals that lived in central Yukon over the past 30,000 years. We found evidence for the late survival of woolly mammoths and horses in the Klondike region, some 3,000 years later than expected.
We then expanded our analysis to include 21 previously collected permafrost cores from four sites in the Klondike region that date between 4,000 to 30,000 years ago.
With current technologies, we not only could identify which organisms a set of genetic microfossils came from. But we were also able to reassemble those fragments into genomes to study their evolutionary histories — solely from sediment.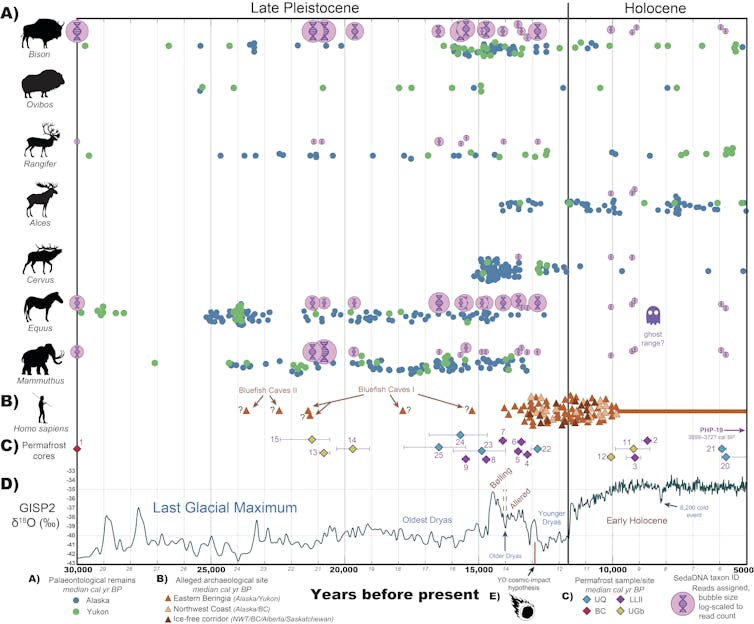 Synthesis of dated bones, ancient environmental DNA and archaeological sites in Yukon and Alaska.
(Tyler J. Murchie)
Tremendous environmental change
The Pleistocene-Holocene transition, which occurred about 11,700 years ago, was a period of tremendous change across the globe. In eastern Beringia (the former Eurasian land bridge and unglaciated regions of Yukon and Alaska), this period saw the collapse of the mammoth-steppe biome and its gradual replacement with the boreal forest as we know it today.
This brought about the loss of iconic ice age megaherbivores like the woolly mammoth, Yukon horse, and steppe bison, along with predators such as the American scimitar cat and Beringian lion, among many others.
We found ancient environmental DNA from a diverse spectrum of ancient fauna, including woolly mammoths, horses, steppe bison, caribou, rodents, birds and many other animals.
We were also able to observe how ecosystems shifted with the rise of woody shrubs around 13,500 years ago, and how that correlated with a decline of DNA from woolly mammoths, horses and steppe bison. With this remarkably rich dataset, we observed four main findings.
There was a surprising consistency in the signal between sites, suggesting our data was representative of ecological trends in the region.
Woolly mammoth DNA declines prior to the Bølling–Allerød warming, a warm period at the end of the last ice age, suggesting that megafaunal losses may have been staggered.
Forbs (herbaceous flowering plants) make up a substantial component of the mammoth-steppe ecosystem alongside grasses.
There is a consistent signal of woolly mammoth and Yukon horse persistence into the Holocene, as much as 7,000 years after their disappearance from fossil records.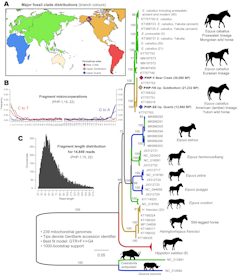 An evolutionary tree showing the location and relationship of horses and their relatives with genomes reconstructed from bones and sediment.
(Tyler J.Murchie), Author provided
When paired with other records, our genetic reconstructions suggest that the transition out of the last glacial period may have been more drawn out than dated bones alone would suggest.
Mammoths, for example, may have declined in local population abundance thousands of years earlier than other megafauna, which is potentially correlated with the first controversial evidence of humans in the area. Further, grassland grazing animals may have persisted for thousands of years in refugia (habitats that support the existence of an isolated population), despite the environmental shift.
Woolly mammoths alongside humans
Our data suggest that horses and woolly mammoths may have persisted in the Klondike until approximately 9,000 years ago and perhaps as recently as 5,700 years ago, outliving their supposed disappearance from local fossil records by 7,000 years. However, it is possible for ancient environmental DNA to survive erosion and re-deposition, which could mix the genetic signals of different time periods, necessitating a degree of caution in our interpretations.
Until recently, there was no evidence of mammoth survival into the mid-Holocene. But studies have now shown that mammoths survived until 5,500 and 4,000 years ago on Arctic islands.
Researchers at the Centre for GeoGenetics in Copenhagen found evidence for the late survival of horses and mammoths in Alaska until as recently as as 7,900 years ago. They also found evidence of mammoths surviving as recently as 3,900 years ago in Siberia, alongside woolly rhinoceros to at least 9,800 years ago.
Steppe bison, which were thought to have disappeared and been replaced by the American bison during the Pleistocene, have likewise been found to have survived even as recently as perhaps just 400 years ago. We were able to observe the presence of distinct genetic lineages of both woolly mammoths and steppe bison in the same sediment samples, which suggests that there were likely distinct populations of these animals living in the same area.
There is a growing body of evidence that many ice age megafauna probably survived well into recorded human history, roaming the north during the Bronze Age and while builders worked on the pyramids of Egypt.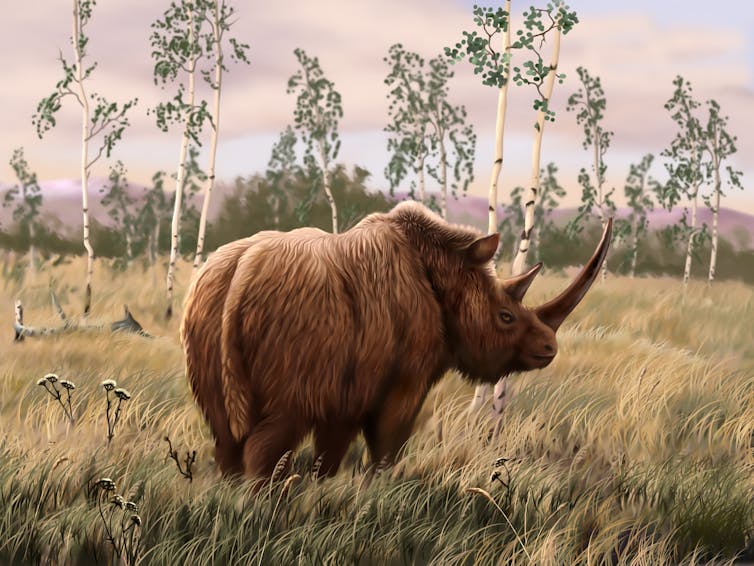 Researchers in Denmark found evidence of woolly rhinoceroses surviving in Siberia at least 9,800 years ago.
(Shutterstock)
Genetic archives of our ecological past
The growing sophistication of environmental DNA methods to study ancient genetic microfossils highlights just how much information is buried in sediments.
Permafrost is ideal for preserving ancient DNA, but as this perennially frozen ground thaws and degrades with a warming Arctic, so too will the genetic material preserved within, and the evolutionary mysteries they once held.
Advances in paleogenetics continues to push the boundaries of what was once relegated to science fiction. Who knows what undiscovered evolutionary information remains frozen in ordinary sediments, hidden in microfossils of ancient DNA?

Tyler J. Murchie, Postdoctoral fellow, Anthropology, McMaster University
This article is republished from The Conversation under a Creative Commons license. Read the original article.
CONTINUE READING
Show less
{{ post.roar_specific_data.api_data.analytics }}