Stories Chosen For You
One of the U.S. Capitol police officers injured in the January 6th insurrection called out witnesses who came forward to testify about Donald Trump's actions leading up to the riot.
Harry Dunn, who has testified before Congress about the violence and racist abuse he endured during the attack, thanked the Trumpworld witnesses who have spoken to investigators, but also issued a reminder that none of them took sufficient actions to prevent the insurrection.
"I'm always conflicted when I see these 'courageous' men and women coming forward with their testimony," Dunn said. "Like sure, I appreciate it tremendously, I really do, but there wasn't anything you could've done BEFORE we got our asses beat?"

Dunn has appeared at every hearing of the House select committee, along with fellow police officers Michael Fanone and Aquilino Gonell.
\u201cI'm always conflicted when I see these "courageous" men and women coming forward with their testimony. Like sure, I appreciate it tremendously, I really do, but there wasn't anything you could've done BEFORE we got our asses beat?\u201d

— Harry A Dunn \ud83d\udda4 (@Harry A Dunn \ud83d\udda4) 1656506730
READ MORE: Legal expert points to 'single most important and incriminating revelation' about Trump in Hutchinson testimony
CONTINUE READING
Show less
If you have moved from one country to another, you may have left something behind – be it a relationship, a home, a feeling of safety or a sense of belonging. Because of this, you will continually reconstruct mental simulations of scenes, smells, sounds and sights from those places – sometimes causing stressful feelings and anxiety.
This describes what I have dubbed "cognitive immobility", outlined in my new research article, published in Culture & Psychology. The study used autoethnography, a research method in which the author is also the topic of investigation. The research was partly based on my feelings, thoughts and experiences while living in the UK and Germany, far from my ancestral home in Igbo land, Africa.
Cognitive immobility is a stressful mental entrapment that leads to a conscious or unconscious effort to recreate past incidents in one or more locations that one lived in or visited in the past. By doing so, we are hoping to retrieve what is missing or left behind. When people cannot remain in locations because of conditions beyond their control, such as a war or family or work commitments, their bodies may physically move to a new world, while their minds are left behind – trapped in the previous location.
Thus, these people might be described as being "cognitively immobilised". During this time, such individuals may seek consolation through the reconstruction of events or physical movement to the locations that they migrated or departed from.
This may be related to homesickness, but it is actually different. Homesickness is a feeling of longing for a previous home, whereas cognitive immobility is a cognitive mechanic that works on our attention and memory to mentally trap us in a place – whether it is a previous home or just a place we've visited.
Our conscious memory (made up of semantic and episodic memories) allows us to remember not just what happened in the past, but also basic knowledge of things around us. Specifically, episodic memory helps us remember or reconstruct events we experienced or events that could have happened in the past but didn't.
Indeed, research shows that recalling memory is a process of imagination – we often recreate past events in a way that isn't necessarily accurate, but rather affected by our current beliefs and emotional state. This can make our past look even better than it was.
The entrapped mind
I believe the experience may be very common for people who migrate. In an unrelated study on Syrian students who fled to Turkey, one of them stated: "I am still in Syria. My soul is there. I always have memories of my dead cousins. This affects my getting used to here. Those days will never come back." Another Syrian student said: "I left my homeland, my nation, my relatives, everything in Syria. I was physically here, but spiritually there." Both students are clearly suffering from cognitive immobility.
Due to cognitive immobility, some people who have moved from their homes to new locations perpetually long to visit their old homes. But cognitive immobility still applies – when they do visit their old home, they immediately long to return to their new homeland. So, according to my research, a person who has migrated may have a "homeless mind" while experiencing a situation where no home is truly a home; even the previous home – the ancestral home – has lost its distinguishing features and allure in the real world.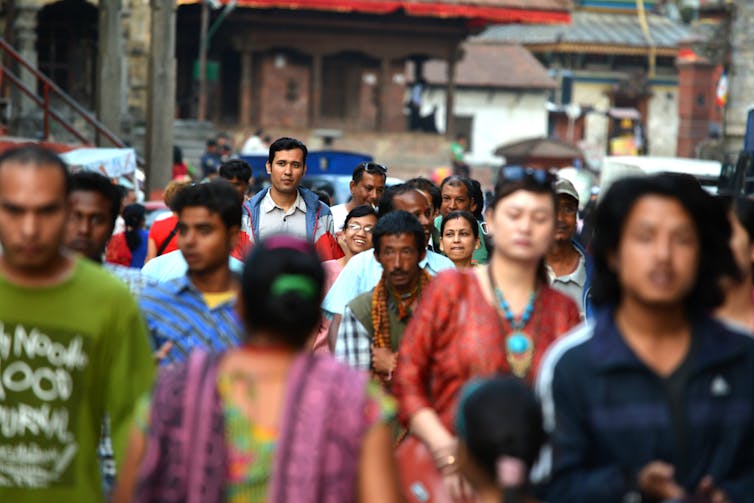 Sometimes ex-pats don't even feel at home in their ancestral land.
It is easy to see why. Ultimately, there is no place without self and no self without place. Therefore, who we are is greatly influenced by the places we live or go and where we desire to be in the present and future.
The implications are serious. For example, it could lead to problems integrating into a new place and making new friends — potentially making us even more trapped in the past as we don't have an engaging present to distract us. Constantly being stuck in the past could also get in the way of thinking ahead. This can have knock on effects for our wellbeing – we need to focus on the past and present as well as the future to feel good.
What could be done
According to my research, there are three stages of cognitive immobility. The first entails becoming aware of the stress and anxiety caused by leaving the location where the mind is entrapped. During this stage, most migrants experience a lot of uncertainty, which hinders their efforts in many aspects of their lives, including resettling, acquiring new skills such as language and making new acquaintances.
The second stage involves deliberate efforts to reclaim the lost or abandoned object, creating more tension than the first stage. Here, the person might engage in activities such as travelling to their ancestral land, reconstructing their memories and reading about the lost location. Although physical visits to sites could alleviate the stress, this could be a temporary solution.
The last phase consists of deliberate efforts to retain values and seek goals that will alleviate the loss. This approach might consist of using artefacts to symbolise the lost home, such as art or images. It has also been argued that migrants could "make new homes", but also represent their memories and aspirations – for example by making friends with people who come from the same place, or have the same religion. This is in fact one way to ultimately reduce the anxiety.
For now, it is evident that cognitive immobility has no perfect cure. But psychology offers some solutions which may prove to be useful, although they are yet to be investigated in the context of cognitive immobility.
For example, there are psychological interventions that can help us balance our mental focus on the past, present and future. To avoid being stuck in the past and become more present focused, we can write down something we are grateful for every day. And to become more future focused, we could imagine our "best possible self" five years from now – it worked for many people during the COVID lockdowns.

Olumba E. Ezenwa, PhD Candidate, Royal Holloway University of London
This article is republished from The Conversation under a Creative Commons license. Read the original article.
CONTINUE READING
Show less
Today marks 15 years since Apple released what's arguably its flagship device: the iPhone. A decade and a half later, there are few products that have managed to reach a similar level of brand recognition.
Announced to an eager audience in 2007, the iPhone has revolutionised how we communicate and even how we live day to day.
Steve Jobs introduced the iPhone on January 9 2007.
The large-screen revolution
The iPhone was released in the United States in June 2007, and in a further six countries in November (but notably not in Australia).
From the launch of Mac computers in the 1970s to the iPod in 2001, Apple already knew how to engage with its audience – and how to encourage extraordinary levels of hype when launching a product.
Early reviews for the iPhone were almost universally glowing, applauding Apple's attention to detail and style. The only problem flagged was network connectivity – and this was an issue with slow speeds on phone carrier networks, rather than the device itself.
Consumers' appreciation of the iPhone's style was no surprise. It was indicative of an emerging trend towards smartphones with large-format screens (but which still reflected the form of a phone). The Nokia N95 was another such example that hit the market the same year.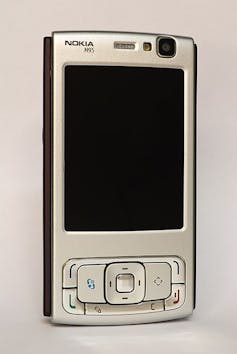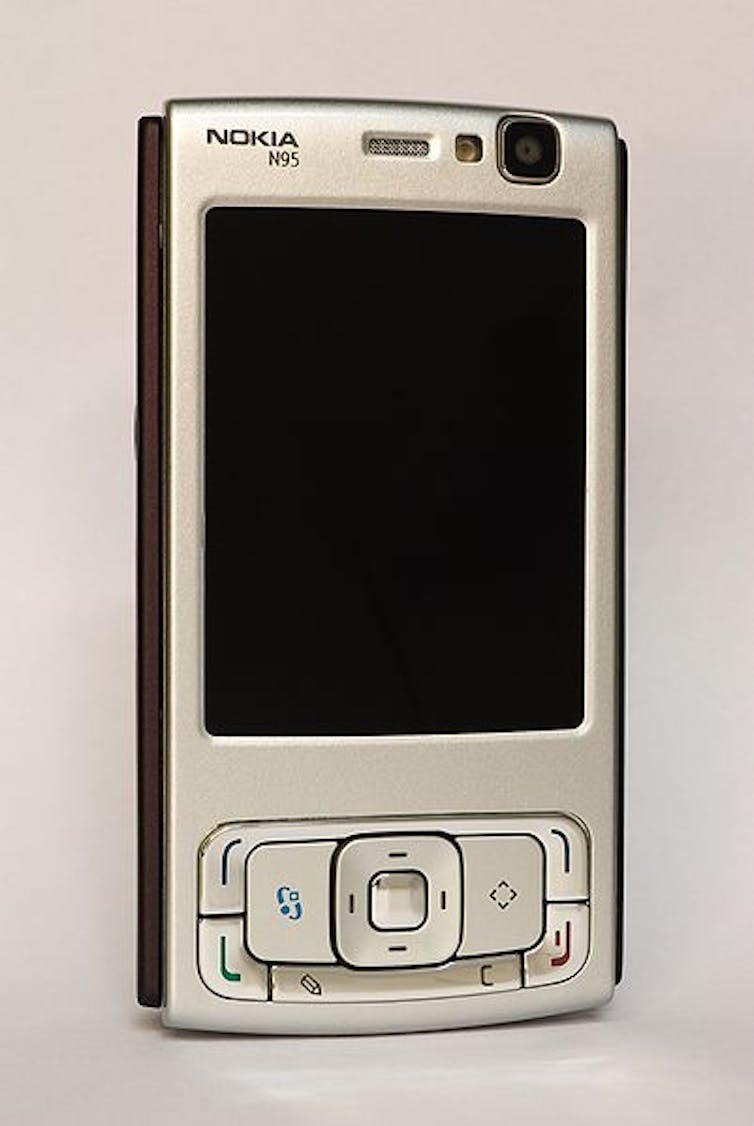 The 2007 Nokia N95 had a slide-out keypad.
Asim18/Wikimedia (CC BY-SA 4.0)
The original iPhone offered wifi, supported 2G EDGE connectivity and had internet download speeds below 500Kbps (compared to multi Mbps speeds today).
It was also limited to 4GB or 8GB models. This might sound pitiful compared to the 1TB options available today, but it's enough to hold hundreds of songs or videos and was revolutionary at the time.
The Apple assembly line
The iPhone 3G was rolled out across the globe in July 2008, with significantly improved data speeds and the addition of the Appple App Store. Even though it offered a mere 500 apps at launch, the app store marked a significant improvement in phone functionality.
And just as users started getting used to 3G, it was superseded by the 3GS about a year later.
This cycle of regularly pushing out new products was critical to Apple's success. By releasing regular updates (either through whole product iterations, or more minor functionality improvements) Apple managed to secure an enthusiastic audience, eager for new releases each year.


iPhone sizes got noticeably larger from the iPhone 5S release to the iPhone 12.
Tboa/Wikimedia (CC BY-SA 4.0)
Also, since older products would often be passed down within families, Apple's product pipeline helped it establish a multi-generational user base. This pipeline continues to operate today.
New approaches to old ways
The iPhone family has delivered size, speed and storage improvements over its 15-year history. Some of its "new" features weren't necessarily new to the market, but Apple excelled at delivering them in highly integrated ways that "just worked" (as founder Steve Jobs would say).
"It just works" – Steve Jobs (1955-2011)
In 2013, the iPhone 5S introduced touch ID, which allowed users to unlock their phones with a fingerprint. While this had first been introduced with the Fujitsu F505i back in 2003, Apple delivered a robust implementation of the feature. Of course, it wasn't long before enterprising individuals learnt how to bypass the mechanism.
The iPhone 8, released in 2017, brought with it the face ID feature. This still had weaknesses, but was at least immune to being unlocked with a photo.
Beyond security, the iPhone series has also produced year-on-year improvements in camera technology. While the original model sported a paltry two-megapixel camera, later models featured multiple lenses, with resolution boosted to 12 megapixels – rivalling many digital cameras on the market.
Wireless charging was introduced with the iPhone 8 (although preceded by Samsung as early as 2011). And the bezel-less design of the iPhone X, released in 2017, built on features found in the Sharp Aquos S2 from the same year.
Controversy
Nonetheless, the iPhone has not been without problems. The introduction of the iPhone 7 in 2016 saw the removal of the standard 3.5mm headphone socket – and many weren't happy.
While an adaptor was initially provided for customers to connect their regular headphones, it was only free for about two years. After that it had to be purchased. In 2016 there were indications of a spike in wireless headphone sales. Perhaps somewhat conveniently, Apple launched its AirPods (wireless Bluetooth earbuds) at the same time.
A similar change came in 2020 with the release of the iPhone 12. Arguing consumers had a multitude of spare devices – and perhaps trying to ride on the green re-use agenda – Apple removed chargers from the unboxing experience.
Users still received a charge cable, but it was a USB-C to lightning cable, whereas previous iPhone chargers would have a USB-A socket (the standard USB port).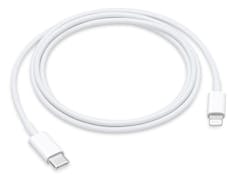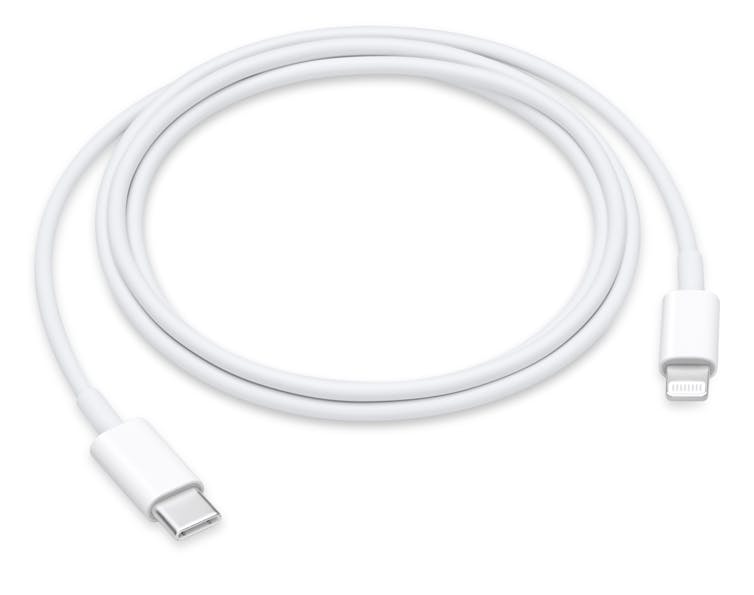 When Apple stopped offering chargers it provided a USB-C to lightning cable, despite older chargers having a USB-A socket.
Apple
The justification iPhone users would have a box full of old chargers overlooked the fact that none of them would be likely to support the newer and faster USB-C cable.
So you could use your old USB-A to lightning cable and charger to charge your shiny new phone, but you'd be limited to slower charging speeds.
Future
If the past 15 years are anything to go by, it's likely the iPhone will continue with annual product releases (as we write this article many will be anticipating the iPhone 14 due later this year).
These models will probably bring improvements in speed, weight, battery life, camera resolution and storage capacity. However, it's not likely we'll be seeing many groundbreaking innovations in the next few years.
The latest iPhones are already highly sophisticated mini computers, which means there's limited scope for fundamental enhancement.
Perhaps the most radical change will be the shift from Apple's proprietary lightning connection to USB-C charging, thanks to a new European Union directive. And while a common power connector standard is widely considered a positive move, Apple wasn't convinced:
We believe regulations that impose harmonisation of smartphone chargers would stifle innovation rather than encourage it.

As display technologies evolve, Apple may turn to the clam-shell phone design, with a fully foldable display screen.
Samsung has already brought this to the market. But Apple, in true fashion, will likely wait until the technology (particularly the glass) has evolved to deliver an experience in line with what iPhone users have come to expect.
While we can't predict what the iPhone will look like in another 15 years (although some have tried), it's likely the demand for Apple products will still be there, driven by Apple's strong brand loyalty.

Ismini Vasileiou, Associate Professor in Information Systems, De Montfort University and Paul Haskell-Dowland, Professor of Cyber Security Practice, Edith Cowan University
This article is republished from The Conversation under a Creative Commons license. Read the original article.
CONTINUE READING
Show less
{{ post.roar_specific_data.api_data.analytics }}