Stories Chosen For You
The margins are razor-thin in Georgia's Senate runoff that ends on December 7, according to interviews with dozens of party insiders, grassroots organizers, and voters at polls and rallies across the state during the past week.
Sen. Raphael Warnock, the Democratic incumbent, appeared to lead as early voting concluded on Friday – a sentiment affirmed by CNN's latest poll, which reached voters from Thanksgiving weekend through last Tuesday. But Republicans say that their base prefers voting in person at local precincts on Election Day, fueling their hope that a surge will elect Herschel Walker, the Georgia football star whose Republican candidacy was propelled by Donald Trump.
As early voting closed, 1.83 million Georgians had voted in person or returned mailed-out ballots, according to the secretary of state's office. While daily turnout broke records, including 350,000 votes cast on Friday, only 26 percent of Georgians with active voter registrations have voted so far. In contrast, during 2020's runoffs, when control of the Senate was at stake, about 4.5 million votes were cast.
In many respects, both parties are reverting to core values and loyalties to bring out voters. At Walker's rallies this week, he presented himself as a man who has been redeemed by Christianity and, if elected, would oppose the "evil" policies put forth by Democrats and the Biden administration.
Such religious and party orthodoxies were well-received by his supporters, who, in interviews after a Walker rally, mentioned that Trump's offensive behavior did not stop the former president from enacting policies they approved. And, of course, Walker's status as a football legend and "good old boy" was appealing.
"Everybody in Georgia loves Herschel. You should have seen that boy run," said Fran, a retired furniture store owner, who declined to give her last name while attending a Walker rally on Monday in Toccoa, in the state's northeast corner.
Interviews with voters in Republican strongholds, such as Hall County north of Atlanta, suggested that party loyalty – including the last-minute endorsement of Walker by Gov. Brian Kemp, the state's top-ranking Republican, who did not back Walker in the primary election, will push party faithful to vote on Tuesday.
"I do think it will have some influence on people," Sloane Mattadeen, who serves in the U.S. Navy, said after voting. "I think there is some authority there."
On the other hand, Walker has an uphill climb. He received 200,000 votes less than Kemp in the general election and was 38,000 votes behind Warnock out of nearly 4 million votes cast statewide. What makes Democrats nervous is that Walker's campaign has been eerily quiet in all but the state's remote regions.
"They ran a quiet, very covert campaign this entire midterm," said a Democratic congressional staffer who asked not to be named. "You didn't see Kemp. If it was not for Donald Trump and his big mouth, you may not even know what was going on with Herschel Walker. You don't see them when they come for fundraisers… The Republicans are making phone calls, but it is not overt at all."
The GOP's latest lawn signs do not mention Walker's name; they just urge people to vote Republican. Typically, one usually sees one or two lawn signs for Walker, which contrasts with a half-dozen or more signs for Warnock on busy streets.
A former state government press aide who recently took a private sector job said that many of Georgia's Republican leaders are tired of all things Trump, including his hand-picked candidates like Walker. That partly accounts for the lower-profile messaging, he said, adding that the GOP base understands Kemp's signals.
Whether that comment applies equally to men and women is another variable. As of Friday morning, about 10 percent more women had voted compared to men, the secretary of state's office reported. (Academic experts said that split was normal in Georgia elections.)
Walker's anti-abortion stance, despite his history of previously paying for abortions and of domestic abuse, both of which Democrats have publicized, was downplayed by several women who said they had just voted for Walker. Other voters, women and men who said they were voting for Warnock, said that Walker's character was deeply flawed. Black voters went further and said that his candidacy was perpetuating ugly stereotypes about Black men that they have worked for years to overcome.
More Visible Democrats
In contrast, the Warnock campaign and many get-out-the-vote efforts addressing constituencies likely to support him have been highly visible and vocal. Groups that barely existed a few years ago have been conducting voter drives as part of longer-term efforts to empower their communities.
In a warehouse district north of Atlanta on Friday, three dozen volunteers – mostly young women wearing black sweatshirts saying "Go VOTA" – assembled for a car caravan through nearby neighborhoods to urge Latina women to vote. They also planned to knock on 1,000 doors. Organizers from seven groups behind this effort said they already had made more than 90,000 phone calls to voters.
There are grassroots efforts like this across the state. By Friday morning, more than 800,000 white voters had cast ballots, 477,000 Black voters had cast ballots and 24,000 Hispanic voters had cast ballots, the state data hub reported. While the Hispanic numbers were low compared to other groups, this voter drive's organizers said their voters could make a difference if margins are close.
"I was born in Georgia and raised in Gwinnett County, a lovely multicultural, multi-lingual community," said Leslie Palomino, senior canvass lead for Georgia at PoderLatinx. "Growing up in a mixed-status family led me, the middle child in a household of five, to become the first eligible voter. Today, I'll be casting my vote alongside my sister, Kimberly Palomino. Latinas are a powerful force and today we make our voice heard."
A few minutes later, Palomino and a caravan of flag-waving, horn-honking volunteers left to visit one early voting site and then rouse voters. There was no comparable effort from Republicans anywhere in sight.
CONTINUE READING
Show less
Former Mayor Michael Tubbs of Stockton, Calif., has gone national with an innovative anti-poverty program he pioneered in his city in 2019. But although his concept of "guaranteed income" has shown promising early results, it just hit a big obstacle: Republican control of the U.S. House of Representatives.
Tubbs founded Mayors For A Guaranteed Income in 2020 -- while still Stockton mayor – to spread the idea that, as he puts it: "Cash solves the lack of cash." The idea has caught on around the country, with more than 100 pilot programs testing the concept across the nation.
But Tubbs, who at 26 had become the youngest person ever elected mayor of a major American city in 2016, also has dreams of guaranteed basic income becoming part of national economic policy. And he admits these have just been placed on a two-year hold with the election of a Republican House majority.
The concept of guaranteed income is simple: Government provides direct cash assistance on a recurring monthly basis -- with no strings attached -- for families needing help to make ends meet. It can fill in gaps in the safety net for working families, for a specified period to time, to provide resources to alleviate their struggles.
The Stockton program was a pilot that drew positive reviews from researchers, as Raw Story reported in March 2021. They found that recipients spent the money almost entirely on essentials, that it reduced income volatility and enabled them to pay down debt and help friends and family.
Tubbs lost his reelection bid in 2020, he says, because of pushback by Republicans in Stockton over his progressive agenda – of which guaranteed basic income was merely a "symbolic" example. After the defeat, he pivoted quickly to expanding the efforts of his national group and to advising California Gov. Gavin Newsome on setting up a similar effort in his state.
Last week, California became the first state to announce a statewide basic income program. "Nearly 2,000 Californians could receive monthly cash payments of $600 to $1,200," the Sacramento Bee reported.
Tubbs sat for an interview with Raw Story about the promise of the program, as well as the new obstacles it faces on the national level.
Q. What do you say to those who claim that giving money to low-income people isn't going to work because they'll waste it? What are the stereotypes you're up against?
A. Some people think that if you give people money, they're going to stop working or they'll spend money on drugs and alcohol or that they'll need financial literacy to know how to spend the money. But what we see time and time and time again is that folks aren't poor because they don't know how to manage money. They're poor because they don't have enough money to manage. They don't have enough money to keep up with the rising cost of living, of being alive, of being human.
Q. So, what does the typical recipient do with the money?
A. We see that people overwhelmingly spend money in the way that you and I spend money. We see that we can trust folks to make the right decisions for themselves and their families. When we bet on them, they bet on themselves.
Q. That seems efficient. But how does that square with social-welfare programs out there designed to teach people to learn to make better spending decisions?
A. It doesn't mean other types of support are not important, but it does mean that the main cause of one's financial problem isn't the lack of mentors. It isn't the need for a career coach. Although, those things could be helpful. Those things could be additive. But the root cause is the lack of cash. Mentors and financial literacy don't solve the lack of cash. Cash solves the lack of cash.
Q. Let's talk about the root cause of the root cause. It is often generational and systemic, isn't it?
A. It's very systemic. We know for a fact that if you make minimum wage, you can afford rent anywhere in this country. You're working, yet you still can't afford to pay for what's necessary to be human. We know that the history of this country is about land theft, genocide, 400 years of free labor, another 150 years of very, very cheap labor or convict labor or giving government benefits to some people, not to other people. We know there's a cost for the inequities and disparities we see. A guaranteed income isn't the only solution, but it's a powerful solution to help at least an income floor for folks.
Q. As we've reported, researchers did find that your program in Stockton had the results you're describing. But we know you're working to make this effort national. How many other pilot programs are going on around the country, and what are you hearing?
A. There are 100 pilots. We have about 50 to 60 mayor-led pilot programs going on and another 40 or so run by community groups doing their own pilots. We just released our data dashboard for about 20 other cities. But every mayor I talk to has an anecdote at least about how it's impacting folks in their community. I was just with Mayor Victoria Woodards of Tacoma, Washington, who's now the National League of Cities president. She was crying when she spoke about the program. She had just left the meeting with some recipients. She went from being someone who was like, "Oh, I don't know about this" to being full-throated that this is what we need. Same with Mayor Levar Stoney of Richmond, Virginia. He had first said, "I don't know about this, Tubbs, let's see if it works." Now he says, "I'm a full-blooded believer. I'm trying to figure out how to make this part of our city budget moving forward." So, it's been amazing.
Q. Do you have Republican mayors experiencing that kind of success?
A. We have some.
Q. Are they willing to speak up about it?
A. We're working on that. It's really a sad commentary about the Republican Party today that they're scared to speak up for working people, or for the folks who are impoverished in your communities, but that's where we are.
Q. So, is there any reason to hope that the concept can catch on nationally across party lines?
A. I think the pandemic -- through it is success with giving people cash -- has made it so that it's not an abstract concept anymore. People have seen how it can help for the government to give cash. We have millions of people who received stimulus checks or received the child tax credit and people have seen how it helped people get through it.
Q. But do you think that's going to convince the new Republican majority? Put another way, is there a chance to capitalize on the new MAGA talking points, however disingenuous, that Republicans are all about working people now?
A. We're trying, but no. It would be nice to get 3 or 4 of them in the House or Senate, whatever it takes. But I'm a little bit impatient, so at this point, we have to run with the coalition of the willing. We have a party that's debating whether they're fascist or not. Nobody has time for them to figure out their identity crisis.
Q. So it's all going to depend upon the Democratic party to make this work as a long-term policy effort?
A. 100%. As of right now, yes.
Q. So, how do you look at the next 2 years on this?
A. It just means that the focus will again be hyper-local. It means that we'll continue to pilot and test and evaluate and share stories with the Feds. We'll have to do that with the hope of being ready, for when there's a regime in the House that's more sympathetic to this idea of increasing social cohesion. We'll have a renewed focus on storytelling, on lifting up the narratives to make sure people know that this works. To show that this is important, that we deserve this.
CONTINUE READING
Show less
In an otherwise normal football season, two California high schools abruptly canceled the remainder of their games for the same reason. Players on both teams participated in troublesome acts of racism.
In October 2022, Amador High School in Sutter Creek ended its season after school officials learned that several players joined a Snapchat called "Kill the Blacks."
In nearby Yuba City, members of the River Valley High School football team produced and filmed a modern day slave auction.
In the film, three teammates – all young Black men – were offered for sale.
"They needed another person to be in the video, and being the only Black person left in the locker room, they all turned to me," one of the Black students said. "I made it clear I didn't want to do it and tried to leave, but wasn't able to."
Clad in their underwear and with their eyes downcast, the three were paraded through the locker room and put on an auction block. At least one of the Black teens had a belt representing a noose looped around his neck.
Their white and Latinx teammates feverishly bid on them. Even through the lens of the video camera, the "mock" enslavers' excitement and frenzy were palpable.
Many are upset with the Black youth for participating in their own degradation. I understand that. But as I outline in my recent book, "Bodies Out of Place: Theorizing Anti-blackness in U.S. Society, I also understand that "public degradation ceremonies are meant to debase and dissuade Blacks from walking in their full humanity, as full citizens."
Less than 2% percent of the students at River Valley High – 31 out of the total 1,801 – identify as Black.
These numbers render Black students both extremely visible and invisible at the same time.
In my view, the slave auction operated as a perverse public performance used not only to reinforce the Black students' inferior status in their own minds, but also to signal the same to those watching.
What lies underneath the mockery
A Boston University teaching guide defines the "hidden curriculum" as an amorphous collection of implicit cultural messages of the dominant culture. These unwritten rules reinforce an often unspoken social order in which people of color are subordinate.
The hidden curriculum refers not only to unwritten rules, but also "unspoken expectations" that serve as "unofficial norms, behaviors and values." These norms become institutionalized. As sociologists Glenn Bracey II and Wendy Leo Moore write, "Although the norms are white, they are rarely marked as such."
Mock slave auctions are not rare occurrences.
In May 2022, white middle school students at Chatham School District in North Carolina held one by staging the sale of their Black classmates.
One of the parents, Ashley Palmer, posted on Facebook that her son had been "sold" by his classmates.
"His friend 'went for $350' and another student was the Slavemaster because he 'knew how to handle them,'" Palmer wrote. "We even have a video of students harmonizing the N word. Since when were children so blatantly racist?"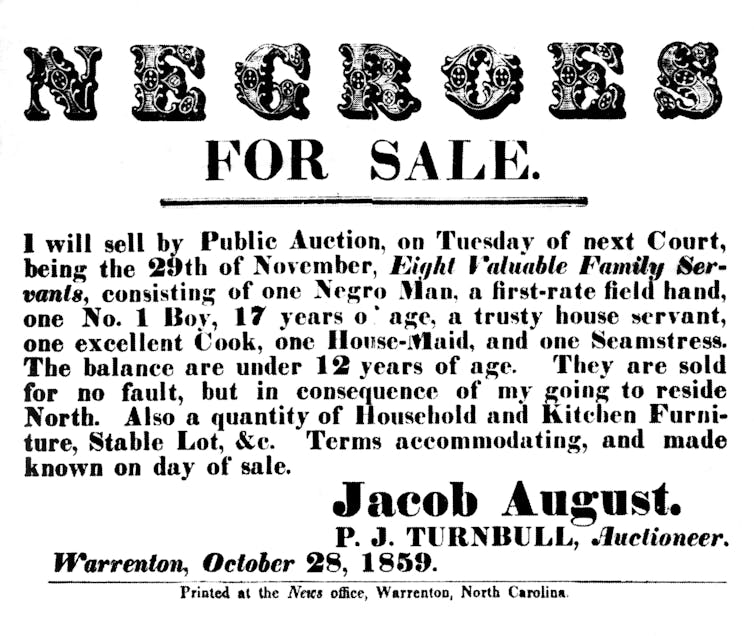 A flyer detailing an auction of enslaved people in 1859.
Photo12/Universal Images Group via Getty Images
In another incident, students at Newberg High School in Oregon participated in a yearlong virtual slave auction called "Slave Trade" that was uncovered by their parents in 2021. On the chat, they targeted Black students and used homophobic and racist slurs while joking about how much they would pay for their Black classmates.
These patterns continued in 2021 when students in Texas created a social media group called "N***** Auction" and pretended to auction off their Black peers.
Not all of the auctions are held on virtual platforms.
In 2016 in Barrington, Illinois, for instance, a "mock slave auction" was staged by Barrington High School students in order to create what they described as "school spirit" during an event meant to bring students from Chicago and the suburbs together.
Why it all matters
Group performances not only serve as a bonding experience among members, but they also reinforce an imaginary social hierarchy that harks back to the days of Jim Crow at the turn of the 20th century and legal racial segregation.
These performances convey a message about a sense of belonging. Without using the specific words, the acts suggest to Black students in stark images that their status is marginal at best.
It is important to connect the past and present, as Yuba City Unified School District Superintendent Doreen Osumi did in a statement obtained by CNN.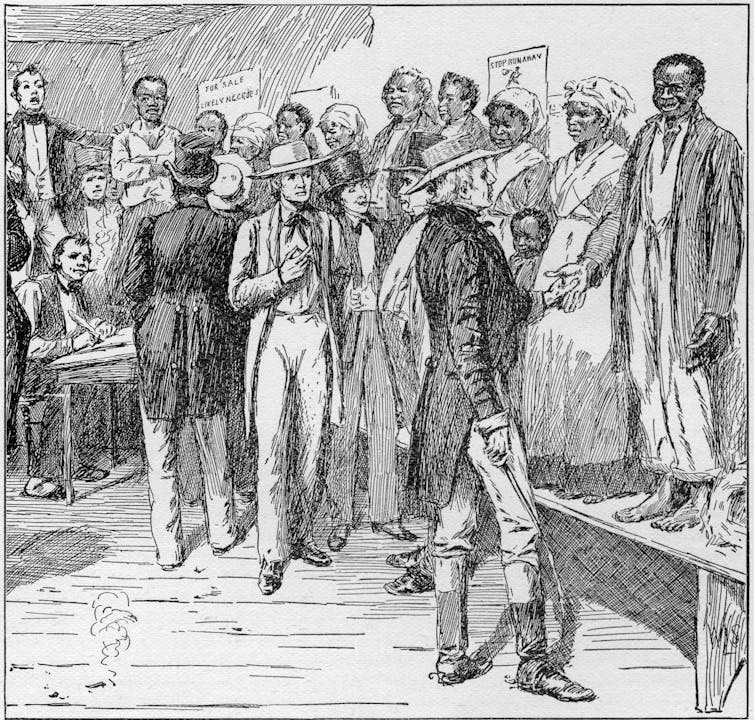 A slave auction in New Orleans is the subject of this sketch.
Pictures From History/Universal Images Group via Getty Images
"Reenacting a slave sale as a prank tells us that we have a great deal of work to do with our students so they can distinguish between intent and impact," Osumi wrote. "They may have thought this skit was funny, but it is not; it is unacceptable and requires us to look honestly and deeply at issues of systemic racism."
For their part in the mock slave auction, the Black students at River Valley High School issued apologies.
Each received a three-day school suspension – a punishment that proved harsher than that issued to some of their non-Black counterparts, according to Greater Sacramento NAACP President Betty Williams. Though it's unclear what the punishments were for white students, Williams said they "were not equitable in their distribution."
I understand Williams' frustration. In my mind, it could be argued that the onlookers were no more culpable than the hundreds and sometimes thousands of whites who packed picnic baskets and gathered after church to watch a Black person get lynched.
"I am hurt that the school moved so quickly to punish us instead of taking their time to understand the situation better," said one of the Black students.
"But looking back I wish I had done more to stop it," the student wrote. "When the video was made I was not feeling good about it and I froze. I wanted to get it over with so I could get to practice."
While it remains unclear why the team thought holding a mock slave auction was a good idea, one thing is clear: The harm caused by their actions continues to reverberate.
This article was updated to correct the fraction of Black students at River Valley High School.

Barbara Harris Combs, Professor and Chair Department of Sociology and Criminal Justice, Kennesaw State University
This article is republished from The Conversation under a Creative Commons license. Read the original article.
CONTINUE READING
Show less
{{ post.roar_specific_data.api_data.analytics }}