Don't miss stories. Follow Raw Story!
Via Crooks and Liars, there's been some illuminating research from Cornell on public perceptions of what constitutes a "government social program". Turns out that whether or not you identify as someone who has used a government social program doesn't really depend on things like having used a government social program.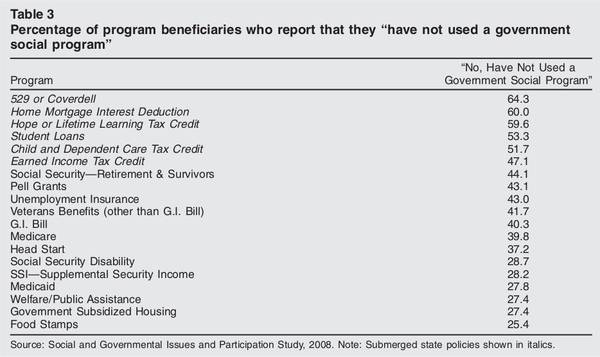 Levels are shockingly high across the board, but the data suggests that it's middle class people who don't identify as someone who has used a government program, even when they get a check in the mail from the U.S. Treasury. I highlight that, because the obvious dodge away from seeing what's going on here is to claim that people don't perceive tax credits or deductions as government programs, because they think of government programs as things where you go directly for services or money. But Social Security and VA benefits look like a government program just as much as food stamps. Also, the aesthetic difference between Head Start and student loans isn't enough to justify the gap in perception, and interestingly, Medicare and Medicaid are very similar, and yet there's more than a 10 point gap in perception of yourself as being on a "government program" if you use it.
These numbers only make sense if you assume that whether or not one identifies as someone who uses a government social program depends on irrelevant things like class status. This table demonstrates the effectiveness of decades of Republican propaganda equating "social program" with deragatory stereotypes of poor people and non-white people. When you call someone up and say, "Are you in a government social program?", you're going to get a lot of white, middle or upper class conservatives thinking, "I'm not some low rent welfare queen," and they're going to answer no without really connecting the dots.
The obvious result of this is that Republican voters are supporting ideas they clearly don't understand, because their prejudices are preventing them from thinking clearly. So you see a lot of conservatives raving online about how we don't need to raise the debt ceiling, and they're thinking, "We've borrowed enough money to pay for the liquor and cigarettes for an undifferientiated hoarde of dark-skinned layabouts. Screw 'em. They should get a job and spend their own money." This is wrong on many levels, and liberals tend to focus on the most obvious wrongness of it—the classism and the racism and the total lack of empathy and the broad stereotyping that has no basis in people's realities—but there's another level of wrongness here that is driving this entire debt ceiling fiasco. And that's the assumption that the main role of government is to tax well-off people and hand it out to people who have less. The government actually does very little of this. If anything, they tax well-off people and then give it right back to them in credits, deductions, subsidized loans, etc. in order to to make their lives easier and more secure. And that's after all the money that's spent just running the country and of course the untouchable defense program. The amount of taxation that goes to redistribution of wealth is measely. It's certainly not enough to get the people who depend on it on a road out of poverty, unlike middle class subsidies that really do help middle class people start accumulating social capital and wealth at an early age that pays off their entire lives.