Don't miss stories. Follow Raw Story!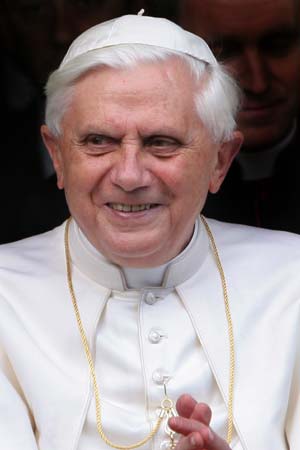 Earlier today, I made fun of the Vatican for offering a 6-day window of opportunity to get yourself to Madrid for World Youth Day, and get absolution for your abortion so that you don't have to go to hell. This sort of thing is catnip for me—misogyny plus bone-headedness plus religious nonsense!—and so I blogged about it for XX Factor, making a special note of how the Vatican's backwards teachings about abortion and contraception are both driving off believers and causing those remaining to basically ignore Church teachings and do what they want anyway. I argued that the options already being taken by American Catholics—leave, or stay but do what you want—struck me as much better reactions to the Vatican's vicious misogyny than busting your ass trying to get forgiveness for doing something that wasn't wrong to begin with. The church is wrong about reproductive health; the majority of American Catholics (I'm limiting my remarks to this country because that's what I'm familiar with, though it's worth noting that Spain, where the event is being held, has a high abortion rate, too) who are pro-choice and pro-contraception, are right.
This point of view brought down the inevitable calvacade of people claiming that I "hate" Catholics. The most amusing of these accusations came from Michael Doughtery, who called me a "Know Nothing", and then when I challenged him on it, was unable to really explain how my view—that the Catholic Church is a corrupt institution that Catholics are wisely rejecting—has anything to do with the virulent opposition to immigration from Catholic countries that gave birth to the actual Know Nothing Party. I remain firm in my belief that there's a difference between criticizing a church (an institution), an ideology, and a group of people grouped by ethnicity or religious heritage. I think these distinctions are important, though I suppose that I, as a white person who, like Doughtery, has an "ethnic Catholic" last name that would have attracted negative opinions from Know Nothings, can sympathize some with his concerns that an antebellum political party could mean trouble for us. None of my readings on Know Nothings inclines me to think that they'd be open to my arguments that I'm not Catholic, but atheist.
But even though the Know Nothing Party fell apart during the Civil War, I do think it's important for people to know about the Know Nothings, who did have a long-term negative impact on our nation and who had attitudes that are still very strong in our current political culture. Here's a helpful About page that details out who the Know-Nothings were:
The Know-Nothings and their anti-immigrant and anti-Irish fervor became a popular movement for a time. Lithographs sold in the 1850s depict a young man with the caption, "Uncle Sam's Youngest Son, Citizen Know Nothing." The Library of Congress, which holds a copy of such a print, describes it by noting the portrait is "representing the nativist ideal of the Know Nothing Party."…

Lincoln noted that if the Know-Nothings ever took power, the Declaration of Independence would have to be amended to say that all men are created equal "except negroes, and foreigners, and Catholics." Lincoln went on to say he would rather emigrate to Russia, where despotism is out in the open, then live in such an America.

The basic premise of the party was a strong, if not virulent, stand against immigration and immigrants. Know-Nothing candidates had to be born in the United States. And there was also a concerted effort to agitate to change the laws so that only immigrants who had lived in the US for 25 years could become citizens.
Hmmmm….. I do think there is a modern equivalent of this heated opposition to immigration from a heavily Catholic country. It's not the Irish that are hated now so much as Mexicans, however. I'm not really seeing it come from myself. In fact, I have a solid public record of avid support for the immigrants who I believe are being unfairly maligned.
I do see some people, however, who have inherited this tradition of hostility to immigrants and claims that said immigrants are too different to assimilate and therefore must be kept out of our borders. Contrast the Republican Party platform with regards to the new Irish, i.e. Mexican immigrants, with the Democratic platform regarding the same group of people. The GOP insists on treating immigrants like a threat to our way of life to be dealt with by fences, severe penalties, and using quotas to get "desireable" immigrants in while leaving "undesirable" ones out—which was exactly what the Know-Nothings wanted! Democrats are still to the right of my views of immigration, but they have a much better platform, emphasizing making it easier for people to immigrate here and making living conditions for immigrants much better. I'm all for that! Unlike the Know-Nothings, I believe the immigrants from the heavily Catholic country south of us are a net gain for our society, and I'm grateful for a childhood spent on the border between these two great nations.
The Know Nothings engaged in some ugly stereotyping of their new Catholic, immigrant neighbors. They treated Catholic immigrants like they were strange weirdos they had nothing in common with, portraying them as dirty, rowdy, drunken and unable to assimilate. They especially denied that Catholics had the ability to make up their own minds on political issues, but instead were in the thrall of Catholic teachings. This view existed in some form until John Kennedy was elected President.
So it's a fair question: Do I believe that American Catholics are an intelligent, independent-minded, diverse people who one shouldn't indulge in stereotypes about? Let's look at the post in question:
If that currently seems like too high a mountain to climb, since you really don't know what you'd do with all your new free time on Sunday mornings, you can also just stay with the Church and pointedly ignore the misogyny while keeping your mouth shut about your conflicting views and behaviors. This option is also wildly popular. Twenty-eight percent of women getting abortions identify as Catholic, which is actually higher than the percentage of Americans overall who are Catholic. I'm not seeing the Vatican excommunicating them all, so that's a lot of women telling their doctors they're Catholic but not telling their priests that they've had abortions. And even though the Vatican claims that contraception is a no-no, 98 percent of Catholic women just ignore that ignorant edict and use it anyway. If being an American Catholic meant doing what the church tells you to do, there wouldn't be any American Catholics.
Hmmmm…. Reading that paragraph three or four times over, I keep getting the feeling that what I'm actually saying is that American Catholics aren't beholden to the church and tend to prefer their own personal authority over church teachings. Now, I will go a step further and say that even if American Catholics tended to be more obedient to church teachings, I still wouldn't criticize them as a group. That's their business, not mine. Now if a group fights legal abortion or contraception, I retain the right to fight for my religious freedom not to have their dogma pushed on me by law. But honestly, American Catholics aren't, as a people, doing that. They basically see these things the same as non-Catholics, in roughly the same numbers. The only people I see actually getting essentialist about Catholics are religious extremists trying to claim you can't be a "real" Catholic and pro-choice.
Doughtery, in a fit of high emotion, compared criticizing the church's teachings and politics to burning down a Catholic church. The question is, do I have a public record of beliefs about the right of religious people to have places to gather and worship, even if I disagree with their religion's teachings? Why yes, I do! I have spoken out repeatedly about people who use terror and political pressure to intimidate people out of freely worshipping. I don't think anyone is out of line for trying to persuade others to their point of view, but I believe that should occur strictly in the world of intellectual discourse. Anyway, I'm skeptical that most religious bigotry is rooted in actual religious differences, but is more like that of the Know-Nothings, intertwined in ethnic and class hatreds, and religions is only used as a weapon in these deeper battles.
As someone who gets hate mails and threats for my religious beliefs (that there aren't gods and aren't souls—a man who threatened to kill me and many others roughly a dozen times a day because we don't believe in god has finally been arrested), I'm actually acutely aware of how this all works. But as someone who isn't a drama queen or interested in playing the victim, I'm extremely outspoken on drawing a big, thick line between the criticism of beliefs—even in colorful language—and discriminating against actual people. In my experience, people who conflate the two are being intellectually dishonest in purpose of some larger agenda.