Don't miss stories. Follow Raw Story!
Update: A victory! The Daily Beast has switched the picture out to this one:
I've replaced the picture below with the same stock photo that they were using, which was also used by the BBC. So you can see what caused me to be annoyed.
One of the great fears I have writing about reproductive rights as often as I do for online newspapers and magazines is that one day I'm going to pull up one of my pieces and it will be illustrated with a misleading picture of a hugely pregnant woman. So far, I've been incredibly lucky on this front. I write about abortion rights for XX Factor a lot, and I often get to choose my own art, but even when I don't, their editors are smart about picking things like medical imagery or pictures of anti-choice protesters or anything but a picture that implies that women getting abortions had to waddle into the clinic under the weight of their just-about-to-burst bellies. The Guardian has kicked ass for me as well on this front. Take, for instance, the art used to illustrate my piece about Rick Perry and his ultrasound law that just got halted by a federal court pending a court date.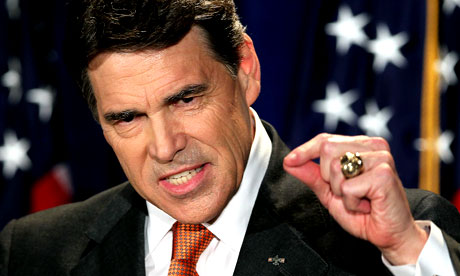 Michelle Goldberg also wrote a piece about Perry and what this case means for his presidential campaign in The Daily Beast. It's a great piece, and should be read (right after mine!), but whoever chose the art screwed the pooch.
Ever since Michelle Kinsey Bruns started her awesome Tumblr The Inevitable Preggobelly, which is dedicated to tracking this phenomenon of showing heavily pregnant women to illustrate stories about first trimester abortions, I haven't been able to stop noticing how widespread this problem really is. With news coverage of the sonogram law, it's gotten really bad, because pretty much all pictures of sonograms in stock art show really big pregnant women. And the reason, of course, is that sonograms on women in their first trimester are boring. Which means there's no pictures of the event. There's nothing really to see for the layperson on a first trimester sonogram, and if they're done, it's mostly for the eyes of experts who can make sense of the teeny embryo or fetus onscreen. We only take pictures of women who are having their babies getting sonograms much later in the pregnancy when there's something of interest to see, because at least those women are having a meaningful experience.
The problem with showing women that are hugely pregnant to illustrate stories about abortion should be obvious. That's because it's misleading. This is how much your average woman getting an abortion is showing when she goes into a clinic:
(Sorry, I wanted more pictures of average-sized women who aren't visibly pregnant where you can see their stomachs, but most of the ones I could find are fat-shaming and inappropriate.)
In other words, the vast majority of women getting abortions aren't showing yet. And even the ones who are aren't really in the giant-round-belly stage, but more the beginning-to-get-a-gut stage. Obviously, just showing a random photo of a non-distended stomach won't work either for stories about abortion, since it would mostly be confusing to the audience, though maybe at this point we're so used to seeing bellies used to represent pregnancy that perhaps the audience would get the picture. But, as my experience shows, there's so many more useful ways to deal with the art problem. That's what's so annoying about this entire issue. Abortion is a complicated issue! It involves medical science, leering Republicans, crazy anti-choicers, determined feminists, the court system, you name it. There are pictures of all of these things! Use those instead. Please, art editors. Just use your noggins.