Don't miss stories. Follow Raw Story!
For obvious reasons, ads for those various kinds of sneakers that have weird soles and promise to "tone" your ass and thighs were ubiquituous in New York City before they were really rolled out to torture the rest of the country. If you designed a computer program solely to irritate me, it couldn't come up with anything better than those ads, which were sexist and preyed on women's insecurities to sell them a bunch of pseudo-scientific garbage that would probably just result in an injury. Of course, they went nationwide because they hit that sweet spot of promising the impossible to women, which is that they could skip the gym and still get perfectly "toned" asses simply by walking around on these stupid shoes. And so I was pleased to see that Reebok, at least, is getting in trouble with the FTC for these shoes, and has had to pay $25 million in refunds. (That the shoes sold at least $25 million shows how desperate women are to believe.) The ads got a lot of attention for being so sexist, but for me, the "your boobs will be jealous of your ass" stuff was the least offensive part of this whole campaign. It's that they were building new pseudo-science to ride on the back of old pseudo-science that existed only because our society has put a completely impossible demand on women to be "tone", which is to say to have the firmness of being muscular without having the threatening masculine definition of being muscular that you get if you're actually muscular. I mean, look at this ad: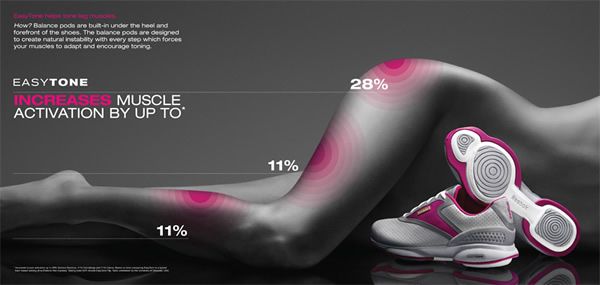 WTF, "increases muscle activation". That is classic pseudo-scientific bullshit. It means basically nothing. I don't think even biologists have the ability to measure "muscle activation" and Reebok sure as shit doesn't. But they're not going to go with the slightly more plausible claim that the shoes build muscle, because that would also turn off their target audience. Women with the insecurity this is aimed at don't want to build muscle, they want to be "tone". I mean, these shoes don't do diddly-squat except increase your chances of turning an ankle, but it's interesting that even in their fallacious claims to be achieving some sort of fitness goal, they bring up a fitness goal that doesn't actually exist for real women in the real world, but is a myth constructed by Photoshop: that there's such thing as a workout routine that can achieve "tone", i.e. firmness without building muscle. That you can lift your ass up an inch without pushing it out two as you build muscle. That you can somehow work out your way to having the body of a 20-year-old model who herself doesn't even have that body because they airbrushed all the sag out of it.
I'm glad Reebok is paying the price for falsely claiming that their shoes can tone your body, though the FTC hasn't banned them, as far as I can tell, from making these fallacious claims. (They really should have that power, or fines will just be part of the price of doing business.) But one of the reasons products like this sell is that people believe in this myth of the toned female body. I see sad cases of women who are chasing that brass ring at the gym every day; doing endless, tedious reps with super low weights in hopes that they can somehow make their bodies firm but not muscular. The result is generally just skinny but not particularly firm, and certainly not looking like they stepped out of the pages of a magazine, due to the fact that this is impossible.
It's weird, because to my mind, the muscular female body is hardly considered unbeautiful in our culture. You see lots of images of women who have visible muscles on their thighs or definition in their arms. Not only are many female athletes viewed as beautiful, but there's also movie stars and pop singers who look strong and fit. But it's clear that this is still only considered a second rate alternative of beauty, and that the frail-looking skinny-but-magically-tone body is still considered the ideal. You're not going to see someone who looks like Beyonce strutting the catwalk. And as the ads for these shoes show, even when something is being advertised as a fitness product, the body ideal being portrayed is firm but with no muscle definition. And that's only achieved through computer technology, because again, the "tone" female body is basically a myth. Women really aren't any different than men in this regard; if you're skinny with no muscle definition, you're still going to be saggy, especially as you age. You can do some amount of firming up, but mainly by building muscle and losing fat, which has a tendency to make you look more solid than like a lithe fashion model. And there's no magic product or behavior—no shoe, no barbell, no amount of reps with a 10 pound weight—that can really change these facts.
Of course, that's the point, isn't it? To put a literally impossible beauty ideal in front of women so that they keep buying useless products, hoping the next one is the one who gets them there?