Conservative political cartoonist Michael Ramírez depicted MSNBC host and longtime civil activist Rev. Al Sharpton as a tree used for lynching in a piece posted online Friday by Investors Business Daily.
---
The cartoon, sponsored by online investment site eTrade, shows a tree bearing Sharpton's name hanging four hooded figures with the word "Truth" written on their backs, representing various high-profile criminal cases, including the Tawana Brawley sexual assault case, which was dismissed after a grand jury investigation declared Brawley's allegations to be a hoax. At the time, Sharpton acted as an advisor for Brawley. The last figure on the tree bears the name "Zimmerman," a reference to George Zimmerman, who was acquitted on second-degree murder charges for his role in the death of Florida teenager Trayvon Martin.
The Sharpton piece was published three days after Ramírez used lynching in another cartoon, involving Zimmerman, giving that name to a horse under a man labeled as "White (hispanic)" tied to a noose. Ramírez also recently depicted President Barack Obama as using the Environmental Protection Agency to douse the torch on the Statue of Liberty, and shown Obama being urinated on by a dog symbollizing Russia as another character asks, "Do you think animals can sense weakness?"
Phone and email messages to eTrade asking whether the company was aware of the content of Ramírez's piece were not returned before publication. A screenshot of the cartoon can be seen below.
[caption id="attachment_546895" align="alignnone" width="630"]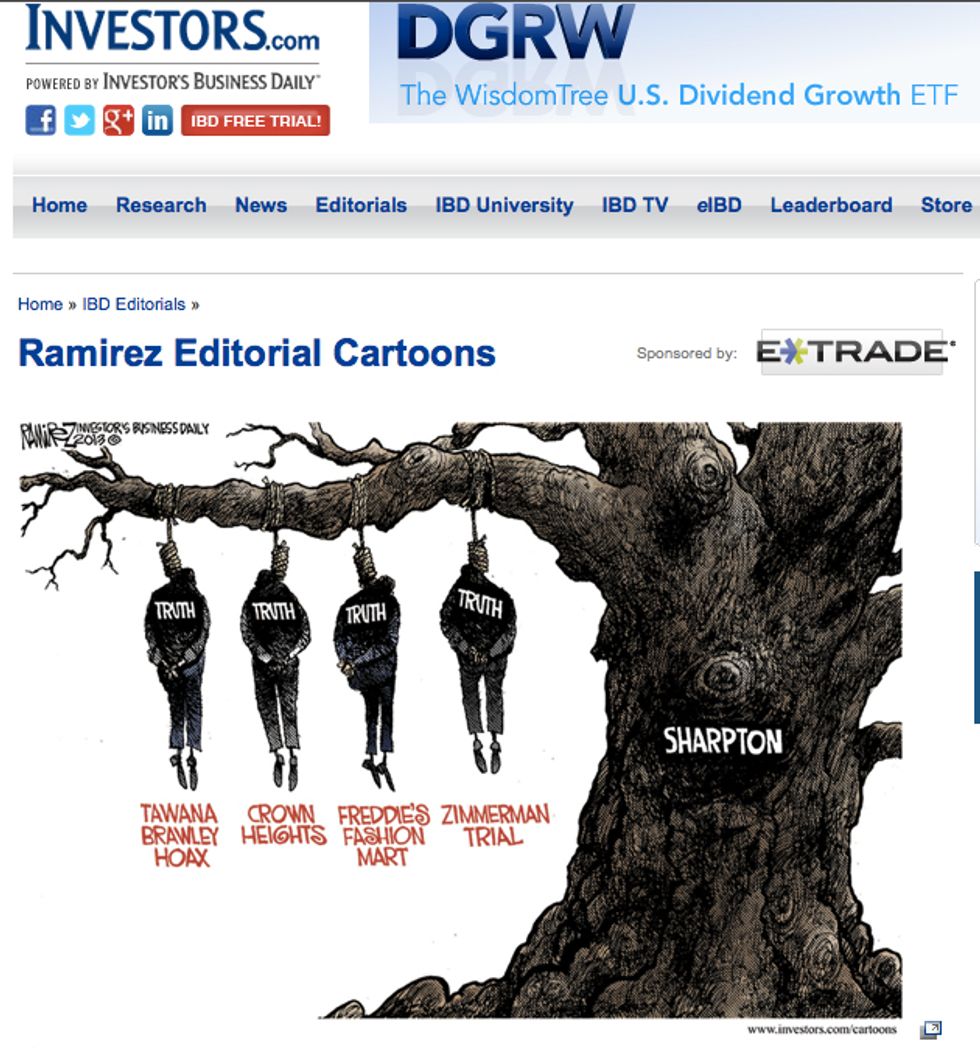 investors business daily lynching cartoon[/caption]
UPDATE 7/31/13: E*TRADE told Raw Story that the sponsorship ad was "erroneous" on the part of Investors.com. "E*TRADE Financial was not a sponsor of this cartoon," they wrote in a statement, "nor did we have any knowledge of its existence, until your article brought it to our attention. Once we were made aware, we contacted Investors.com and had our logo immediately removed from the page."
Investors.com issued a similar statement which reads: "The cartoon page erroneously included a rotating advertisement, ascribing 'sponsorship' of the page to companies that had purchased non-directed advertising space with us, which included E*TRADE Financial. Neither E*TRADE nor any other advertiser was a sponsor of the cartoon."
[h/t Think Progress]