Stories Chosen For You
An expert on White House dynamics says Mark Meadows is by far the worst chief of staff in U.S. history.
Former aide Cassidy Hutchinson testified last week that Meadows seemed unconcerned about the insurrection taking place just blocks away at the U.S. Capitol, and author Chris Whipple, who has interviewed dozens of chiefs of staff, said that testimony cemented Donald Trump's lead staffer as the worst of all time, reported Business Insider.
"It used to be a fairly stiff competition for the worst chief of staff in history, but Meadows absolutely owns it," Whipple said.
Hutchinson told the House select committee that Meadows remained glued to his cell phone instead of asking the president to call off his supporters at the Capitol, and Whipple said that would be his lasting legacy.
"I used to think the defining lasting image of Mark Meadows would be mugging for Don Trump's Jr.'s video camera in the tent at the Ellipse right before Trump went out to incite a mob to attack the Capitol," Whipple said. "I now think the defining image of Meadows is the guy sitting on the couch in the White House chief's office scrolling through his phone while a violent mob attacks Capitol police that day."
Whipple had previously ranked H.R. Haldeman, Richard Nixon's chief of staff during the Watergate burglary and subsequent coverup, as the worst in American history, but he said Hutchinson's testimony had shaken up his ratings.
"The Watergate figures really look like choir boys compared to Trump, and Meadows, and their gang," Whipple said. "That was before now the most serious political scandal in American political history, but it pales in comparison to a president who sends an armed mob against the Capitol knowing that they are armed, knowing that there will be violence, and with a chief of staff who at best just shrugs and looks the other way and at worst was a co-conspirator."
Whipple, the author of "The Gatekeepers: How the White House Chiefs of Staff Define Every Presidency," noted that Trump had cycled through more chief staffers in one term than any other president, but he found exactly what he wanted in Meadows.
"What he wanted is what he got ultimately in Mark Meadows, which is sycophant," Whipple said. "I think he was less a chief of staff than a kind of glad-handing maitre d' who tried to please Trump in every way, and, in fact, he told basically everybody what they wanted to hear, not just Trump. He was and is a spineless character and the polar opposite of the best chiefs."
CONTINUE READING
Show less
According to a report from the Washington Post, attorneys for Donald Trump are being forced to send cease and desist letters to Republican candidates who have been using his name to threaten and bully conservative voters to send them campaign contributions.
As Josh Dawsey and Micheal Scherer wrote, big supporters of the president have been reaping the benefits of using the Trump name as the midterms loom -- but the former president is not pleased that the cash is flowing to them and not into his coffers.
Case in point, they note, Arizona Attorney General Mark Brnovich who is vying for the GOP nod for the U.S Senate against the Trump-endorsed Blake Masters, who has pushed advisers to Trump to "the breaking point in June" with his solicitations.
"In a cease-and-desist letter obtained by The Washington Post, an attorney for Save America, Trump's political action committee, threatened legal action if Brnovich did not stop using Trump's image and name in misleading ways," the report states with the letter insisting, "Your use of President Trump's name, image, and/or likeness is likely to deceive individuals into believing President Trump supports, endorses, or otherwise promotes your candidacy for U.S. Senate in Arizona — he does not."
RELATED: Trump's 'future prospects are fading fast' as voters look for alternatives: report

According to the report, "The letter was one of dozens of demands that Trump's attorneys and aides have sent in recent years. But those efforts have not stopped the deceptive solicitations that flood Republican phones and inboxes daily," adding, "The former president has complained that some of the emails from his team are "cheesy" and that they are annoying his supporters, in the words of one adviser, who, like others quoted in this report, spoke on the condition of anonymity to discuss internal deliberations. At one point, Trump told his team to slim down the emails, but he was then advised that would cost his PAC money, which he did not want, another adviser said."
The WaPo report adds, "The problem has become more acute in recent months as small-dollar donations to Republican Party efforts have fallen, a trend strategists blame on donors having less disposable income because of inflation and on their fatigue with the relentless fundraising appeals. Receipts from small-dollar donors at the Republican National Committee have fallen significantly in recent months, people familiar with the matter said."
You can read more here.
CONTINUE READING
Show less
As psychiatry, which uses medical and biological methods to treat mental disorders, has largely overtaken psychotherapy, which relies on non-biological approaches such as conversation and counseling, psychotherapists have sought alternative challenges. One common approach is to focus on enhancing the happiness of mentally healthy people, rather than relieving the mental pain and trauma of those who are suffering.
This is known as "positive psychology" and has recently expanded to accommodate not only psychologists, but also social workers, life coaches and new age therapists. But there is evidence to suggest the approach has a negative side.
Perhaps the most common advice made by positive psychologists is that we should seize the day and live in the moment. Doing so helps us be more positive and avoid three of the most infamous emotional states, which I call the RAW emotions: regret, anger and worry. Ultimately, it suggests that we avoid focusing too much on regrets and anger about the past, or worries about the future.
It sounds like an easy task. But human psychology is evolutionarily hardwired to live in the past and the future. Other species have instincts and reflexes to help with their survival, but human survival relies very much on learning and planning. You can't learn without living in the past, and you can't plan without living in the future.
Regret, for example, which can make us suffer by reflecting on the past, is an indispensable mental mechanism for learning from one's own mistakes to avoid repeating them.
Worries about the future are likewise essential to motivate us to do something that is somewhat unpleasant today but can create gain or spare us a greater loss in the future. If we didn't worry about the future at all, we may not even bother with acquiring an education, take responsibility for our health or store food.
Like regret and worries, anger is an instrumental emotion, which my co-authors and I have shown in several research papers. It protects us against being abused by others and motivates people around us to respect our interests. Research has even shown that a certain degree of anger in negotiations can be helpful, leading to better outcomes.
What's more, research has shown negative moods in general can be quite useful – making us less gullible and more sceptical. Studies have estimated that a whopping 80% of people in the west in fact have an optimism bias, which means we learn more from positive experiences than from negative ones. This can lead to some poorly thought-out decisions, such as putting all our funds into a project with little chance of success. So do we really need to be even more optimistic?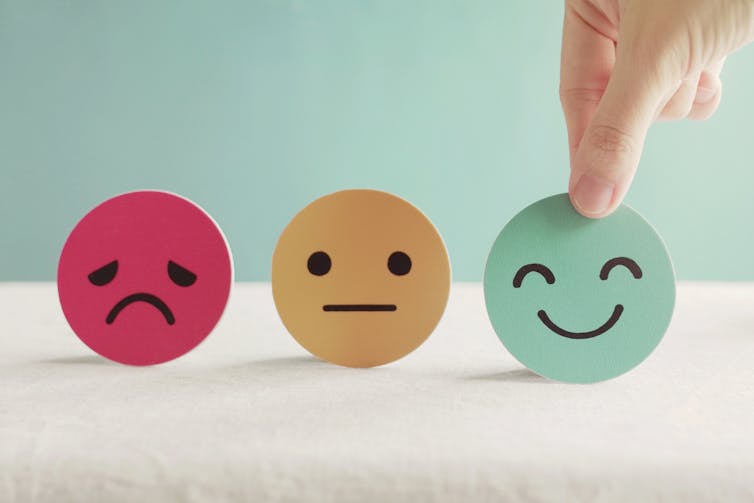 Happy thoughts come with problems, too.
For example, optimism bias is linked to overconfidence – believing we are generally better than others at most things, from driving to grammar. Overconfidence can become a problem in relationships (where a bit of humility can save the day). It can also make us fail to prepare properly for a difficult task – and blame others when we ultimately fail.
Defensive pessimism, on the other hand, can help anxious individuals, in particular, prepare by setting a reasonably low bar instead of panicking, making it easier to overcome obstacles calmly.
Capitalist interests
Despite this, positive psychology has left its marks on policymaking at national and international level. One of its contributions was in triggering a debate among economists about whether a country's prosperity should be measured by growth and GDP alone, or whether a more general approach to wellbeing should be adopted. This led to the misleading conjecture that one can measure happiness by simply asking people whether or not they are happy.
This is how the UN happiness index – which provides a ridiculous ranking of countries by their happiness level – is constructed. While questionnaires about happiness measure something, it is not happiness per se, but rather the readiness of people to admit that life is quite often difficult, or alternatively, their tendency to arrogantly boast that they always do better than others.
The excessive focus of positive psychology on happiness, and its assertion that we have full control over it, is detrimental in other respects, too. In a recent book called "Happycracy", the author, Edgar Cabanas, argues that this assertion is cynically being used by corporations and politicians to shift the responsibility for anything ranging between a mild dissatisfaction with life to clinical depression from economic and societal agencies to the suffering individuals themselves.
After all, if we have full control of our happiness, how can we blame unemployment, inequality or poverty for our misery? But the truth is that we don't have full control over our happiness, and societal structures can often create adversity, poverty, stress and unfairness – things that shape how we feel. To believe that you can just think yourself better by focusing on positive emotions when you're in financial danger or have gone through major trauma is at the very least naive.
While I don't believe positive psychology is a conspiracy promoted by capitalist companies, I do believe that we don't have full control over our happiness, and that striving for it can make people quite miserable rather than happy. Instructing a person to be happy is not much different than asking them not to think of a pink elephant – in both cases their mind can easily go in the opposite direction. In the former case, not being able to fulfill the goal to be happy adds substantial frustration and self-blame.
And then comes the question of whether happiness is really the most important value in life. Is it even something stable that can last over time? The answer to these questions were given more than a hundred years ago by the American philosopher Ralph Waldo Emerson: "The purpose of life is not to be happy. It is to be useful, to be honorable, to be compassionate, to have it make some difference that you have lived and lived well."

Eyal Winter, Andrews and Elizabeth Brunner Professor of Behavioural/Industrial Economics, Lancaster University
This article is republished from The Conversation under a Creative Commons license. Read the original article.
CONTINUE READING
Show less
{{ post.roar_specific_data.api_data.analytics }}