Tired of ads? Want to support our progressive journalism? Click to learn more.
GO AD-FREE FOR $1

Sen. Marco Rubio (R-FL) was on the receiving end of furious pushback on Twitter after he tweeted out an article about himself pushing for the end of the $300 federal unemployment supplement, stating "common sense" indicates people won't flock back to their jobs if they can keep drawing on the temporary fix.
According to the Florida Republican, "If federal money on top of the basic unemployment benefit means you will make more than from an available job what does #commonsensewisdom tell you is the logical decision for people to make?' before adding, "And right now this is set to continue for another 3 months."
Critics of the senator were quick to point out that Florida's unemployment benefits are not enough to live on as they are and that the low wages paid to workers in the state are hardly better.
As one commenter put it, "Florida pays abysmally, which is why it is the low wage worker cesspool that it is. Instead of spewing pathological propaganda, why not encourage Florida businesses to pay living wages? Oh right, because you are a spineless tool. #RetireRubio"
You can see more comments below:
CONTINUE READING
Show less
Conservative Tim Miller spent much of his adult life as a Republican activist and strategist, promoting the late John McCain's 2008 presidential campaign and serving as former Florida Gov. Jeb Bush's 2016 GOP presidential primary campaign. But Miller has been a blistering critic of former President Donald Trump, and in a humorous but scathing video posted on YouTube and the conservative website The Bulwark, he cites the likely replacement of arch-conservative Rep. Liz Cheney of Wyoming as House Republican Conference chair with Rep. Elise Stefanik as an example of why he finally left the GOP.
This week, House Republicans voted to remove Cheney from her position because of her unapologetic attacks on Trump and for acknowledging Joe Biden as the legitimately elected president of the United States. And Stefanik, now a Trump loyalist and promoter of the Big Lie, is the Upstate New York congresswoman who House Minority Leader Kevin McCarthy and House Minority Whip Steve Scalise have in mind as a replacement.
Rep. Cheney is the 54-year-old daughter of former Vice President Dick Cheney, and Miller opens his video by pointing out just how right-wing she is.
"Liz Cheney has been cast out from her position in Republican leadership and is facing a Trump-backed primary challenge next fall, for thought crimes against the orange god-king," Miller observes. "Yes, that Liz Cheney: daughter of Dick, conservative hardass, military hawk, voted with Trump 93% of the time. Liz is so 'severely conservative' that in her first campaign, she came out against gay marriage, selling out her own sister, for God's sake. So, why would Republicans want to break up with her so badly?"
Miller goes on to say that Cheney was removed as House Republican Conference chair not because she isn't conservative enough, but for refusing to promote Trump's lie that the 2020 election was stolen from him because of widespread voter fraud.
"Cheney's ouster is about one thing, and one thing only: Liddle Donny Trump's feelings," Miller explains. "Liddle Donny couldn't take the fact that 'Sleepy Joe' wiped the floor with him in November. So, he perpetrated the Big Lie about how the election was stolen to save face. If the losing candidate had been someone with integrity, with the manhood, to admit that they lost and put the country ahead of their own ego, then Cheney would still be in leadership — and we could all have moved on to arguing about fiscal restraint."
Miller points out that GOP presidential candidates of the past, unlike Trump, had no problem conceding defeat when they lost an election, and the video shows images of McCain and 1964 GOP presidential nominee Barry Goldwater. And Miller slams Stefanik's willingness to promote Trump's lies as shameless opportunism. The ex-Republican notes that he worked with Stefanik after the election "autopsy" of 2012, when President Barack Obama was reelected and defeated GOP nominee Mitt Romney — now a U.S. senator via Utah — and he stresses that the Stefanik of 2021 is radically different from the Stefanik he knew back then.
"Elise has been a moderate, neocon, establishment Republican who voted with Trump less than Cheney — just 78 % of the time," Miller stresses. "I worked with her on the Republican Party 'autopsy' in 2012 that argued we need to make the party more welcoming to marginalized groups. During the 2016 campaign, she was so grossed out by Trump that she couldn't even bring herself to say his name."
The ex-Republican adds, "But when Trump won, Stefanik adapted. She defended him during both impeachments, voted to overturn the election, and last week she went full batshit, making an appearance on disgraced bigot Sloppy Steve Bannon's podcast to praise the preposterous Arizona audit that's looking into whether the ballots were tainted with bamboo shards from China. Switching from Cheney to Stefanik is pure nihilism. It's punishing one person for speaking the truth and advancing another for their shameless in spreading a lie."
Watch the video below:
Not My Party Episode 213 | Liz Cheney Unchained www.youtube.com
CONTINUE READING
Show less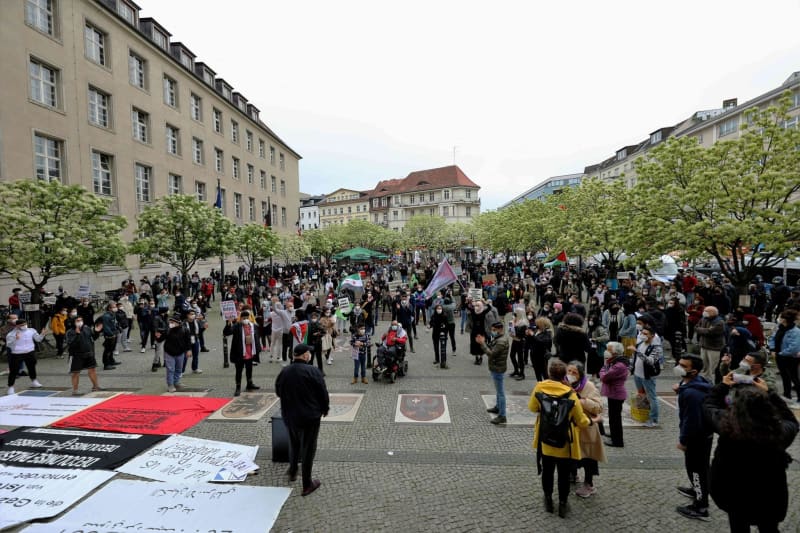 After several German cities saw anti-Israel rallies in the wake of resurging conflict between Israel and Gaza in recent days, the government has strongly condemned anti-Semitic protests and promised to ramp up protection for Jewish institutions.
Government spokesperson Steffen Seibert said on Friday that peaceful demonstrations against Israel's policies were allowed in Germany. "But anyone who uses such protests to shout out their hatred of Jews is abusing the right to protest. Anti-Semitic rallies will not be tolerated by our democracy," he added.
Those who protest in front of a synagogue and damage Jewish symbols showed that they are not criticizing a state, but showed "aggression and hatred against a religion and those who belong to it," Seibert stressed. "We oppose this with all the strength of a democratic constitutional state."
In recent days, police have intervened at anti-Israel rallies and boosted their presence at synagogues throughout the country after several instances of vandalism and the burning of Israeli flags.
Seibert said the authorities were working with the utmost commitment to solve the crimes, punish the perpetrators and protect Jewish institutions.
Meanwhile, the government's anti-Semitism commissioner, Felix Klein, asked the Islamic associations in Germany to stand up against violence.
He was calling on the organizations "to distance themselves from violence against Jews and attacks on their places of worship, to call for non-violence and to exert a de-escalating influence on the Muslim community in Germany," Klein said on Friday.
It was appalling to see "how obviously Jews in Germany are being held responsible here for actions of the Israeli government in which they are completely uninvolved," he added. Such a view is "pure anti-Semitism," Klein said.
CONTINUE READING
Show less

Don't Sit on the Sidelines of History. Join Raw Story Investigates and Go Ad-Free. Support Honest Journalism.
Subscribe Annually
$95 / year — Just $7.91/month
Subscribe Monthly
$1 trial
I want to Support More
$14.99 per month
{{ post.roar_specific_data.api_data.analytics }}