Don't miss stories. Follow Raw Story!
Eight vintage Corvettes — one of them the only one in existence — plunged into a giant forty-foot sinkhole Wednesday morning at the National Corvette Museum after the floor collapsed.
The accident occurred sometime around 5:30 a.m. Wednesday morning at the Corvette museum in Bowling Green, Kentucky. The hole began to form around 5:30 a.m., according to museum officials; power was lost at 5:39 and police were called to the scene.
When they arrived,  personnel discovered a 40-foot sink hole between 25 and 30 feet deep.
"It's pretty significant," executive director Wendell Strode told the local Courier-Journal.
Staff removed one car, a 1983 Corvette, but others will remain in the ground until the structure surrounding the hole has been assessed.
Photos of the sinkhole and surrounding scene follow.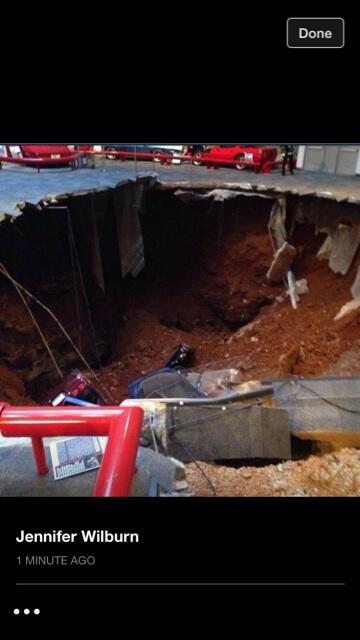 The following Corvettes dropped into the hole, according to WBKO News.
1993 ZR-1 Spyder on loan from General Motors
2009 ZR1 "Blue Devil" on loan from General Motors

The other six vehicles were owned by the National Corvette Museum including:

1962 Black Corvette
1984 PPG Pace Car
1992 White 1 Millionth Corvette
1993 Ruby Red 40th Anniversary Corvette
2001 Mallett Hammer Z06 Corvette
2009 White 1.5 Millionth Corvette
The Courier-Journal reports sinkholes are frequent in Kentucky, where the museum is located.
"Bowling Green — about 60 miles northeast of Nashville, Tenn., and 100 miles southwest of Louisville, Ky. — is at the edge of a karst region where caves, springs and sinkholes are common," the paper's Mark Boxley wrote. "The main entrance to Mammoth Cave National Park is about 30 miles northeast of the city, but that cave system has more than 400 miles that have been explored."
Watch video below.