Pandagon is daily opinion blog covering feminism, politics, and pop culture. Come for the politics, stay for the complete lack of patience for the B.S. and bad faith coming from conservative leaders and pundits.
Don't miss stories. Follow Raw Story!
Over the holiday weekend, there was a strange little story that took off regarding a Republican congressional staffer named Elizabeth Lauten and her church lady-style scolding of Sasha and Malia Obama. The story begins when Sasha and Malia delighted normal, emotionally well-balanced human beings with their eye-rolling teenage behavior at the turkey pardoning ceremony: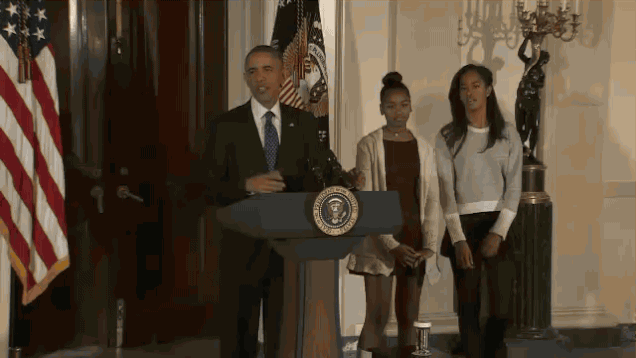 They are correct in their unvarnished adolescent assessment of the situation. The turkey pardoning is a stupid tradition and having a little teenage sneering at it was funny. This is the end of the story for people who do not take themselves too seriously.
But of course, for uptight Republican sorts who are already inclined to think teenagers are a scourge upon humanity, this was going to get them all excited for their favorite sport of all time: Cluelessly lecturing young people about how they need to act right, drop the hip-hop and start wearing hoop skirts while doing a square dance, like they did back in the good ol' days. Our winner for the idiotic scolding routine was Elizabeth Lauten, the comms director for Rep. Stephen Fincher (R-TN). 
In her spare time when @DCGopGirl is not doing work for @RepFincherTN08 she shames teenagers on Facebook pic.twitter.com/jgeuxJqlYW

— Yesha (@YeshaCallahan) November 28, 2014
Long story short: She apologized, took the apology off Facebook and has now resigned.  No doubt the next move is people being mad at liberals for running Lauten out of her job. After all, a lot of people pointed out that not only is Lauten almost a cartoon character with her priggish eagerness to tell teenagers to stand up straight and show some respect, there was some really ugly race and gender stuff going on here. Lauten's description of the girls' clothes has no relationship whatsoever to what the girls are actually wearing, suggesting that her racist, sexist imagination of what black teenage girls are all about caused her to see clingy sequined dresses and five inch heels where the rest of America saw teenage girls in sweaters. (Or maybe there's some secret conservative belief that nothing is sluttier than being a young woman in a sweater in the vicinity of a Democratic president.)
But seriously, don't blame liberals. Liberals don't have any power to force Lauten to resign nor do they have any power to make her Republican boss ask for her resignation. If Rep. Fincher wanted all this to blow over, it really would have. People would have forgotten about this by Wednesday, tops. This has nothing to do with giving into liberal demands.
No, the real reason I suspect Lauten had to go was she let the mask slip. Right now, there is a Republican full frontal assault on abortion rights and contraception access—which Rep. Fincher is a big part of—and Republicans are very touchy about this assault being called a "war on women". They insist that attacks on abortion rights are supposedly about helping women and that the attacks on contraception access are about "religious freedom" and that sexism and hostility towards female sexuality has nothing to do with it. Having some congressional staffer reveal that she thinks that you're being immodest if you show your knees in public blows their cover and shows that nope, it's all about their hysterical attitudes about women and sexuality. I'll add that these attacks on women's rights disproportionately affect women of color, in no small part because the hysteria over female sexuality gets even more hysterical if you're talking about women of color. That Lauten saw some kind of hyper-sexuality in two very normally dressed teenage girls gives the entire game away.
So that's why she had to go. Not to appease the liberals, but to keep up the Republican claims that assaults on women's rights have nothing to do with conservative paranoia about women's bodies and female sexuality. This is all about pretending Lauten is the exception to the rule, but believe me, she's the rule.