Michele Bachmann takes credit on Twitter for America's low gas prices
Outgoing Minnesota Congresswoman Michele Bachmann (R) took to social media late this week to congratulate herself for bringing the price of gas down under two dollars per gallon.
The erstwhile 2012 presidential contender posted a photo of herself standing under a gasoline station's pricing sign on Friday via the social medium Twitter. She captioned the image "$2 gas, anyone?"
Bachmann was referring to a campaign promise from her failed run at the presidency in which she vowed to bring gas prices back down under two dollars per gallon.
"Under President Bachmann you will see gasoline come down below $2 a gallon again," Bachmann said at a South Carolina rally in 2012. "That will happen."
Now, gas prices have tumbled, which Bachmann is more than happy to take credit for, in spite of the fact that she lost her bid for the GOP nomination in 2012, let alone the presidency.
A column at "birther" hub and far-right conspiracy theory website World Net Daily claimed Friday that Bachmann is getting the "last laugh at her critics."
"Back in December, Mark Finkelstein of Newsbusters also noticed that gas prices were edging closer and closer to the $2 mark and recalled the mainstream media, or MSM, mockery of Bachmann," wrote WND's Drew Zahn.
Conservative writer Mollie Hemingway tweeted:
Interesting RT @AHMalcolm: Oh, look! Despite the mocking, Michele Bachmann predicted correctly after all http://t.co/cNddWA7h1z

— Mollie (@MZHemingway) January 3, 2015
However, energy analysts say that the real reason gas is cheap in the U.S. right now is largely due to a simple increase in supply and decrease in demand. In response to the flood of shale oil from U.S. and Canadian tar sands operations, Middle Eastern oil nations like Saudi Arabia have glutted the market with cheap oil in order to offset their losses as oil prices fall.
Furthermore, due to increase in sales of hybrid vehicles and increasing unpopularity of gas-guzzling SUVs, Americans are using less gas than ever to drive more miles.
According to the University of Michigan Transportation Research Institute's Michael Sivak, "The reductions in these rates likely reflect fundamental, non-economic changes in society, such as increased telecommuting, increased use of public transportation, increased urbanization of the population, and changes in the age composition of drivers."
View Bachmann's tweet image, embedded below: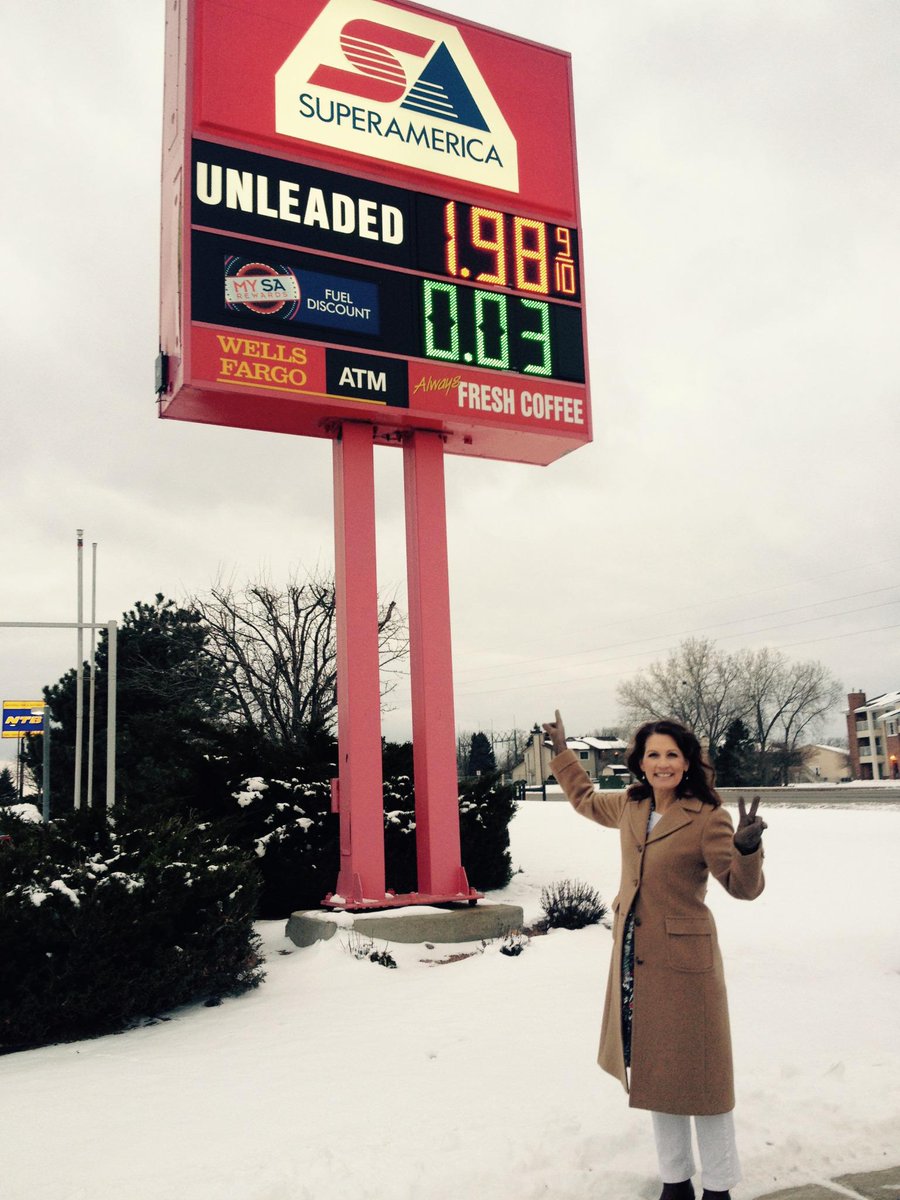 Nicolle Wallace blasts Trump's fake 'manliness' for refusing to protect his key supporters
MSNBC host Nicolle Wallace blasted President Donald Trump for not caring about his staff much less "his own godd*mn supporters."
Speaking with conservative Charlie Sykes and Democratic strategist Basil Smikle, Wallace showed a new Lincoln Project ad with Sam Elliott about fathers and sons and what it means to be a "man of family and faith."
"Above all they taught us to own up to it when we did something wrong," the ad says before showing a video of Trump saying he doesn't accept responsibility for the failures of the coronavirus.
https://twitter.com/ProjectLincoln/status/1319247130809278464
Why Asian American voters in Texas may hold outsized importance in key races this year
When Debbie Chen temporarily closed her Houston restaurant in March due to the coronavirus, she was worried about her health and her financial livelihood.
But as a Chinese American, she was also worried about vandalism and her physical safety, given how President Donald Trump and others were blaming China for the pandemic and using racist monikers for the virus.
Seven months later, as Texans head to the polls in the 2020 elections, she hasn't forgotten. Chen works on Asian American and Pacific Islander voter turnout every year, but this year she feels even more motivated.
"I was so afraid someone would get attacked," Chen said. Trump's rhetoric "perpetuates this stereotype that Asians are foreigners or something." [Read more about Chen's experience during the coronavirus here.]
Here's how Missouri's GOP governor ignored warnings — and caught COVID himself
Missouri Governor Mike Parson is one of the nation's leading Donald Trump acolytes, right down to refusing to issue a statewide mandate to wear what he has termed "danged masks."
Like Trump, Parson and his wife Teresa both contracted the COVID-19 virus, thankfully recovering, but only to emerge unbowed as if there was nothing to see here. He won't consider mask mandates to this day, even as Missouri remains one of the top-spiking states in the nation.
Now, Parson's Trump-worship has taken an even more pathetic turn. Like the boss man, it turns out he wasn't about to be deterred by some snowflake concerns over a potential super-spreader setting.