Michele Bachmann takes credit on Twitter for America's low gas prices
Outgoing Minnesota Congresswoman Michele Bachmann (R) took to social media late this week to congratulate herself for bringing the price of gas down under two dollars per gallon.
The erstwhile 2012 presidential contender posted a photo of herself standing under a gasoline station's pricing sign on Friday via the social medium Twitter. She captioned the image "$2 gas, anyone?"
Bachmann was referring to a campaign promise from her failed run at the presidency in which she vowed to bring gas prices back down under two dollars per gallon.
"Under President Bachmann you will see gasoline come down below $2 a gallon again," Bachmann said at a South Carolina rally in 2012. "That will happen."
Now, gas prices have tumbled, which Bachmann is more than happy to take credit for, in spite of the fact that she lost her bid for the GOP nomination in 2012, let alone the presidency.
A column at "birther" hub and far-right conspiracy theory website World Net Daily claimed Friday that Bachmann is getting the "last laugh at her critics."
"Back in December, Mark Finkelstein of Newsbusters also noticed that gas prices were edging closer and closer to the $2 mark and recalled the mainstream media, or MSM, mockery of Bachmann," wrote WND's Drew Zahn.
Conservative writer Mollie Hemingway tweeted:
Interesting RT @AHMalcolm: Oh, look! Despite the mocking, Michele Bachmann predicted correctly after all http://t.co/cNddWA7h1z

— Mollie (@MZHemingway) January 3, 2015
However, energy analysts say that the real reason gas is cheap in the U.S. right now is largely due to a simple increase in supply and decrease in demand. In response to the flood of shale oil from U.S. and Canadian tar sands operations, Middle Eastern oil nations like Saudi Arabia have glutted the market with cheap oil in order to offset their losses as oil prices fall.
Furthermore, due to increase in sales of hybrid vehicles and increasing unpopularity of gas-guzzling SUVs, Americans are using less gas than ever to drive more miles.
According to the University of Michigan Transportation Research Institute's Michael Sivak, "The reductions in these rates likely reflect fundamental, non-economic changes in society, such as increased telecommuting, increased use of public transportation, increased urbanization of the population, and changes in the age composition of drivers."
View Bachmann's tweet image, embedded below: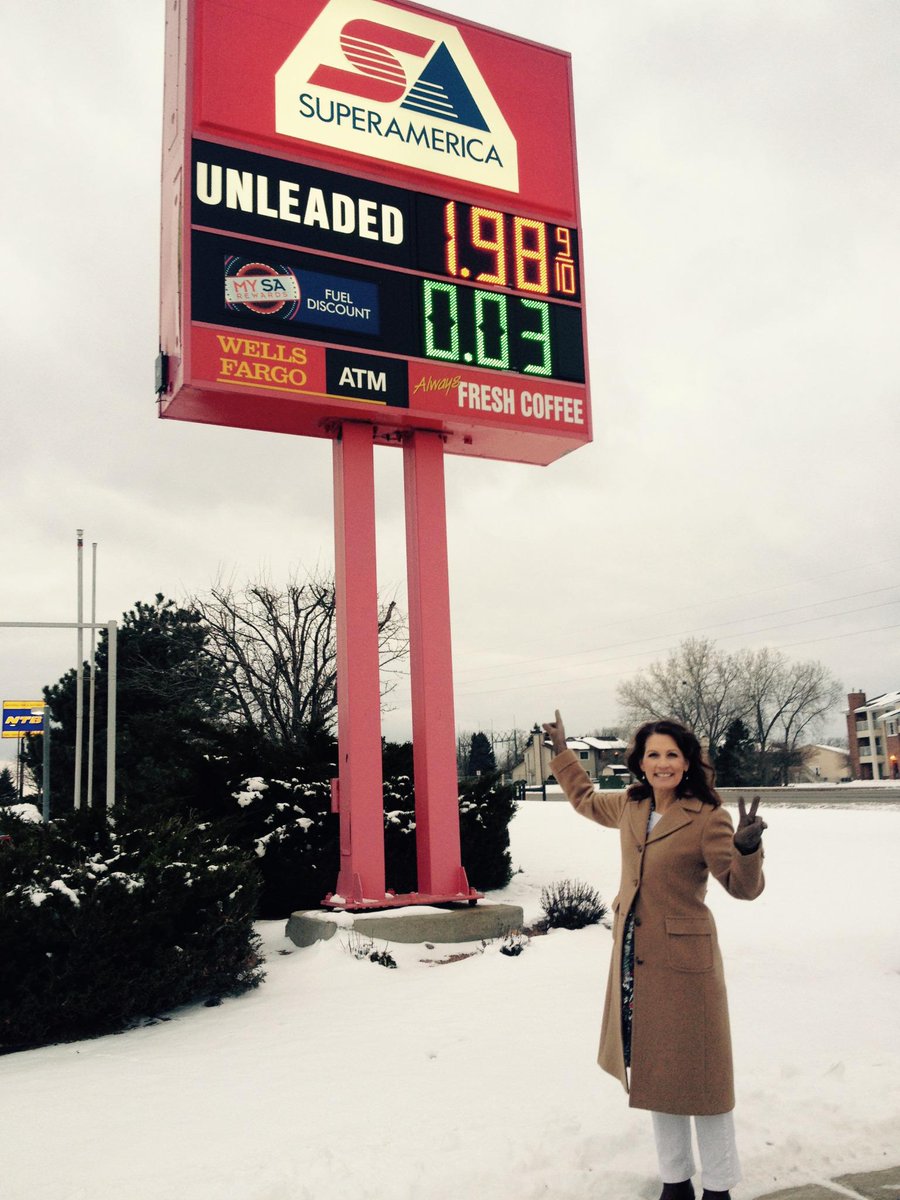 Canada blocks certain drug exports in response to US plan
Canada announced Saturday a ban on exporting certain medicines that are or may soon be in short supply, a measure in response to a US plan to import drugs from its northern neighbor.
The plan promoted by outgoing US President Donald Trump aimed at allowing pharmacists and wholesalers to import certain prescription drugs in bulk from Canada takes effect on Monday.
The US plan is intended to lower prices for Americans, but comes at a time when the Covid-19 pandemic has increased demand for some medicines.
Canada's ban took effect on Friday, its health ministry said, and is intended "to protect Canada's drug supply from bulk importations that could worsen drug shortages in Canada."
Santa Clara County moves to shut down all 49ers activities for three-week minimum
SANTA CLARA, Calif. — The 49ers might not be able to practice at their Santa Clara facility or host games at Levi's Stadium in the coming weeks.That announcement was made Saturday by James Williams, counsel for Santa Clara County, in a news briefing as the county's public health department announced new COVID-19 protocols amid the growing number of new cases in the area and decreased availability of hospital beds.Per the county's new health guidelines, contact sports will be prohibited in the county for a minimum of the next three weeks. That means the 49ers, Stanford football team, San Jose S... (more…)
Trump loses another election court challenge
The US state of Pennsylvania's supreme court dismissed another legal challenge to the election by supporters of President Donald Trump on Saturday, further reducing his already near-impossible odds of overturning the results.
A Republican lawsuit had sought to invalidate mail-in ballots in the battleground state that President-elect Joe Biden won by about 81,000 votes -- or to throw out all votes and allow the state's legislature to decide the winner.
The court dismissed both claims in a unanimous decision, calling the second one an "extraordinary proposition that the court disenfranchise all 6.9 million Pennsylvanians who voted in the general election."