New female Thor panels show how much online anti-feminists destroy their own cause
Over the summer, Marvel announced that, in the comics at least, the long-running character of Thor was going to be replaced by a woman. The writer, Jason Aaron, made it clear that this woman is not going to be like a She-Hulk or Spider-Woman, both of which are entirely separate characters who co-exist with their male counterparts, but an actual replacement for Thor. ""This is not She-Thor. This is not Lady Thor. This is not Thorita. This is THOR," he wrote in the Marvel press release. "This is the THOR of the Marvel Universe. But it's unlike any Thor we've ever seen before."
For people who read a lot of Marvel comics, this wasn't too surprising. It's common for superheroes to die or retire or get promoted and leave their mask and mission to someone entirely new, much as you see with your ordinary desk jobs where different people can hold the same title over the years. Thor has, for instance, been a frog in the past. But since it's a lady and there's a loud and shameless sexist corps in the geek world, there was a major and irritating hue and cry from some corners.
Well the he man woman haters club of online geekdom isn't going to be too happy to see these new panels that Marvel has released to tease the upcoming comic. Thor isn't just a lady, but a feminist, and her nemesis, the Absorbing Man, has dialogue that could have been culled from the comment section underneath any feminist article on the internet.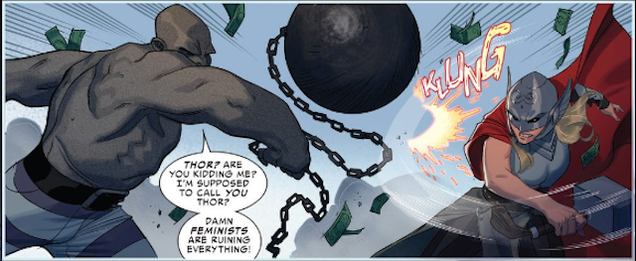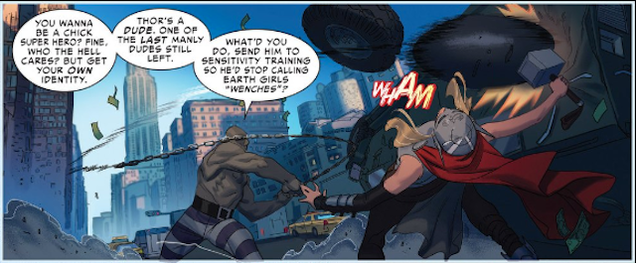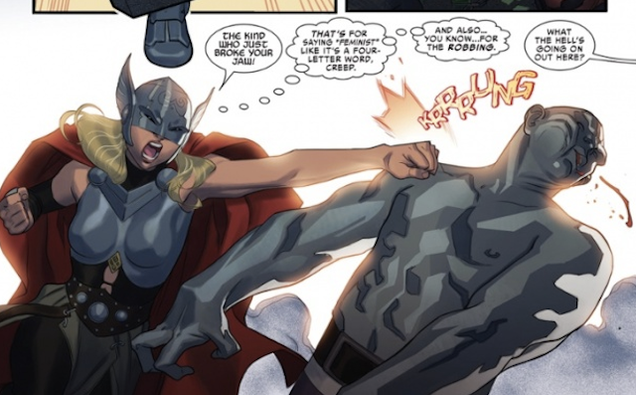 These panels look cool and female Thor seems badass. But the real takeaway lesson, one that I think should hearten most of the non-troll readership here, is that it appears that "men's rights" goons and Gamergate and other assorted online efforts to organize misogyny may see their efforts to squelch feminism backfiring. Oh, there's no doubt their ability to swarm like ants whenever a woman offers an opinion other than "me fuck you now?" has intimidated a lot of women and probably silenced quite a few opinions, particularly of a feminist bent. But it's also had the effect of showing those who are observing this one overwhelming, salient fact: Anti-feminists are assholes. Every goddamn last one of them.
The effect is particularly notable in geek circles. I think there were a lot of geeky dudes who actually like women but who, because they didn't see how it affected them, were not particularly involved in feminism or cognizant of the way it shapes women's lives and, in this particular case, shapes their ability to participate in the fandom. But watching women you like get absolutely hammered by an endless stream of assholes online for daring to say that sexual harassment isn't cool or that nipples on breastplates look stupid, well, it's bound to wake a few guys up.
I have no idea what the inspiration here is, but it's hard not to wonder if feminist Thor is a direct response to the endless amount of sexist bullshit some dudes in the geek world constantly churn out. If so, well done, guys. Becoming a cartoon villain is exactly the opposite of what you want to happen if you're trying to convince people of the righteousness of your cause.
After many years and many server changes and finally landing here at Raw Story, which has taken very good care of us, it's time to say goodbye to Pandagon. I've been blogging under this banner for ten years, after Jesse Taylor asked me to join. He, in turn, had been running this joint since he was in college. A lot has changed since then. I became a journalist, moved from Austin to New York and learned to play Dungeons & Dragons. Jesse became a lawyer and, just this past weekend, a married man.
Carly Fiorina defends her lie with a whole bunch of lies
I do like it when Republican candidates sport a resume full of corporate executive work, because it really shows the public how many fools and idiots coast into that position not on merit but on their bullshitting abilities. Donald Trump, Herman Cain, and now we have Carly Fiorina, who just can't understand why her perceived underlings (voters, journalists) won't scurry away, pretending to accept her bullshit like former employees of hers had to do, lest they lost their jobs.
And so it goes that Fiorina, who could make this entire Planned Parenthood controversy go away by saying something like, "I may have misremembered the video, but I still think abortion is wrong," instead is doubling and tripling down. And every time she does, she lies more and more. She was on Meet the Press and, so enamored of the idea that she is perfect and could never do anything wrong, just went to town with the defensive posturing.
Marco Rubio has an astoundingly low opinion of women's intelligence
At RH Reality Check, I covered this story that I wish was getting more press, about how Marco Rubio goes back and forth between suggesting that women who get abortions are greedy monsters who get pregnant for cash:
I just think you've created an industry now … a situation where very much, you've created an incentive for people not just to look forward to having more abortions, but being able to sell that fetal tissue for purposes—these centers—for purposes of making a profit off it, as you've seen in some of these Planned Parenthood affiliates.