(Photo: Shutterstock)
Thomas Jefferson University Hospital fired a woman who posted on social media how "sick and tired of all this bullsh*t with the black people."
---
Diane Amoratis' Facebook rant, was a response to an anti-police brutality protest on Erie Ave. in Philadelphia that went viral after she posted it.
"They should have bulldozed the BLM protest at the 24/25th district last night. Disgraceful!!! And for all the police officers who have to work amongst these trouble makers, you deserve all the praise in the world," she said in the post.
"Blacks kill each other every day, all day long, and it's ok with them. Why not protest when Jamal kills Kalif???? Well, I AM WHITE AND PROUD TO BE WHITE!! WHITE LIVES MATTER!!!! POLICE OFFICERS LIVES MATTER!!!" she continued, before offering advice to the black community. "Keep your circus in your own neighborhood!!! Get a life, a honest job, and RAISE YOUR KIDS TO BE PRODUCTIVE CITIZENS!!!!"
She closed the post by saying, "I am sick and tired of all this bull---- with the black people!! If you don't like my post, then delete me as your friend."
Shock and outrage grew and it wasn't long before a rumor began that she was a nurse at Jefferson University Hospital, however, NBC Philadelphia reports that a spokeswoman for the hospital denied that Amoratis was ever a nurse for the hospital.
The hospital released a statement Wednesday acknowledging an employee had posted "inappropriate and inflammatory comments" on social media and that she had been fired.
"Hate speech of any kind is unacceptable at Jefferson and is not consistent with our values, policies and the culture of inclusiveness, dignity and respect we continue to build here," said President and CEO Stephen Klasko and Chief Human Resources Officer Jeffrey Stevens in a statement posted on the hospital's Facebook page. "We pride ourselves on ensuring that Jefferson is a safe community where our colleagues, patients and students respect and value each other."
"I take very seriously my role in building bridges of understanding, respect and acceptance," another Facebook statement began. "I have experienced very personally, dozens of examples of employees who have selflessly given of their time and resources to ensure the comfort and safety of their patients, as well as their colleagues — staff who buy shoes for the homeless, employees who donate their time to refugee shelters or travel to Haiti to serve others less fortunate," Stevens' statement read. "These examples showcase the behaviors that truly define the Jefferson we all know."
See the woman's full tirade below:
[caption id="attachment_842087" align="aligncenter" width="242"]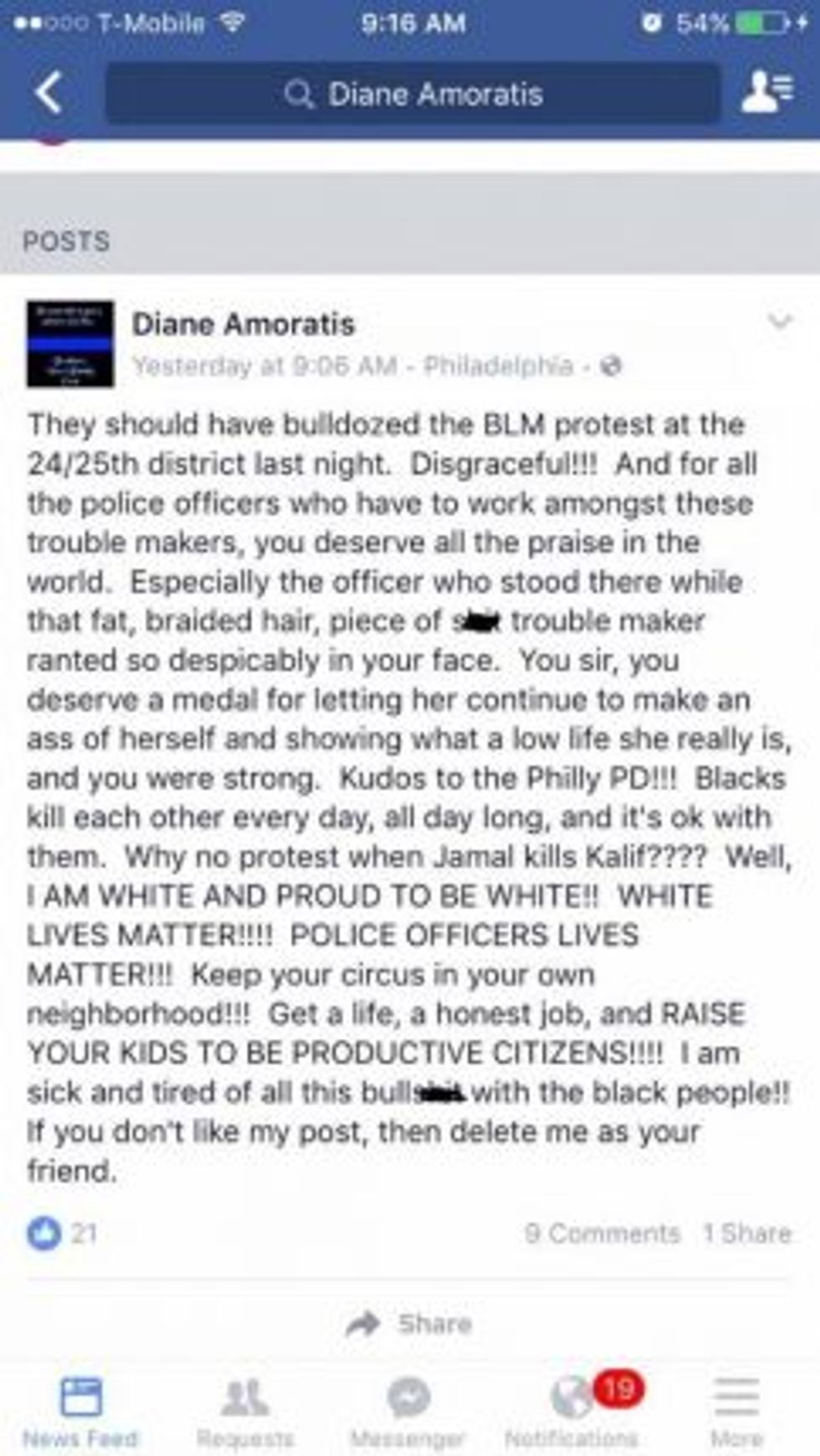 Diane Amoratis' Facebook post (Photo: Screen capture)[/caption]