Rick Van Galder "serving time" at the Scottsdale City Jail (Photo: Screen capture)
Earlier last month, a bizarre video surfaced of a former Mesa, Arizona policeman who allowed to roam free while serving a three-day sentence in a Scottsdale jail.
---
Former police lieutenant Rick Van Galder was pulled over with twice the legal limit of blood alcohol. He tried to get out of it by touting his 20 years of service as an officer, but it didn't work. He ultimately had to serve the three-day sentence. Doing so, however, was hardly a jail sentence. Galder was allowed to eat fast food with the other officers and his wife, he spent most of his time in the detention manager's office and was given a key card to allow himself to come and go as he pleased.
Friday, Arizona reporter Wendy Halloran at KPNX updated the story, detailing the light sentence those involved seemed to score for their role in the incident.
Three jail staffers, detention manager Jeff Landrum, Sergeant Don Vogel, and Sergeant Kris Keilich, have been demoted. Only department police commander Bruce Ciolli was suspended. All Ciolli received was one-week suspension without pay.
When the video came to light, Police Chief Alan Rodbell was shocked and appalled by the incident, assuring swift action. Yet, in the end, the men will lose their last increase in pay, but they will keep their jobs.
[caption id="attachment_896131" align="aligncenter" width="615"]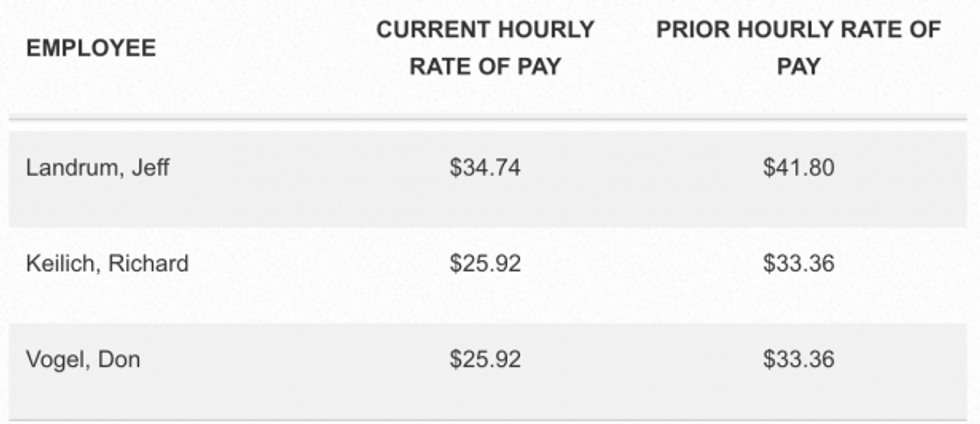 Pay chart for jail officers (Screen capture KPNX )[/caption]
Ciolli was the commander who requested Galder serve his time at the Scottsdale jail. The two are also long-time friends. Typically, the rules and regulations are that no prisoner stays in that facility for more than 48-hours and Galder's sentence was for 72-hours. Rodbell admitted that he reluctantly granted the 72-hour hold for Galder.
"There's no testimony from anybody at this point that I am aware of that says that Commander Ciolli gave any direction to anybody in the detention center on how this gentlemen should be treated once he came in," said Rodbell.
KPNX reports that Ciolli's personnel file says his annual salary is roughly $143,000 and that his one-week suspension cost him roughly $2,750.
Check out the full report below: