Like this article ? Text `Support` to 50123 to donate.
Given that Russia has amassed
100,000 troops
along its nearly 1,200-mile border with Ukraine, a look at two recent invasions by Russia against neighboring territories offers insight to what a possible new invasion would entail if diplomacy is unable to ease the growing tensions.
Invasion of Georgia
In 2008, Russian President Vladimir Putin invaded Georgia, a country in the Caucasus region located on the Black Sea, during the opening ceremony of the Beijing Olympics. Approximately 40,000 soldiers and 1,200 armored vehicles entered into Georgia's semi-autonomous region of South Ossetia before stopping about 35 miles short of Tbilisi, Georgia's capital.
Putin attempted to justify the invasion under the pretense of the international norm of the responsibility to protect. In this case, Russia argued that its use of force was required to protect Osseitians from Georgian "genocide".
Yet the Global Centre for the Responsibility to Protect, a nongovernmental international agency started in 2008 to prevent genocide, found no legal justification for Russia's use of force. Instead, there is plenty of evidence to indicate the war was "premeditated."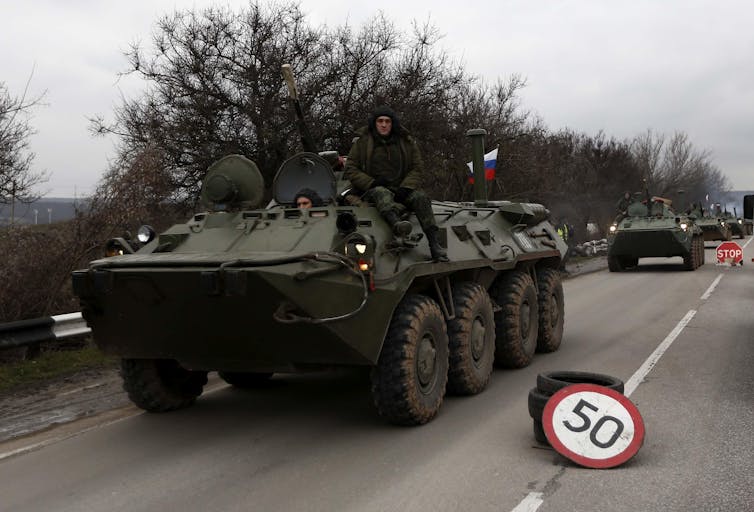 In this Feb. 28, 2014, photograph, Russian armored personnel carriers are rolling into Crimea, Ukraine.
Bulent Doruk/Anadolu Agency/Getty Images
Invasion of Crimea
In 2014, when Russian invaded Crimea, Putin had a large troop formation along Ukraine's border. But instead of invading there, Putin used hybrid warfare to seize Crimea, a peninsula that juts into the Black Sea and housed a Russian naval base.
Ukraine failed to provide a military response. But when Russia actively supported separatists in the Ukrainian regions of Donetsk and Luhansk – collectively known as the Donbass – Ukraine fought back. Even though Ukraine's military was in a "decrepit" state, hollowed out by decades of corruption, it was able to push the Russian-backed separatists to the border with the help of volunteers.
In response, Russia increased its support, sending small military formations to assist the separatists.
As a career U.S. special forces officer with combat and operational deployments in Afghanistan, Iraq, Bosnia, Africa and South America, I conducted field research on the 2008 and 2014 wars in Georgia and Ukraine. Based on my military experience, Putin would not want to send large troop formations into Ukraine without some sort of justification, credible or not. As it is now, justification for an invasion would be extremely difficult for Putin. That doesn't mean he won't invade anyway.
From what I have learned, I expect a possible Russian invasion would start with cyberattacks and electronic warfare to sever communications between Ukraine's capital and the troops. Shortly thereafter, tanks and mechanized infantry formations supported by the Russian air force would cross at multiple points along the nearly 1,200-mile border, assisted by Russian special forces. Russia would seek to bypass large urban areas.
Likewise, Ukraine would seek to keep the major combat out of large urban areas to minimize the destruction. But neither side likely would be able to avoid urban fighting altogether.
A stronger Ukrainian military
It would likely be a limited incursion. The political cost of capturing Ukraine's capital would be too high, and as a result, Putin would likely stop short of Kiev, just as he did with Tbilisi during the invasion of Georgia in 2014. But the war would be extremely costly for Russia because of significant improvements in the Ukrainian military since 2014.
In 2008, a less sophisticated Georgian Army shot down as many as 22 Russian aircraft, causing Russia to significantly decrease its sorties. Russia would likely meet the same fate in 2022 against a Ukrainian military armed with Stinger missiles that are being transferred from Lithuania and Latvia.
After testing Ukrainian air defenses and suffering losses in the first few days, I suspect Russia would largely ground its aircraft and instead rely on multiple launch rocket systems (MLRS) to knock out strategic strongholds.
Ukraine also would likely keep its air force grounded, just as it did in 2014, leading observers to question why Ukraine maintains an air force that costs billions of dollars if it fails to employ it in war.
On the ground, Russian tanks also would likely face a much different defense. In 2014, for instance, Russian T-90 tanks supporting separatists in Ukraine's Donbass region were almost impenetrable. Since then, Ukraine has upgraded its defense. In 2017, the United States provided Javelin anti-tank missiles to Ukraine, with additional missiles arriving from Estonia in the coming days. These man-portable, self-guided missiles are extremely accurate, extremely effective, easy to use and would inflict heavy losses on the Russians.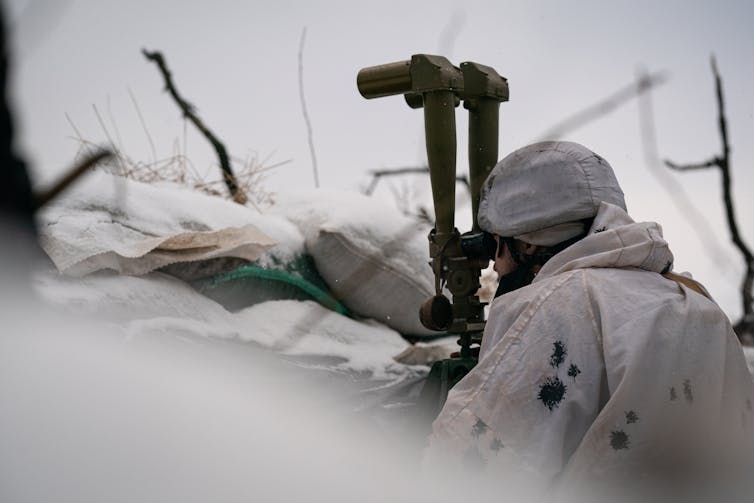 A member of the 503âd Naval Infantry Battalion stationed in Donbass, Ukraine, on Jan. 18, 2022.
Photo by Wolfgang Schwan/Anadolu Agency via Getty Images
Ukraine's military is far more capable now than it was in 2014. Since then, the United States has committed over $2.7 billion in training and equipment that has helped reform Ukraine's defenses. Ukraine's military is now at least on par and most likely better than the Russians at the tactical level, which is similar to 2008 when Georgian forces often outperformed their Russian counterparts.
When Russia invaded the Donbass, Ukrainian "volunteers" flocked east to stave off Russian forces, preventing Ukraine from losing more than just the Donbass. Many were completely untrained, yet they fought well. Over the past few years, volunteers have continued to train.
Russia would not have the element of surprise as it did in 2008 and 2014. Instead, it would find a ready and trained volunteer force that would provide not only critical intelligence to the Ukrainian military but also counterattacks against Russian forces during the invasion.
A high price to pay
Despite the advances of the Ukrainian military, Russia's military, due to its sheer size, would still overwhelm the Ukrainians.
Yet a military victory would come at an extremely high military and political cost. Sanctions against Russia following its seizure of Crimea in 2014 have been estimated to have reduced Russia's economic growth by 2.5 to 3%, or roughly $50 billion per year. Sanctions would likely be much more significant this time.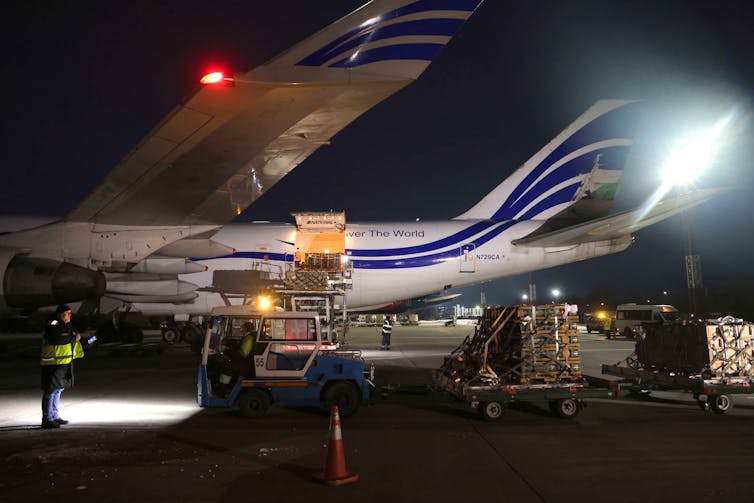 Ground crew unloads weapons and other military hardware from the U.S military at Boryspil Airport near Kyiv on Jan. 25, 2022.
Photo by Sean Gallup/Getty Images
It is doubtful that Putin is willing to accept these costs. With additional Javelin and Stinger missiles being sent to Ukraine from Western allies and messaging from President Joe Biden that Russia would "pay a heavy price" for any invasion, Putin might heed the warnings.
[Too busy to read another daily email? Get one of The Conversation's curated weekly newsletters.]

Liam Collins, Founding Director, Modern War Institute, United States Military Academy West Point
This article is republished from The Conversation under a Creative Commons license. Read the original article.
CONTINUE READING
Show less
Spotify's $100 million dollar man, Joe Rogan, has found himself at the wrong end of a number of controversies recently for the scientifically questionable content being put forward on his wildly popular program, "The Joe Rogan Experience." First, he hosted an anti-vax scientist who compared U.S. public health authorities promoting COVID-19 vaccination to the Nazis — comments that inspired a fierce backlash and calls for a boycott of Rogan's show.
Then came a feud with legendary artist Neil Young, who pulled his music from Spotify after an ultimatum: You can have me or Rogan's COVID-19 misinformation, but not both.
Now, Rogan's back in the crosshairs of the scientific community after an episode with the clinical psychologist and occasional right-wing pundit Jordan Peterson, which was riddled with false claims about a number of topics — most notably during extended riffs on climate change and racial identity of "Black" Americans.
Here are some of the wildest claims from a particularly wild conversation:
1) That climate change doesn't exist because there's "no such thing as climate."
For more than 30 minutes of the episode's more than four-hour run time — yes, seriously — the two men discussed the veracity of the scientific establishment's broad agreement that climate change is real and that humans are to blame.
Rogan begins by saying he's reading a book about the subject, which he says "requires a lot of thinking" to look at criticisms on "both sides" of the issue.
"The climate change one is a weird one," he says, prompting an equally articulate response from his guest.
Though it's not exactly clear, Peterson seemed to be making the point that measuring Earth's climate over time will naturally lead researchers to assess a large number of variables — and that making sense of so many variables is an impossible task. For the record, it's not exactly what real climate scientists say about the subject.
PETERSON: Well, that's because there's no such thing as climate. Right? "Climate" and "everything" are the same word, and that's what bothers me about the climate change types. It's like, this is something that bothers me about it, technically. It's like, climate is about everything. Okay. But your models aren't based on everything. Your models are based on a set number of variables. So that means you've reduced the variables, which are everything, to that set. Well how did you decide which set of variables to include in the equation, if it's about everything? That's not just a criticism, that's like, if it's about everything, your models aren't right. Because your models do not and cannot model everything.
ROGAN: What do you mean by everything?
PETERSON: That's what people who talk about the climate apocalypse claim, in some sense. We have to change everything! It's like, everything, eh? The same with the word environment. That word means so much that it doesn't mean anything. … What's the difference between the environment and everything? There's no difference.

2) Calling a light-skinned person Black is "weird" — and should only be reserved to African natives "not wearing any clothes" all day.
This side-conversation began when Rogan brought up the work of author and academic Michael Eric Dyson, who several years ago criticized Peterson as a "mean, mad white man."
In response, Peterson said it was "a lie" to call him white, insisting that he's "kind of tan" — a description he would extend to Rogan as well.
"And [Dyson] was actually not black — he was sort of brown," Peterson added. Rogan then took that idea and ran with it:
"Well, isn't that weird? The Black and white thing is so strange because the shades are... There's such a spectrum of shades of people. Unless you're talking to someone who is, like, 100% African from the darkest place where they're not wearing any clothes all day and they've developed all that melanin to protect themselves from the sun. Even the term Black is weird and when you use it for people that are literally my color, it becomes very strange.

3) Honorable mention: Jordan Peterson's tuxedo
For some unknown reason, Jordan Peterson also wore a full tuxedo to the interview — a strange choice given the host's notably laid-back style.
Watch the full episode (if you must):
Joe Rogan Experience #1208 - Jordan Peterson www.youtube.com
CONTINUE READING
Show less
Gun control advocates on Wednesday sharply condemned an Illinois-based company for recently unveiling the JR-15, a long rifle inspired by the AR-15 but marketed for children.
"The marketing of children's assault rifles... can only increase the threat of gun death and injury to children."
Although it is under 2.5 pounds and 20% smaller than the standard version, the JR-15 "operates just like Mom and Dad's gun," WEE1 Tactical said in a statement. The weapon "functions like a modern sporting rifle," but its "lightweight and rugged polymer construction and ergonomics are geared towards children."
WEE1 Tactical launched the JR-15 earlier this month at an annual trade show sponsored by the National Shooting Sports Foundation, which is based in Newtown, Connecticut—where a gunman with an AR-15 murdered 26 people at Sandy Hook Elementary School in 2012.
"The callousness of the National Shooting Sports Foundation to promote a children's version of the same type of assault rifle that was used in a horrific mass shooting of 20 first graders and six educators in our shared community is just the latest proof that the organization, and the gun manufacturers it represents, will do anything in pursuit of continued profits," Po Murray, chairwoman of the Newtown Action Alliance, said Wednesday.
Other critics of the new rifle took aim at the gun-maker, which is also selling "swag" featuring cartoon skulls with baby pacifiers—one with bows and pigtails, and another with a mohawk.
As Josh Sugarmann, executive director of the Violence Policy Center (VPC), put it: "At first glance, this comes across as a grotesque joke. On second look, it's just grotesque."
"That a gun-maker has embraced imagery of dead children to promote gun ownership by youth surreally illustrates how detached this industry is from the death and injury that result from its products, especially among the young," he added.
Sugarmann authored VPC's 2016 report entitled "Start Them Young": How the Firearms Industry and Gun Lobby Are Targeting Your Children. He likened the gun lobby's efforts targeting young people to those of Big Tobacco.
The tragic frequency of shootings involving children and teenagers is well documented and unfortunately now a regular part of our daily existence. Yet few realize that the firearms industry and the organizations that represent their interests, including the National Rifle Association, have made it one of their top marketing priorities to promote the use of guns among America's children, as young as grade-school age. In doing so, the gun industry is following a trail once blazed by the tobacco industry in its efforts to entice children to smoke cigarettes.

The report concludes that "while the firearms industry and gun lobby consistently work to present this marketing effort in terms of tradition and family, the real impetus lies in profit and political power. Most tragically, the effects of this campaign are all too often measured in unnecessary death and crippling injury."
In line with such marketing tactics, WEE1 Tactical said in its statement that "the JR-15 is the first in a line of shooting platforms that will safely help adults introduce children to the shooting sports."
Kathleen Sances, president and CEO of One Aim Illinois, expressed concern about what lies ahead as adults purchase the weapon for children.
"The marketing of children's assault rifles by an Illinois company not only brings shame to our state," she said, "but can only increase the threat of gun death and injury to children here and across the nation."
CONTINUE READING
Show less
{{ post.roar_specific_data.api_data.analytics }}