Human-caused climate change severely exposes the US national parks
Human-caused climate change is disrupting ecosystems and people's lives around the world. It is melting glaciers, increasing wildfires, and shifting vegetation across vast landscapes. These impacts have reached national parks around the world and in the United States. Until now, however, no analysis had examined climate change trends across all 417 U.S. national parks.
The United States established the first national park in the world, Yellowstone National Park, in 1872. U.S. national parks today protect some of the most irreplaceable natural areas and cultural sites in the world. Colleagues and I aimed to uncover the magnitude of human-caused climate change on these special places. We conducted the first spatial analysis of historical and projected temperature and precipitation trends across all U.S. national parks and compared them with national trends.
Our newly published results reveal that climate change has exposed the national parks to conditions hotter and drier than the country as a whole. This occurs because extensive parts of the parks are in extreme environments – the Arctic, high mountains, and the arid southwestern United States.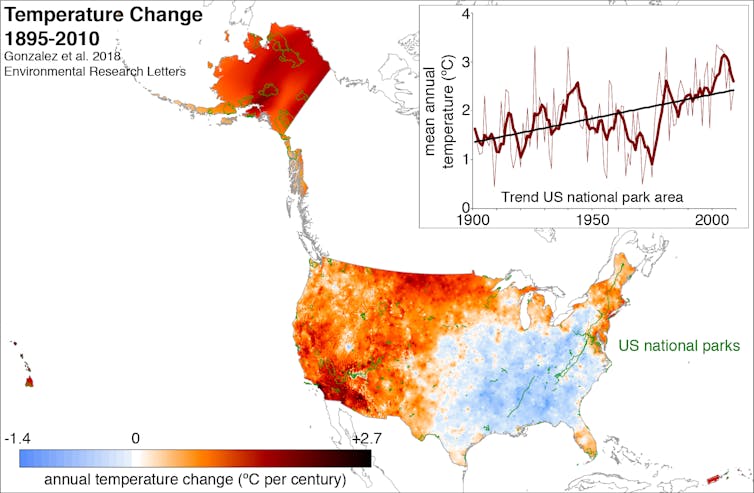 Rapid warming and drying
National parks conserve the most intact natural places in the country. They harbor endangered plants and animals and unique ecosystems. They also help assure human well-being by protecting watersheds that provide drinking water to people and by storing carbon, which naturally reduces climate change.
Our findings show that temperatures in the national park area increased at double the national rate from 1895 to 2010. At the same time, precipitation decreased across a greater fraction of the national park area than across the United States as a whole.
Our analysis of climate trends starting in 1895 showed that temperatures increased most in Denali National Preserve, Alaska, and rainfall declined most in Honouliuli National Monument, Hawaii. Hotter temperatures from human-caused climate change have intensified droughts caused by low precipitation in California and the southwestern United States.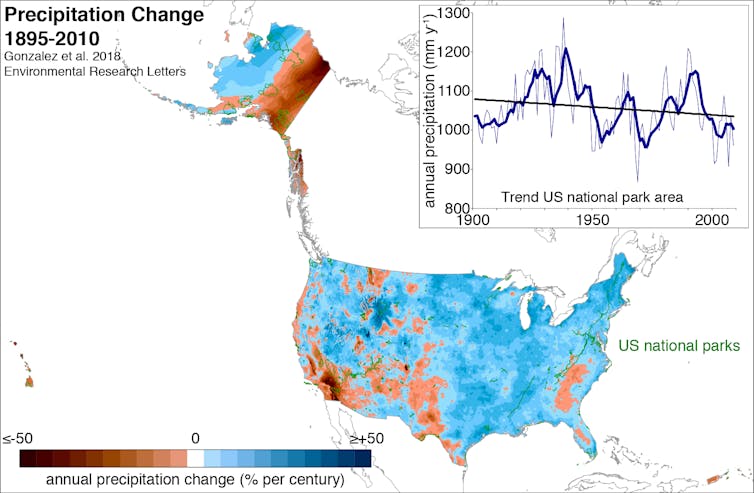 Human-caused climate change has caused historical impacts in places where we found significant past temperature increases. These impacts include melting of glaciers in Glacier Bay National Park, Alaska, tree death from bark beetles in Yellowstone National Park, upslope vegetation shifts in Yosemite National Park, California, and northward vegetation shifts in Noatak National Preserve, Alaska.
To quantify potential future changes, we analyzed all available climate model projections from the Intergovernmental Panel on Climate Change. Continued greenhouse gas emissions under the highest emissions scenario could increase U.S. temperatures in the 21st century six times faster than occurred in the 20th century.
This could increase temperatures in national parks up to 9 degrees Celsius by 2100, with the most extreme increases in Alaska, and reduce precipitation by as much as 28 percent, in the national parks of the U.S. Virgin Islands. Heating could outpace the ability of many plant and animal species to move and stay in suitable climate spaces.
In places where models project high temperature increases, research has found high vulnerabilities of ecosystems. These vulnerabilities include severely increased wildfire in Yellowstone National Park, extensive death of Joshua trees in Joshua Tree National Park, California, and possible disappearance of American pika, a small alpine mammal, from Lassen Volcanic National Park, California.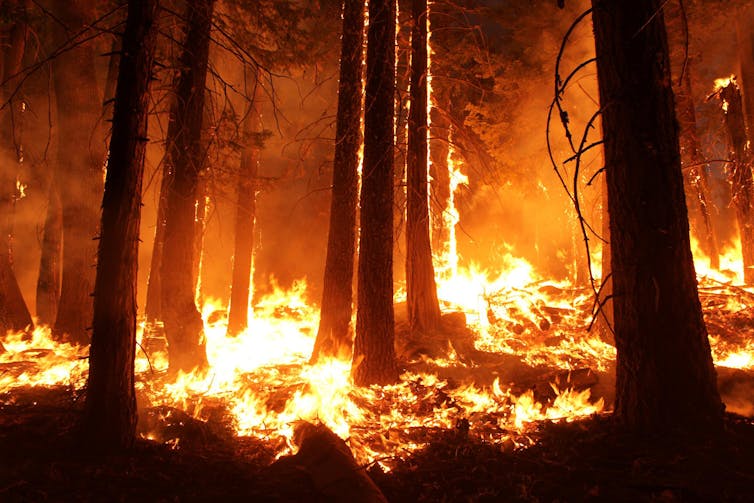 Our research provides climate data to analyze vulnerabilities of plants, animals and ecosystems. The data can also help park managers develop adaptation measures for fire management, invasive species control and other ways to protect parks in the future.
For example, based on analyses of the vulnerability of ecosystems to increased wildfire under climate change, parks can target prescribed burning and wildland fire in the short term to reduce the unnatural buildup of fuels that can cause catastrophic wildfires in the long term.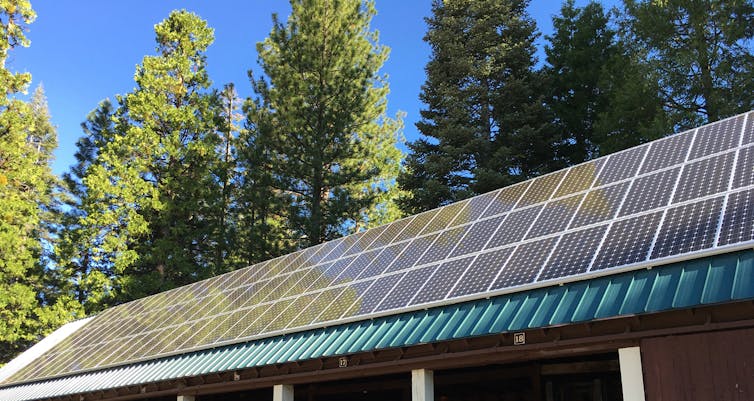 Reducing emissions can help parks
Ultimately, our results indicate that reducing greenhouse gas emissions from cars, power plants and other human sources can save parks from the most extreme heat. Compared to the highest emissions scenario, reduced emissions would lower the rate of temperature increase in the national parks by one-half to two-thirds by 2100.
Cutting greenhouse gas emissions through energy conservation, improved efficiency, renewable energy, public transit and other actions would reduce the magnitude of human-caused climate change, helping save the U.S. national parks for future generations.

Patrick Gonzalez, Associate Adjunct Professor, University of California, Berkeley
This article is republished from The Conversation under a Creative Commons license. Read the original article.
Nancy Pelosi missed a big opportunity in impeachment — but she still has time to fix it
House Speaker Nancy Pelosi has her reasons for limiting her impeachment articles to offenses stemming from the abuses and violations related to Ukraine. Unfortunately, she declined to pursue a broader impeachment approach that recognizes multiple provable, serious violations of the Constitution. Speaker Pelosi overruled Chairs of Committees, including the Judiciary Committee, and other senior lawmakers who wanted to forward to the Senate a broader array of impeachable offenses.
Having lost four of the last five House elections to the worst Republican Party in history, Speaker Pelosi remains cautious. She is overly worried about the conservative Democrats who won congressional seats in 2018 in Republican, pro-Trump districts. Endangering their seats might, Pelosi fears, lead to the loss of the House in 2020 and, more immediately, risk not having the votes in the House to pass additional impeachable offenses.
Scrambling Trump promises to 'save' social security after threatening to cut it — but it's seniors who will pay for his recklessness
It used to be said that cutting Social Security was politics' third rail, a fatal taking of positions.
If that's still true, you wouldn't know it from the emerging attention that cutting Social Security is getting.
Indeed, look at Trump's handling of Social Security, and you may find real flaws in the armor of a Best-of-All-Time economy cloak that Trump tries to wear.
Even as Bernie Sanders and Joe Biden mix it up over whether Biden did or did not say something supportive about a Republican plan in 2008 by then-Rep. Paul D. Ryan for spending reductions, here comes Donald Trump to promise that he is open to revamping entitlement programs towards the end of the year.
McConnell under pressure to wrap up Trump impeachment trial quickly without alienating wavering GOP senators
According to a report from Politico, Senate Majority Leader Mitch McConnell is under pressure from the White House and some of his Republican colleagues to move quickly to acquit Donald Trump by speeding up his impeachment trial while not upsetting some wavering GOP lawmakers who are fearful for their reputations in an election year.
The report notes that a Trump acquittal is a foregone conclusion, with GOP lawmakers admitting as much.
"The question is going to come to 'Have you heard enough to make a decision or do you want witnesses?' If people say, 'We're ready to vote,' we're going to vote right then," explained Sen. John Barrasso (R-WY).