Racial and ethnic minorities are more vulnerable to wildfires
Over the last decade, the U.S. has seen an average of 70,512 wildland fires every year, annually burning about 6.8 million acres. With climate change, scientists expect fires to become more frequent and more severe.
However, some people are more affected by these events than others. Our work, published on Nov. 2, shows that racial and ethnic minorities are significantly more vulnerable to the effects of these natural disasters. The results provide a new perspective on where resources to mitigate wildfire threats are best allocated.
We were inspired to study this question by Hurricane Katrina, the catastrophe that ripped through New Orleans in 2005. Black neighborhoods were located in the low-lying, less protected areas of the city, and many lacked the resources to evacuate safely. After the storm cleared, black-owned homes were three times more likely than their white counterparts to be in the flooded parts of the city, and to this day the city's black population has not rebounded to pre-Katrina population levels.
Other research on floods and hurricanes has shown similarly disproportionate effects on minorities. We wondered if a similar phenomenon existed for wildfires.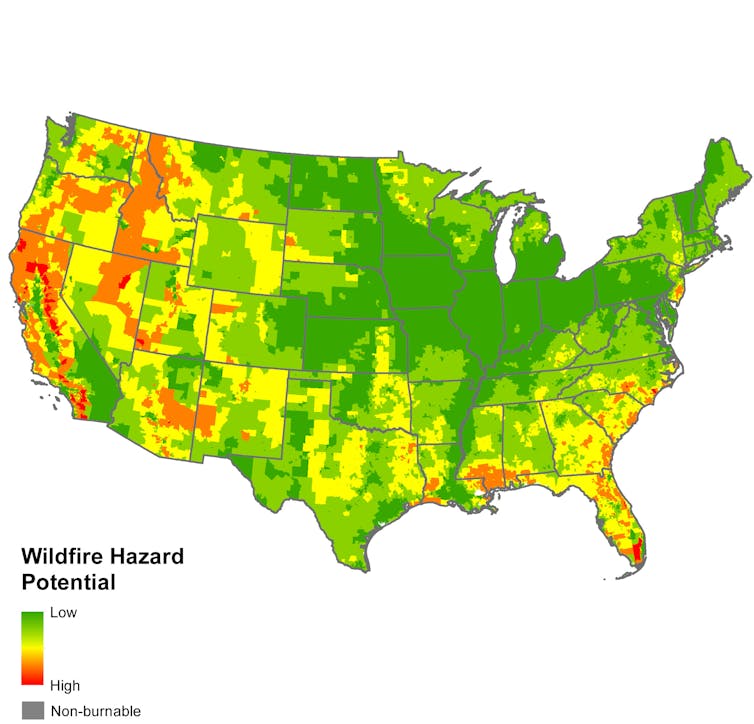 Using data from the U.S. Census, we created an index that characterizes a community's ability to adapt to wildfires. For example, signs that a community is less able to adapt to a wildfire include a prevalence of older or younger individuals; high rates of poverty; and a high proportion of people who are not fluent English speakers. We then calculated this metric for more than 70,000 census tracts across the U.S. and combined the results with the area's potential for wildfires, as modeled by the U.S. Forest Service.
Our analysis revealed that wildfire vulnerability is spread unequally across race and ethnicity. Although affluent white Americans are more likely to live in fire-prone areas, non-white communities in fire-prone areas appear less able to adapt to a wildfire event. Communities that are majority black, Hispanic or Native American are over 50 percent more vulnerable to wildfire compared to other communities. Native Americans in particular are six times more likely than other groups to live in the most vulnerable communities.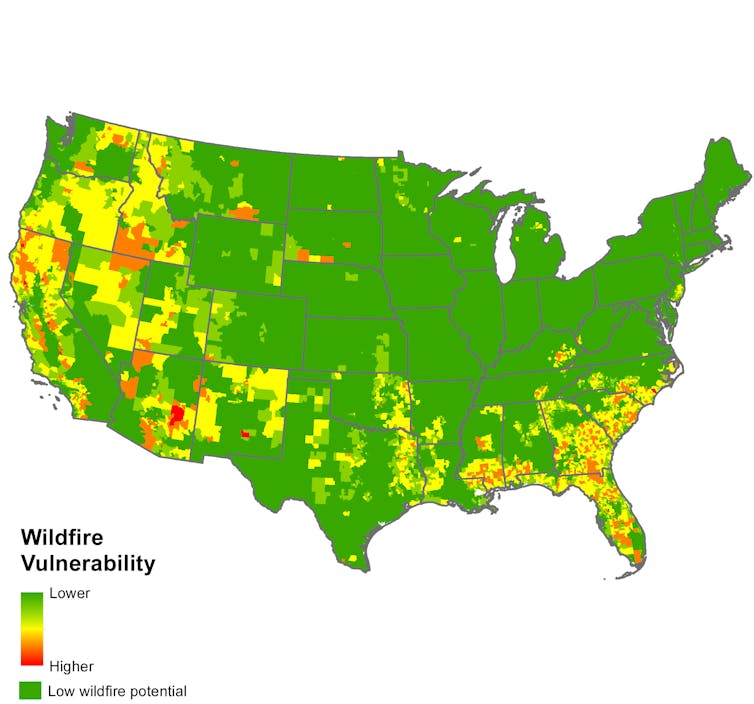 Overall, some 29 million Americans live with significant potential for wildfires. Land managers often prioritize areas with extreme wildfire potential for active management, regardless of the capacity of individuals to absorb and recover from a disaster. By including a community's capacity to respond to wildfire, we highlight those places that may be less resilient to a wildfire's catastrophic impacts.
How can land managers and policymakers use this information to more effectively combat the impacts of wildfire? Current efforts by agencies and NGOs have largely focused on reducing the risk of fire. But no matter how effective such management is, there will still be wildfires across the U.S. – they are a natural, indeed necessary, part of many ecosystems.
However, natural resource managers can further reduce vulnerability of people to fire by increasing the adaptive capacity of affected communities. There are already some services in place; for example, some state and county agencies have cost-sharing programs to help homeowners reduce fuels on their properties, while others offer educational programs to help communities adapt to wildfires. However, there is evidence that socially vulnerable populations are less likely to participate in these types of government programs.
Cultural differences may also affect preferences for fire management. For example, black Americans have shown more reluctance toward some fire management practices, such as prescribed burning, than their white counterparts.
All loss of life is tragic, and the devastation caused by property loss is terrible for all victims, no matter their race or ethnicity. Like some other scholars, we feel that it's time to stop thinking of "natural" disasters as natural, and start thinking of them as the consequences of social, economic and political factors that make communities more vulnerable to ruin. Facing the rising risk of fires due to climate change, communities must make sure that emergency planning and mitigation strategies are inclusive of vulnerable minorities, so that no one is left behind.

Phil Levin, Professor of Practice in Environmental and Forest Sciences, University of Washington and Ian P. Davies, M.S. Candidate, University of Washington
This article is republished from The Conversation under a Creative Commons license. Read the original article.
Five-year period ending 2019 set to be hottest on record
A damning new UN report published Sunday said the world is falling badly behind in the race to avert climate disaster as a result of runaway warming, with the five-year period ending 2019 set to be the hottest ever.
It comes ahead of a major UN climate summit Monday that will be attended by more than 60 world leaders, as Secretary-General Antonio Guterres pushes for countries to increase their greenhouse gas reduction targets.
The report "highlights the urgent need for the development of concrete actions that halt global warming and the worst effects of climate change," said its authors, the Science Advisory Group to the summit.
'Nauseating': Trump displays his utter contempt for the law and the Constitution — again
Abuse of power must be the label on a burgeoning dossier of complaints about Donald Trump as a president who would order subordinates to ignore congressional subpoenas, to steal money from one approved budget pot to build his Wall, to flaunt ethical protocols – and to do all those obstruction-like things outlined in the Mueller Report.
Now has come a mysterious new problem – a so-called whistleblower case alleging some kind of unidentified bad behavior from the top of the White House. From the descriptions of who is targeted, it seems to focus on Trump, his family, or someone within the top tier. Indeed, The Washington Post reported from sources that the complaint concerned an urgent matter relating to Trump promises to a foreign leader, most probably the prime minister of Ukraine.
Trump, Modi vow relentless fight on extremists in mass rally
US President Donald Trump and Indian Prime Minister Narendra Modi on Sunday declared themselves united in a relentless fight against "terrorism," vowing a close, personal alliance in front of tens of thousands of Indian-Americans.
The two leaders, like-minded nationalists fond of fiery rallies and skeptical of traditional media, heaped praise on each other in an unusual joint appearance inside a football stadium in Houston.
To the bhangra beats of four drummers in saffron turbans, Trump in his dark suit and Modi in a yellow kurta and vest made a grand entrance with arms clenched together to ecstatic cheers from a crowd estimated by organizers at 50,000.