Republican ads feature MS-13, hoping fear will motivate voters
Campaign advertisements appearing for this year's midterm elections include a stream of Republican campaign ads linking immigration to crime.
One-quarter of Republican ads running nationwide this election season denounce immigrant violence, according to the Wesleyan Media Project, and advocate for President Donald Trump's draconian anti-immigrant policies, which include separating immigrant children from their parents and slashing the number of refugee admissions.
The GOP ads echo the rhetoric of Trump, who on Wednesday tweeted an inflammatory anti-immigration ad that attacks Democrats as soft on crime.
Republican Geoff Diehl, who is hoping to unseat Sen. Elizabeth Warren in Massachusetts, has run ads attacking his opponent's liberal stance on immigration. They make the unsubstantiated claim that undocumented immigrants "kill over 7,000 people a year."
MS-13 in the spotlight
The street gang MS-13 plays a starring role in many of the GOP's ads.
"Gangs like MS-13 exploit our broken immigration system and commit terrible crimes, horrific crimes," says an attack ad against Nevada Rep. Jacky Rosen, adding that the Democrat voted against "getting tough" on immigration.
I've spent the last seven years researching MS-13, and my 2018 book about this Salvadoran street gang examines the way conservative politicians leverage its brutal image to serve their electoral and policy agendas.
Because its membership is primarily Latino, MS-13 helps Republicans make a crucial link between immigration and violence in voters' minds, my research shows.
That association is factually unfounded.
Numerous studies show that immigrants actually commit crime at a lower rate than native-born Americans. Large cities with substantial immigrant populations have lower crime rates, on average, than those with minimal immigrant populations.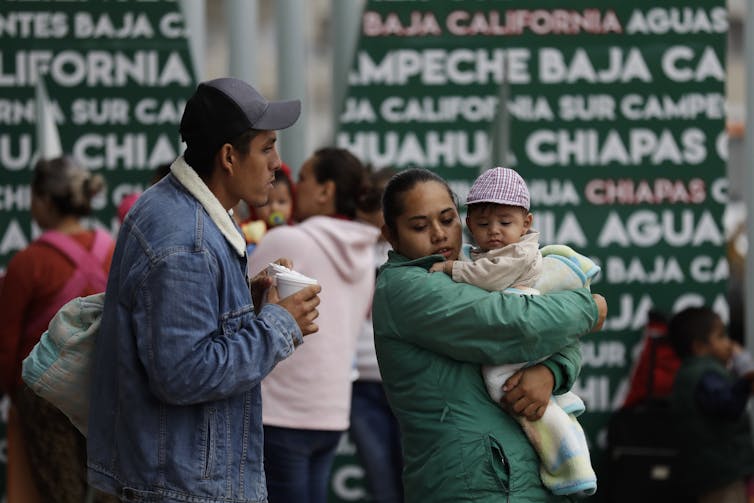 Inflammatory anti-immigration ads
Nonetheless, the current GOP ads paint Democrats as soft on crime, allies of the Latino street gang MS-13 and "complicit" with murderers.
Republican John Rose, who hopes to represent Tennessee's 6th district, opens a TV ad with the question: "Mexican Drug lords, MS-13 gang members, sex-traffickers … Do they run our border? Or do we?"
After a series of garish images – a knife cutting open a bag of heroin, threatening silhouettes, another knife – viewers see Rose and Trump, smiling shoulder to shoulder as the narrator commends White House policies from "build the wall" to "zero tolerance."
MS-13 began in Los Angeles in the 1990s and later expanded into Central American cities, where it has undermined governance and terrorized local populations.
In the United States, however, it is not the largest of the 33,000 criminal organizations operating in the the country. Its membership – an estimated 3,000 to 10,000 people nationwide – is five times lower than the 18th Street, Gangster Disciples and other American gangs.
MS-13 has committed brutal, high-profile murders in Boston, Long Island, Virginia and beyond. While it has been highly, sensationally violent in those communities, the gang is not the most dangerous criminal group in the United States. Evidence suggests there is very little coordination, if any, among MS-13 cells nationwide. Its violence is also typically, though not solely, directed against other gang members.
The Center for Immigration Studies, a right-wing organization known for its anti-immigrant ideology, alleges that MS-13 commits about 35 murders a year – a fraction of murders attributed to other U.S. gangs. The U.S. had 17,284 homicides in 2017.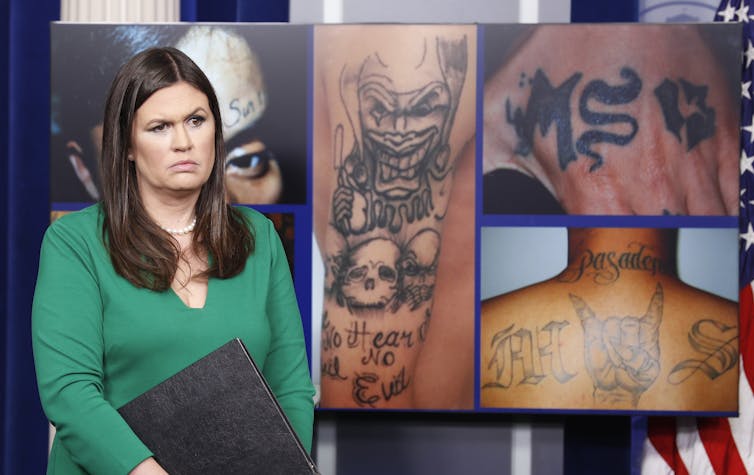 But MS-13 has a penchant for gruesome, headline-grabbing killings and elaborate tattoos, which earn it outsized media attention. It also recruits heavily among vulnerable undocumented immigrant youth, tapping into Americans' anxiety about rising crime and shifting demographics in the United States.
Record low crime
Republicans know this. As they battle to retain control of the House and possibly the Senate, they see electoral advantage in inflaming those fears.
Trump, who during his 2016 presidential campaign repeatedly blamed the "open border policies of the Obama administration" for crimes committed by immigrant gang members, has focused intensively on MS-13 as president.
After vicious incidents of MS-13 violence – the 2017 double murder of two teenage girls in Suffolk County, New York, for instance, and the stabbing of a man in Montgomery County, Maryland – Trump responded with hyperbolic, sweeping statements about immigrants and crime, warning that U.S. cities have become "blood-stained killing fields."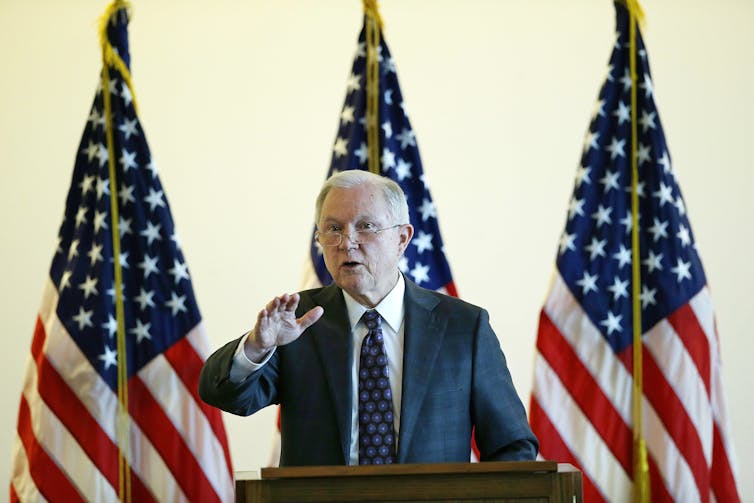 Violent crime in the U.S. is actually the lowest it has been in 30 years, including in most large cities where gangs operate – Chicago being one notable exception.
But Trump's hyperfocus on MS-13 has helped to drive Republican voter fear over immigration to an all-time high.
That has empowered GOP candidates to leverage Americans' anti-immigration concerns to try to win elections.
Conservative pundits have also echoed the president's anti-immigrant language, suggesting that that MS-13 has infiltrated the migrant caravan and that Central Americans are "attacking the United States' sovereignty."
Election Day will show whether fear-mongering with MS-13 will help Republicans keep control of the House and Senate.

Anthony W. Fontes, Assistant Professor of Human Security, American University School of International Service
This article is republished from The Conversation under a Creative Commons license. Read the original article.
What does the Trump administration want from Iran?
It was the latest in a series of assaults on tankers transporting oil through the Gulf. In May, Saudi, Norwegian and Emirati oil tankers were attacked off the coast of the United Arab Emirates, causing damage but no casualties. The attacks have gone unclaimed, so the perpetrator is unknown – at least publicly.
U.S. ally Saudi Arabia, Iran's regional rival, blamed the Iranian government and called the May attacks "naked aggression." Saudi King Salman asked the international community to "use all means" to punish Iran.
Virginia Democrats are so fired up that the party chair had to scold them: 'Sit down — be quiet'
Democrats in Virginia are fired up as they gathered in Richmond for their annual gala dinner.
Political analysts believe the Democratic Party of Virginia has a good chance to win control of the state legislature in 2019's election, before setting their sights on the Commonwealth continuing its recent trend of voting Democratic in presidential elections.
Patrick Wilson, a political reporter for the Richmond Times-Dispatch, attended the event.
He reported that Democrats were so "noisy" that it was hard to hear the speakers, which include presidential candidates Sen. Amy Klobuchar (D-MN) and South Bend Mayor Pete Buttigieg.
'Everyone knows what to expect' at Trump's Amway Center re-election kickoff
Donald Trump considers himself a legendary salesman, but can he really sell America on giving him four more drama-filled years at the White House?
Tuesday, he'll make his big pitch.
The 2020 reelection kickoff rally is being held in Orlando, Florida and campaign operations chief Michael Glassner says the "historic" event "has already generated tens of thousands of ticketing requests."
There's little mystery about how the night will go down.
Expect Trump, the self-promoting hero of his ghost-written book "The Art of the Deal," to claim the US economy is richer, the military stronger, and the country more respected than ever in history.