Stories Chosen For You
In his column for the Daily Beast, conservative political commentator Matt Lewis expressed surprise -- and joy -- at how many former Donald Trump administration aides and officials have been willing to come forward at the House Jan 6th hearings where they have spilled the beans on possible criminal conduct by the former president.
Coming on the heels of the devastating testimony of Cassidy Hutchinson, the former senior aide to former White House chief of staff Mark Meadows, Lewis suggested that there appears to be a concerted effort by former Trump White House insiders to derail any hopes the former president may have about running again in 2024.
As Lewis noted, he can't remember any former president who has been on the receiving end of so many attacks by former staffers. That, he suggests, shows they consider him dangerous should he somehow be re-elected.
"I don't think there has ever been a past president who has engendered such little loyalty from his inner circle (yes, I'm counting Richard Nixon). But never mind presidents. How many people have you worked with who think you're unfit and unstable?" he wrote before adding, "I'm guessing that number does not even approach Trump's."
RELATED: A Trump witness tampering investigation would be a 'goldmine for prosecutors': legal analyst

"The good news, for those of us who can't fathom another four years of Trump, is that so far—thanks to the way they've been conducted—this seems to be slowly making a dent," he speculated. "... what we have seen with a year-long accretion of evidence is an almost glacial movement away from Donald Trump (akin to Homer Simpson disappearing into a bush)."
According to Lewis, conservatives likely see Gov. Ron DeSantis (R-FL) as Trump's heir apparent and are doing what they can to make his path past Trump easier in the hopes of reclaiming the Republican party.
Writing, "To be sure, it's early. Trump has been written off prematurely too many times for me to make that mistake again. But should this trend continue, the Jan. 6 Committee will deserve much of the credit. Likewise, Nancy Pelosi and Democrats will deserve credit for letting Cheney and Republican Rep. Adam Kinzinger do most of the talking," he added "This time around, the public is watching bonafide Republicans ask bonafide Republicans who worked for Trump to describe just how erratic and criminal his presidency was. That seems to have made a difference."
"The public is getting to see why an astonishing number of Republicans who signed up to Make America Great have decided that the best way to do that is to put America First and make sure he's not the GOP nominee in 2024," he concluded.
You can read more here.

CONTINUE READING
Show less
According to a report from the Daily Beast's Zachary Petrizzo, Donald Trump has patched things up with Kellyanne Conway after he flipped out on his former adviser after writing in her White House tell-all book that he had lost the 2020 presidential election.
The report notes that, by all appearances, Conway would once again be by the former president's side should he run for president again in 2024 after a brief period spat over her book " Here's the Deal," where she also lashed out at other members of his administration --primarily son-in-law Jared Kushner.
According to the report, prior to publication, the former president made plans to give her book sales a boost despite his having not read it --but those plans were shelved when he was informed about some of the assertions she made.
According to the Beast report, two sources stated, "... before he read the book, Trump was planning to send out a 'positive' and 'glowing' press release touting not only Conway but their long-standing relationship. Instead, Trump issued a stinging attack."
RELATED: 'Alternative facts': Kellyanne Conway's new memoir dismantled in brutal book review

After it was reported that Conway admitted the 2020 election did not go his way, and she claimed she told Trump that to his face, the former president issued an angry statement, saying, "Kellyanne Conway never told me that she thought we lost the election. If she had, I wouldn't have dealt with her any longer—she would have been wrong—could go back to her crazy husband."
He added, "Writing books can make people say some very strange things."
Since that time, Conway has increased her attacks on her husband, conservative attorney George Conway, and she and Trump have put aside their brief dispute.
According to Petrizzo, "But for all the drama Conway's book caused, those within Trump's orbit say the frustration with his former adviser didn't last," with his source stating, "Kellyanne occupies unique and prime real estate in Donald Trump's legacy and heart, and that's why they're in regular touch."
ASs for Trump, he issued a statement to the Beast saying, "I have a very good relationship with Kellyanne," while skipping additional questions about the book blow-up.
You can read more here.
CONTINUE READING
Show less
I love writing code to make things: apps, websites, charts, even music. It's a skill I've worked hard at for more than 20 years.
So I must confess last week's news about the release of a new "AI assistant" coding helper called GitHub Copilot gave me complicated feelings.
Copilot, which spits out code to order based on "plain English" descriptions, is a remarkable tool. But is it about to put coders like me out of a job?
Trained on billions of lines of human code
GitHub (now owned by Microsoft) is a collaboration platform and social network for coders. You can think of it as something like a cross between Dropbox and Instagram, used by everyone from individual hobbyists through to highly paid software engineers at big tech companies.
Over the past decade or so, GitHub's users have uploaded tens of billions of lines of code for more than 200 million apps. That's a lot of ifs and fors and print("hello world") statements.
The Copilot AI works like many other machine learning tools: it was "trained" by scanning through and looking for patterns in those tens of billions of lines of code written and uploaded by members of GitHub's coder community.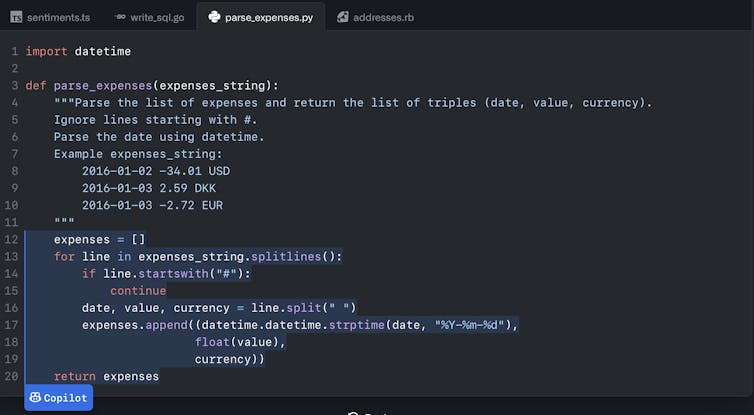 Copilot produces code from instructions in plain English (the pale blue text).
The training can take many months, hundreds of millions of dollars in computing equipment, and enough electricity to run a house for a decade. Once it's done, though, human coders can then write a description (in plain English) of what they want their code to do, and the Copilot AI helper will write the code for them.
Based on the Codex "language model", Copilot is the next step in a long line of "intelligent auto-completion" tools. However, these have been far more limited in the past. Copilot is a significant improvement.
A startlingly effective assistant
I was given early "preview" access to Copilot about a year ago, and I've been using it on and off. It takes some practice to learn exactly how to frame your requests in English so the Copilot AI gives the most useful code output, but it can be startlingly effective.
However, we're still a long way from "Hey Siri, make me a million dollar iPhone app". It's still necessary to use my software design skills to figure out what the different bits of code should do in my app.
To understand the level Copilot is working at, imagine writing an essay. You can't just throw the essay question at it and expect it to produce a useful, well-argued piece. But if you figure out the argument and maybe write the topic sentence for each paragraph, it will often do a pretty good job at filling in the rest of each paragraph automatically.
Depending on the type of coding I'm doing, this can sometimes be a huge time- and brainpower-saver.
Biases and bugs
There are some open questions with these sorts of AI coding helper tools. I'm a bit worried they'll introduce, and reinforce, winner-takes-all dynamics: very few companies have the data (in this case, the billions of lines of code) to build tools like this, so creating a competitor to Copilot will be challenging.
And will Copilot itself be able to suggest new and better ways to write code and build software? We have seen AI systems innovate before. On the other hand, Copilot may be limited to doing things the way we've always done them, as AI systems trained on past data are prone to do.
My experiences with Copilot have also made me very aware my expertise is still needed, to check the "suggested" code is actually what I'm looking for.
Sometimes it's trivial to see that Copilot has misunderstood my input. Those are the easy cases, and the tool makes it easy to ask for a different suggestion.
The trickier cases are where the code looks right, but it may contain a subtle bug. The bug might be because this AI code generation stuff is hard, or it might be because the billions of lines of human-written code that Copilot was trained on contained bugs of their own.
Another concern is potential issues about licensing and ownership of the code Copilot was trained on. GitHub has said it is trying to address these issues, but we will have to wait and see how it turns out.
More output from the same input
At times, using Copilot has made me feel a little wistful. The skill I often think makes me at least a little bit special (my ability to write code and make things with computers) may be in the process of being "automated away", like many other jobs have been at different times in human history.
However, I'm not selling my laptop and running off to live a simple life in the bush just yet. The human coder is still a crucial part of the system, but as curator rather than creator.
Of course, you may be thinking "that's what a coder would say" … and you may be right.
AI tools like Copilot, OpenAI's text generator GPT-3, and Google's Imagen text-to-image engine, have seen huge improvements in the past few years.
Many in white-collar "creative industries" which deal in text and images are starting to wrestle with their fears of being (at least partially) automated away. Copilot shows some of us in the tech industry are in the same boat.
Still, I'm (cautiously) excited. Copilot is a force multiplier in the most optimistic tool-building tradition: it provides more leverage, to increase the useful output for the same amount of input.
These new tools and the new leverage they provide are embedded in wider systems of people, technology and environmental actors, and I'm really fascinated to see how these systems reconfigure themselves in response.
In the meantime, it might help save my brain juice for the hard parts of my coding work, which can only be a good thing.

Ben Swift, Educational Experiences team lead (Senior Lecturer), ANU School of Cybernetics, Australian National University
This article is republished from The Conversation under a Creative Commons license. Read the original article.
CONTINUE READING
Show less
<script type="text/javascript" src="https://log.nordot.jp/js/beacon-1.1.0.js"></script> <script type="text/javascript"> nor.pageviewURL = "https://log.nordot.jp/pageview"; nor.setPageData({ opttype: "unknown", pagetype: "detail", conttype: "post", uiid: "e_HMdxYFgzzb", postid: "821892364102696960", contdata: { title: "British police says murder of lawmaker declared as a terrorist incident", numimg: 2, cvrimg: 0, pubdate: "1634360711", chlang: "en-US" }, chunitid: "721958051058909184", cuunitid: "592622757532812385" }); nor.pageview(); </script>