Networks plan stakeout of Fitzgerald court Friday; No formal sign of indictment

RAW STORY
Published: Thursday May 11, 2006

Print This | Email This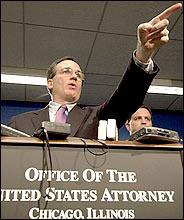 Reporters at the major cable television networks plan to be on the ground Friday outside a federal district court where the jury considering the fate of President Bush's senior adviser Karl Rove.
No formal indication has been given of Rove's status, though lawyers close to the case have said his fate is likely to be determined soon. Special Counsel Patrick J. Fitzgerald, who is investigating the outing of CIA officer Valerie Plame, is scheduled to meet with the grand jury in the case Friday.
The major networks plan to have reporters live on the ground, a senior reporter said.
Two White House reporters covering the case said they had not heard anything about new Rove developments, though they confirmed that the grand jury is scheduled to meet.
Rove testified for the fifth time Apr. 26. Legal experts have said that those who appear before the grand jury on multiple occasions are more likely to be indicted.
The Washington Post recently reported: "Fitzgerald, according to sources close to the case, is reviewing testimony from Rove's five appearances before the grand jury. President Bush's top political strategist has argued that he never intentionally misled the grand jury about his role in leaking information about undercover CIA officer Valerie Plame to Time magazine reporter Matthew Cooper in July 2003. Rove testified that he simply forgot about the conversation when he failed to disclose it to Fitzgerald in earlier testimony."
DEVELOPING...
---