Paper: No 'I voted' stickers for Coulter, Foley
Ron Brynaert
Published: Friday November 10, 2006
Print This
Email This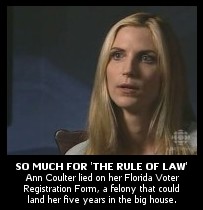 Before Tuesday's midterm elections, Republican officials boasted that their "highly sophisticated get-out-the-vote operation" in the final hours would keep Congress in their control. But at least two "notorious" and high profile party members didn't do enough to aid the cause, a Florida newspaper reveals.
"Mark Foley, the former U.S. congressman in rehab for alcohol and sex-related problems, didn't send an absentee ballot request to the St. Lucie County elections office," Jose Lambiet writes in the Palm Beach Post. "Conservative pundit Ann Coulter, accused of voting in the wrong precinct earlier this year, didn't cast her ballot, contributing further to the demise of the GOP in Congress."
"No 'I Voted' stickers for them," Lambiet adds.
The Associated Press> recently reported that Coulter's case will soon be turned over to prosecutors because of her refusal to cooperate with Florida election officials.
Coulter engaged in "efforts to distract and divert focus on the process regarding this complaint," Elections Supervisor Arthur Anderson told the Palm Beach Post. "I did express my frustration to the state attorney in a recent meeting and warned him I may need his services."
"Ironically, Anderson said that Coulter's voting rights would not be rescinded for next week's election," Jose Lambiet reported for the Post last week.
The Florida paper also reported that Coulter didn't vote in September's primaries.
In her most recent column, Coulter argued that handfuls of Democratic victories in the House and Senate did not mean that there was now a "mandate for pulling out of Iraq."
Coulter notes that she had "predicted this paltry Democrat win," but neglects to mention her absence from the voting booth this election.
---