Two photographs of kidnapped soldier are released

RAW STORY
Published: Monday June 19, 2006

Print This | Email This

KTVZ PORTLAND:
CNN: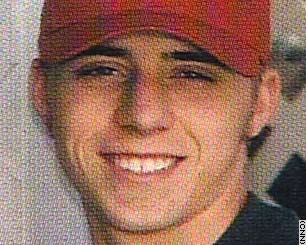 KTVZ: "A Madras man is one of two U.S. soldiers who have been the subject of a massive search since their apparent abduction Friday by insurgents at a checkpoint southwest of Baghdad, military officials confirmed. On Monday, a group linked to al-Qaida claimed responsibility for the attack and said it had kidnapped the soldiers.
"Pfc. Thomas Lowell Tucker, 25, based out of Fort Campbell, Ky., has been reported missing in action, said Kay Fristad of the Oregon National Guard's public affairs office.
"Fristad could provide no further immediate details and said Tucker's parents and family "only recently received the news" and were asking not to be contacted directly by reporters. She told The Associated Press that she talked briefly with Tucker's parents, who had been camping this weekend, and they said their son, who was not married, had joined the military "to do something positive for the country."