Franken 'wins' Ben Stein's money for Senate run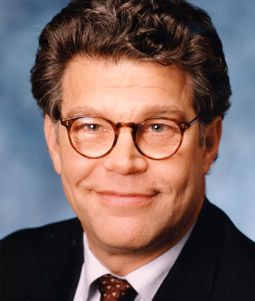 A former Saturday Night Live writer and Air America host is beginning to pull in some big bucks from some big names for his Senate run, a Capitol Hill newspaper reports.
"Al Franken won Ben Stein's money — and high-dollar contributions from scads of other celebrities in his bid for Minnesota's Democratic Senate nomination, according to Federal Election Commission reports," Nicole Duran reports for Roll Call. "Stein, who hosted the eponymous Comedy Central game show 'Win Ben Stein's Money' for six years, gave the former 'Saturday Night Live' writer $1,000."
Stein, a former speechwriter and lawyer for Republican Presidents Richard Nixon and Gerald Ford, received criticism from the right for his support of the left-leaning Franken, revealed in his campaign's FEC report.
At the Radio Equalizer, Brian Mahoney wanted to know what was "behind Ben Stein's bizarre contribution," and points to a "a sharp-eyed blogger" at Fraters Libertas who wrote the longtime Republican to find out why.
The blogger asked Stein "why in the world do you want to stick up poor Minnesotans (and the rest of the country) with a comedian who fancies himself a second coming of secular St. Wellstone?"
"Al is a close friend and one of the smartest people I have ever met," Stein told the blogger.
The Roll Call article notes that "[a]lmost 40 other celebrities from 'Xena, Warrior Princess' star Lucy Lawless to Larry Hagman — Major Nelson on 'I Dream of Jeannie' and J.R. Ewing on 'Dallas,' stoked Franken's campaign war chest. Lawless gave Franken $2,000 and Hagman chipped in $500. Franken is competing with wealthy Minneapolis attorney Mike Ciresi (D) for the right to take on Sen. Norm Coleman (R) next year."
Franken's campaign contributors include a long list of other former "Not-Ready-For-Prime-Time-Players" from SNL, along with actors Paul Newman, Tom Hanks, Kevin Bacon, and comic-turned-host Bill Maher.
Excerpts from article:
#
Not surprisingly, the man who used to implore "SNL" audiences to "send your money to me, Al Franken," has gotten help from his former "Saturday Night Live" colleagues. Jane Curtin gave Franken $4,600, the most the law allows, while Donna Dixon, a blast-from-the-past sitcom star herself — she co-starred with Tom Hanks on "Bosom Buddies" — kicked in $2,300. Dixon is married to Dan Aykroyd, who in the '70s routinely chided Curtin with: "Jane, you ignorant slut!" from the "SNL" news desk.
Speaking of Hanks, he too gave the maximum, $4,600.
"Saturday Night Live" creator Lorne Michaels also maxed out to his one-time employee.
Republicans have had fun pointing out all of Franken's celebrity donors and derided him as the "Hollywood" candidate, but Franken spokesman Andy Barr said that caricature is as made up as Franken's Stuart "I'm smart enough, I'm good enough and gosh darnit, people like me" Smalley character from "SNL."
#
ROLL CALL SUBSCRIBERS CAN READ FULL ARTICLE AT THIS LINK