Freshman congresswoman 'can't keep her hand off president'

David Edwards
Published: Wednesday January 24, 2007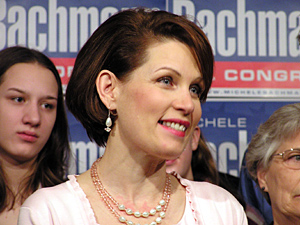 Following President Bush's State of the Union address Tuesday night, newly-elected Rep. Michele Bachmann (R-MN) displayed an "overly enthusiastic desire" to touch the Commander in Chief. A television station in Minneapolis noted that the freshman congresswoman "can't keep her hand off [the] president."
"While the President was signing autographs for members of Congress after the speech, the sixth-district Republican put her hand on Bush's shoulder," KSTP News reports. "However, it wasn't just a tap. After he signed an autograph for her, Bachmann grabbed the president and did not let go for almost 30 seconds."
The station reports that Bachmann held on for a "better grip" as Bush leaned over to give another congresswoman a kiss, until she got "more attention, a kiss and an embrace from the president."
Video of the incident is below.