Kucinich conference call to detail 'why and how' of Cheney impeachment measure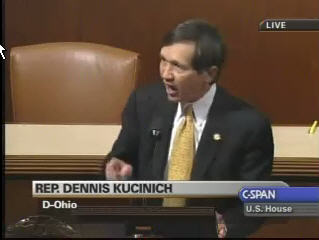 Dark horse presidential hopeful Rep. Dennis Kucinich (D-OH) will hold a nationwide conference call Monday night centering on his plan to force a vote as to whether Vice President Dick Cheney should be impeached.
In an announcement last week, Kucinich said he would bring a "privileged resolution" on the matter to the House floor Tuesday, a maneuver which would require a vote from all House members -- and allows him to act in spite of protestations from Democratic leaders, who don't want a vote to come to the floor, according to Politico's Ryan Grim.
Tonight's call, according to a press release, will address "why and how" Kucinich plans to bring about the vote.
"Dozens of supportive organizations have advised the Kucinich campaign that they will be lobbying Congressional representatives heavily over the next few days to support the Ohio Congressman impeachment resolution (House Resolution 333)," the release continued, adding that the resolution will bring about a vote "within two days" of its introduction Tuesday. The measure has 22 sponsors.
Lawmakers will have three options to deal with the resolution: pass it, relegate it to a committee, or support a so-called "motion to table," which effectively kills a pending matter by ending debate.
According to The Hill newspaper, Kucinich's idea -- which would put legislators on the record about Cheney's impeachment -- is making some Democrats uneasy.
"If he pulls it off, it could make for an uncomfortable situation for Democratic leaders and centrist Democrats," The Hill's Mike Soraghan writes of Kucinich's plan. "Liberal activists are pushing for impeachment, while leaders worry such a move could turn off independent voters. They have made it clear that impeachment of Cheney or President Bush is off the table."
Democrats might be tempted to opt to send the resolution to committee, according to Soraghan, who says that such a move "avoids an immediate floor vote and might be the most appealing option to the Democratic leadership."
Despite its apparent unpopularity among Democratic legislators, the Kucinich proposal is not necessarily out of line with American public opinion: a July poll from American Research Group found that 54% of those surveyed favored the "US House of Representatives beginning impeachment proceedings against Vice President Dick Cheney."
"Congress must hold the Vice President accountable," Kucinich said in a statement last week. "The American people need to let Members of Congress know how they feel about this. The Vice President continues to use his office to advocate for a continued occupation of Iraq and prod our nation into a belligerent stance against Iran. If the Vice President is successful, his actions will ensure decades of disastrous consequences."
Read update here: Kucinich also planning Bush impeachment resolution>