Ben Stein shows he's no Michael Moore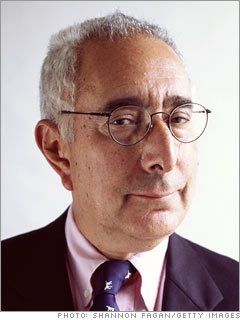 (UPDATE: Stein flick already #26 on top grossing doc list)
If numbers are any indication, Ben Stein has shown he's no Michael Moore.
Stein's Expelled: No Intelligence Allowed, a documentary which makes an argument for intelligent design over the theory of evolution, debuted at just number eight among the top ten grossing movies last week.
The film made $1.2 million on Friday in 1,052 theaters. By comparison, Michael Moore's 'Sicko' raked in $4.4 million its opening weekend from just 441 theaters, and Fahrenheit 9/11 did $23.9 million from only 868 slots.
"Playing in 1,052 theaters, the pic distributed by Rocky Mountain Pictures earned $1.2M Friday for what should be a $3.4M weekend," penned Nikki Finke's Deadline Hollywood Daily. "But the per screen average for Friday was a feeble $1,130 (that $3,000 ballyhooed on the Internet would be for the entire weekend), showing there wasn't any pent-up demand for the film despite an aggressive publicity campaign. So much for the conservative argument that people would flock to films not representing the "agenda of liberal Hollywood.'"
On Friday, The New York Times' Jeannette Catsoulis called the movie "one of the sleaziest documentaries to arrive in a very long time... a conspiracy-theory rant masquerading as investigative inquiry."
Expelled's producers have also been accused of copyright violations -- they're said not to have secured the rights for the use of John Lennon's "Imagine" and The Killer's "All these things I have done."
Among the more popular flicks?
The Forbidden Kingdom, the Jet Li-Jackie Chan synergy is set to score $21.1 million for the weekend; number two is Forgetting Sarah Marshall, which netted $5.9 million on Friday.
Stein flick a hit?
Despite Finke's initial prognosis, Monday's media reports pegged the Stein documentary as a modest hit.
The Guardian observed that "Expelled: No Intelligence Allowed surprisingly gate-crashed the top 10, opening in ninth place with $3.1m."
"In a bit of a surprise, Ben Stein's conservative documentary Expelled: No Intelligence Allowed did reasonably good business in its debut ($3.1M)," LAist noted.
MTV pointed out that a documentary coming from what could be construed as the other side did even worse: "Among other new releases, intelligent-design-supporting, Ben Stein-starring documentary Expelled: No Intelligence Allowed created $3.1 million out of thin air for a ninth-place finish. And the terrorist-hunting, Morgan Spurlock-starring documentary Where in the World Is Osama Bin Laden? tanked, earning just $143,000 in 102 theaters."
According to the website Box Office Mojo, Exposed already has earned enough money to garner it #26 on the list of all-time top grossing documentaries in the United States. With its weekend earnings of $3,153,000 which puts it $25,000 behind #25 on the list, Expelled is poised to pass the critically acclaimed Grizzly Man sometime today.
The documentary almost certainly will reach the top 15 bracket, but probably will fade before reaching the top ten, with the summer movie season beckoning in the wings, and theaters anxious to free up screens for comic book heroes and explosions.
Correction: The first edition of this article incorrectly stated the revenue of Fahrenheit 9/11 in its first week. It has been corrected above.