Court declares Franken winner but Coleman refuses to concede
UPDATE (at bottom): Scarborough tells Coleman, "You lost ... It is over"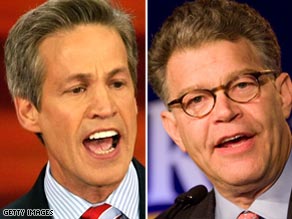 Al Franken moved one step closer to being seated in the U.S. Senate after a Minnesota court unanimously ruled in his favor late Monday that he was the victor in the November election. Norm Coleman, though has already given strong indications that he will appeal the ruling, which could drag out the matter for several months more.

The Minneapolis Star Tribune reported that the three judge panel "soundly defeated" incumbent Coleman's argument that "the election and its aftermath were fraught with systemic errors that made the results invalid."

"The overwhelming weight of the evidence indicates that the Nov. 4, 2008, election was conducted fairly, impartially and accurately," the panel wrote in its unanimous decision, which can be read here.

Franken emerged from the statewide recount, which Coleman asked for, ahead by a greater number of votes (312) than before the recount.

"I am honored and humbled by this close victory," Franken said after the rulilng. "And it's long past time we got to work."

Despite a Coleman pledge to appeal the ruling, the three Minnesota judges' careful and deliberate rejection of Coleman's legal arguments does not leave him much room to go on in an appeal, speculate legal experts.

"It is the kind of opinion that is unlikely to be disturbed on appeal by either the Minnesota Supreme Court or the United States Supreme Court," said Richard Hasen, an expert on election law at Loyola Law School in Los Angeles to The Star Tribune. "The opinion considers the major arguments made by Coleman and rejects them in a detailed and measured way."

"This is judicial speak for 'nothing here,' and it is most definitely aimed at the appeals process," said University of Minnesota political scientist Lawrence Jacobs to The Star Tribune. "It's a signal that they are supremely unimpressed by the Coleman case."

Whatever Coleman's legal arguments might be, he is still receiving considerable support from his Republican brethren, including Minnesota Governor Tim Pawlenty, who has said that he wouldn't sign Franken's election certificate until Coleman has had a chance to go through the appeals process.

"It's worth remarking a bit on the incredible solidarity the Minnesota GOP is showing with their colleagues' broader interest in obstructing the inevitable here," writes Think Progress' Matthew Yglesias. "Representatives John Kline, Erik Paulsen, and Michele Bachmann, along with Governor Tim Pawlenty, are all seeing their quest to get Minnesota's fair share of pork and other parochial interests undermined by the fact that their state only has one Senator.

UPDATE: Scarborough tells Coleman, "You lost ... It is over"

From Huffington Post's Sam Stein:

"In the wake of a three-judge panel declaring that Al Franken was the leading vote-getter of the U.S. Senate election, MSNBC's Joe Scarborough offered a preemptive and withering criticism of Coleman's likely appeal of that decision to the state Supreme Court.

"'Seriously. Norm, I like you. You lost. Okay,' he said. 'Can we seat a senator so Amy [Klobuchar] doesn't have to do the job of two Senators? It is seriously not fair to constituents in Minnesota to drag this out any longer. It is over Norm, okay. It is over.'

"Ouch. Somewhere in the halls of the DSCC, people are cheering."

This video was captured by Media Matters, published April 14, 2009.






Get Raw exclusives as they break -- Email & mobile